---
CHAOS CLINIC RECAP
---
---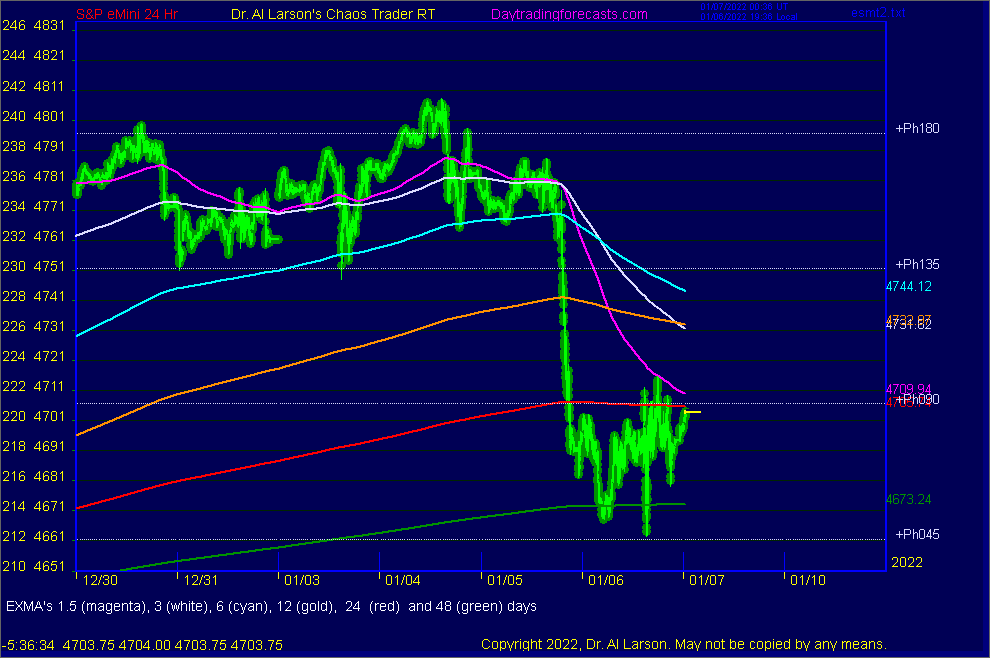 ********************************************************************************
The S&P, the FOMC, and Pluto
Chaos Clinic for 1/7/2022

********************************************************************************

This chart shows the S&P futures over the past 9 weeks. The key features are
the interaction of the FOMC, harmonics, and Pluto.

The FOMC meeting of December 15th was unique in that the message that the FED
was going to increase its program to fight inflation, raising interest rates in 2022
was greeted with and enthusiastic rally. The day after, prices began a decline into point X

This point bounced off the Pluto +Ph270 electric field flux line. From there, the S&P began
a strong year end rally, rising 270 degrees to the +Ph180 flux line at point y.
Then the rally stopped,

Then followed a week of choppy trading ending on January 4th with a "Three drives to a top."
These points are numbered on the chart.

Then on the 5th, prices dropped sharply, aided by the 2 PM Eastern release of the FOMC
minutes of the December minutes. On the 6th, the drop bottomed at point z on the +Ph045 flux line.
This was a 50 percent retrace of the year end rally.

For more on my work and to subscribe to Tomorrow's Market Email Hotline and access to daytradingforecasts.com see
Moneytide.com
Software to plot electric field flux lines in NinjaTrader is available at
energyfieldtrading.com
---

Below is one of the SPKISS charts from daytradingforecasts.com
and the chat room comments from this Chaos Clinic. Most recent comment is on top.
---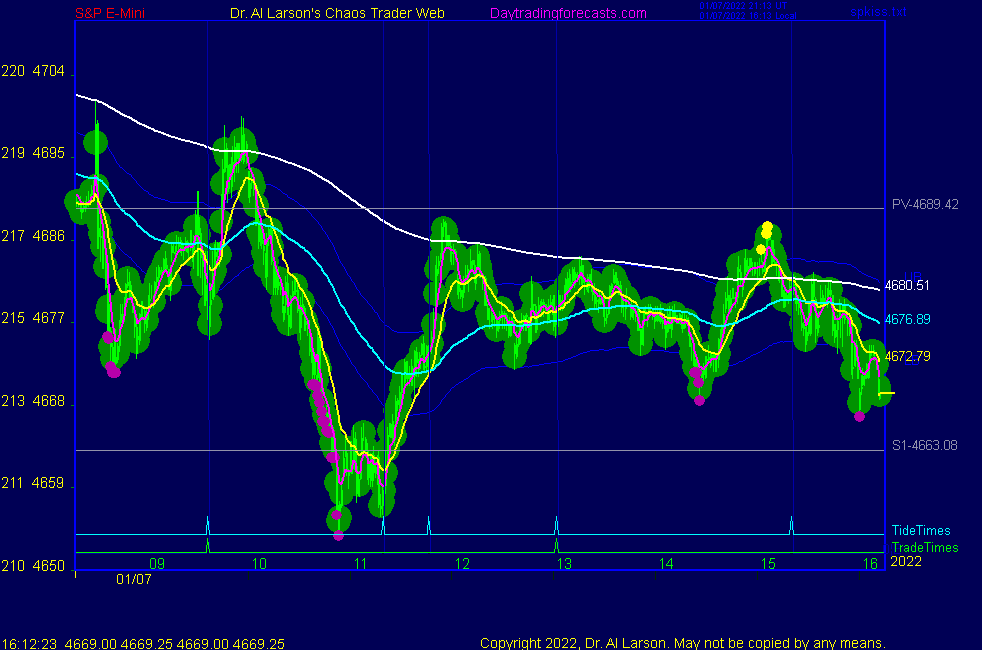 1/7/2022 1:01:46 PM MT kwc:: Have a great weekend Al. Eat 10 apples
1/7/2022 12:40:03 PM MT Al****:: but not enough volatility to stick around, so I'm done for the day-thanks for coming-see you next week-take some courses
1/7/2022 12:36:57 PM MT Al****:: thanks for your nice comments kwc
looking weak going into the close
1/7/2022 10:24:28 AM MT kwc:: 12:28 est is particularly notable
1/7/2022 10:23:38 AM MT kwc:: 15599.50 levels
1/7/2022 10:22:39 AM MT kwc:: 15598.75 is a strong bounce level
1/7/2022 10:20:31 AM MT kwc:: You have mentioned the 8 day cycle which I now monitor most closely, but also the 4 has an in fluence. Anyways the top at 9:56 est was a four day cycle and the bottom was an 8 day cycle at 11:04 preceded by strong support at 15506.35 based on Mars calculations.
1/7/2022 10:16:11 AM MT kwc:: Based on Your contributions and my efforts, I called a high at 9:56 est.
1/7/2022 10:15:02 AM MT kwc:: Al, I have mentioned Your time at 13:02 to my trade group. I hope this is okay. I would like to bring many to Your service.
1/7/2022 9:35:04 AM MT Al****:: and I note that the Flash Boy computers sold the pivot and bought S1
1/7/2022 9:33:20 AM MT Al****:: I've been away from the screen - going breakfast and walking the dog
see there was a short trade available
now see a retest of the +Ph045 level
also note bounce off green vibration level os Secret->esnat360
1/7/2022 9:33:16 AM MT ,m,:: Al always the calm before the storm mate. This lulls traders into a state of calmness thinking the market is slow today and wham off it moves on a 500 pip charge.
1/7/2022 7:53:59 AM MT Al****:: today's jobs report was tepid; yesterday's trading was tepid; today's market looks to be tepid
Wednesday's break was a chaotic move. It stopped after a harmonic drop as per the Chaos Clinic chart. So I'm being careful today and may not even trade.
1/7/2022 7:07:37 AM MT Al****:: Good Morning visitors. Welcome to the Chaos Clinic. The written Chaos Clinic is on the AUX page.
This site has a lot of charts,
so you may find it useful to have several of them available within your
browser. If you have a tabbed browser, you can open separate charts
in separate tabs by right clicking on any link, and selecting "open in new tab"
from the menu. The main list of site pages is at
http://daytradingforecasts.com/chartlistsec.asp
Recommended pages to watch are SPKISS, MTRainbow, and Chat.
For astro stuff, add SPSunMoon, Wheel, and Chaos Clinic.
A special set of Dr. Al's research charts are on the Secret page.
Comments in the chat room are announced by a
"duck call" noise. This noise also occurs when the software detects a
resonant hex pattern on the Wheel page. MoonTide trading tutorials
are on the right side of the ListOfCharts page. One should
read Trading the MoonTide Tutorial and Keep it Simple as a minimum.
Many subscribers do not strictly trade the MoonTides, but use the charts on this
site as input to their own trading strategies. For example, charts 5 and 6 on the
SPKiss page are a good starting point for swing traders.
Also on this site is the Certified Chaos Trader's Room. That room is open
to graduates of my 4 main courses. See http://moneytide.com -> Courses for details.
9:00 Eastern-System: No comments

---