Chaos Clinic Recap
---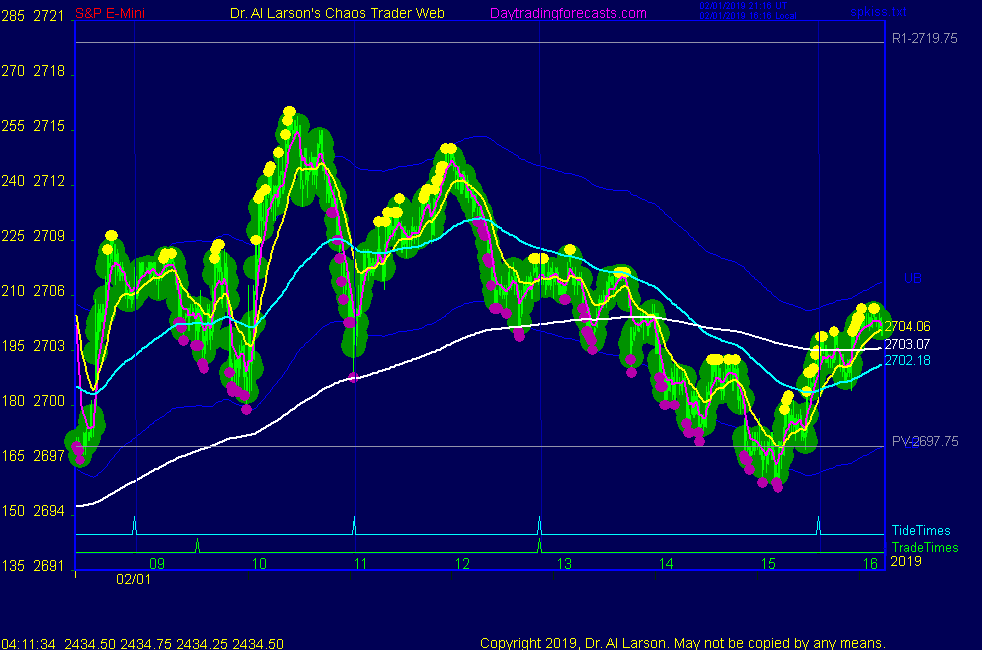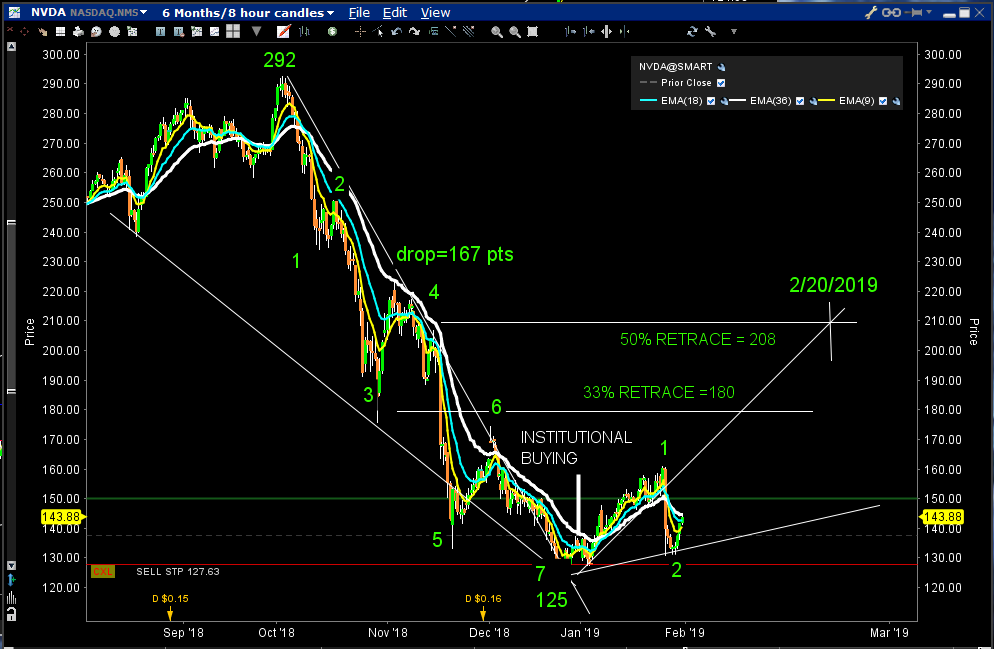 ---
Here are Al's comments
---

**************************************************
    Can This Tech Stock Bounce Back?
    Chaos Clinic for 2/1/2019
**************************************************

The fall 2018 panic in US stocks saw many tech stocks
sell off, some of them hard. One of the worst hit was
Nvidia (NVDA), a maker of graphics processors (GPUs)
that run high performance graphics cards, and can be
used for high performance parallel processing in some
applications, such as in the Artificial Intelligence (AI)
required in self-driving cars, bit coin mining, and
facial recognition. In that market, Nvidia competes with
Intel and AMD.

In December a follower of NVDA asked me about the stock.
When I looked at the chart above, I was surprised by how
hard it had sold off. In the last 3 years of the bull
run up to the top in late 2018, Nvidia had more than tripled.
Then, as the market topped, NVDA reported lower than
expected earnings. Apparently a lot of funds dumped NVDA.

When I looked at the chart, I was struck by the fact that
the drop had a clear 7 moves, as in a Chaos Clamshell, but
in a converging wedge. All I could tell the follower of
NVDA was that, on a technical basis, NVidia should get
a bounce.

I thought little more about it until I got a notice from
Interactive Brokers that NVDA had sizable institutional
buying on December 31st. From the low near 125, the stock
rallied, until it got a sharp drop in late February, 2019.
That drop did not make new lows. So it could be a move 2
of 7 up. In a normal technical rebound, I would expect
a recovery of 1/3 to 1/2. That would bring it up to 180
to 208, possibly as early as February 20th.

To me this is a "dead cat bounce." I am not making any buy
or sell recommendations. Anyone buying this stock should
protect themselves with a stop near 127.63. As always,
traders should do their own homework, make their own decisions,
and accept the results.
---
Besides the comments made by Al, the chat room has live
comments from other traders who sometimes share their views,
trades and tips. Below are the chat room comments from this clinic
---


2/1/2019 11:27:14 AM MT Al****:: seeing no day trade here-dull Friday, late in day-tahnks for coming; see you nexty week;take some courses
2/1/2019 11:09:49 AM MT kwc:: Thanks Al. I will send you an email.
2/1/2019 11:02:19 AM MT Al****:: send me an email KWC; enjoy your game
2/1/2019 10:56:01 AM MT Al****:: for a buy siganal, prices need to break above the 110 minute EXMA at 2708.54 , and the 20 minute EXMA needs to croos the 110. Otherwise this is a stay out market
2/1/2019 10:51:18 AM MT Al****:: today's MoonTides have been mixed. Since the normal session opoen we have had 6 20/110 minue EXMA crossings, with prices trading both sides of the 110 minute EXMA. The 440 minute EXMA is still up, so prices look like they will hold up into the close, as per the green +Tide.
2/1/2019 10:50:31 AM MT kwc:: As a note, I am using BackToTheFuture trading add-on in Ninja that allows me to have a look-back period in any market and timeframe. I haven't shared this knowledge with anyone except my daughter. Can we keep it in-house for now?
2/1/2019 10:48:46 AM MT kwc:: Very reasonable pricing. Can I discuss this further with you on Monday? I will be heading out for a game of hockey shortly. Thanks Al
2/1/2019 10:46:42 AM MT kwc:: I will locate it from your website and forward to you where I found it; I don't off-hand recall.
2/1/2019 10:45:21 AM MT Al****:: the MoonTides are available in a hotline subscription, whcih gives you access to this website-$297 for 3 months. XGO is availabe as XGO charts for $36 covering one year, but without the ZD filtering. The progrtam that generates them is available as well. See http://moneytide.com
2/1/2019 10:40:03 AM MT kwc:: I want to purchase some your stuff especially the moontides. I'm also very interested in the XGO forecast if I'm saying that right.
2/1/2019 10:39:01 AM MT Al****:: again, where did I suggest this technique?
2/1/2019 10:36:18 AM MT kwc:: I noted it while perusing your website. I have been reading your stuff and watching your videos for quite some time. I have just recently retired as a nuclear operator and like your thinking.
2/1/2019 10:30:52 AM MT kwc:: The 9 minute signal might have been one bar early as it was a buy too and therefore one could expect a rally into the close maybe... haha
2/1/2019 10:29:12 AM MT kwc:: On the 1 minute chart I had a buy signal at 12:25 as a note. .
2/1/2019 10:27:26 AM MT Al****:: and where did I suggest this method?
2/1/2019 10:24:44 AM MT kwc:: I have no signals for Mondays
2/1/2019 10:24:27 AM MT kwc:: calendar
2/1/2019 10:22:25 AM MT Al****:: so is that 8 trading days or 8 calendar days?
2/1/2019 10:19:45 AM MT kwc:: 12:18 is the next time signal on the 9 minute chart and there are no other signals until the end of the day on that timeframe
2/1/2019 10:17:50 AM MT kwc:: They are based on your suggestion of a 8 day look back period. They work on all timeframes.
2/1/2019 10:11:07 AM MT Al****:: KWC: why are your announcing your time signals? Are you saying they are better than the MoonTide times? Are you looking for recognition? Or What?
2/1/2019 9:46:48 AM MT kwc:: My next time signal is 11:51
2/1/2019 9:43:13 AM MT Al****:: PYC: my position in NVDA is just 2 shares - just enough to keep me interested in it. It is in a small account used by my data collector, I get charged $10 a month for the data in the account. So all I'm doing is trying to cover costs.

I strongly suggest students trade very small amounts until they learn how, using stocks or ETFs and not futures.
2/1/2019 9:35:53 AM MT Al****:: thanks GON; hope all is well with you
2/1/2019 9:08:51 AM MT gon:: It fits well with the ZD36 forecast showing the Santa Claus rally topping out near February 21st.
2/1/2019 9:07:43 AM MT gon:: Hi everyone! Thanks Al for the AUX material, it's already posted here: https://www.fxstreet.com/analysis/can-this-tech-stock-bounce-back-201902011606
2/1/2019 8:57:15 AM MT Al****:: PYC - thanks for the kind words; I just wish I'd never been wrong
My Teamviewer setup is not really a chat room, but the way I work with students of my courses
2/1/2019 8:50:25 AM MT SKA:: ok thnx
2/1/2019 8:49:02 AM MT pyc:: you have to install teamviewer per dr als instructions
2/1/2019 8:47:20 AM MT SKA:: Anybody knows where to find his chat room ?
2/1/2019 8:34:53 AM MT pyc:: Dr Al I follow you everysingle friday and I follow your charts almost daily. I will literally call you the nicola tesla of stocks. Your last two calls for GLD and TWITTER were remarkable. I have not seen you make a bad call yet. I wish I had enough to bet on your new NVDA opinion.
2/1/2019 8:27:35 AM MT kwc:: I have a 10:30 time signal
2/1/2019 8:27:33 AM MT kwc:: I have a 10:30 time signal
2/1/2019 7:21:03 AM MT kwc:: Good Morning All
2/1/2019 7:06:46 AM MT Al****:: GM all. Good luck today. Chaos Clinic is posted on the AUX page.
2/1/2019 6:52:10 AM MT jvj****:: Good Morning, Everyone

9:00 Eastern-System: No comments

---