---
CHAOS CLINIC RECAP
---
---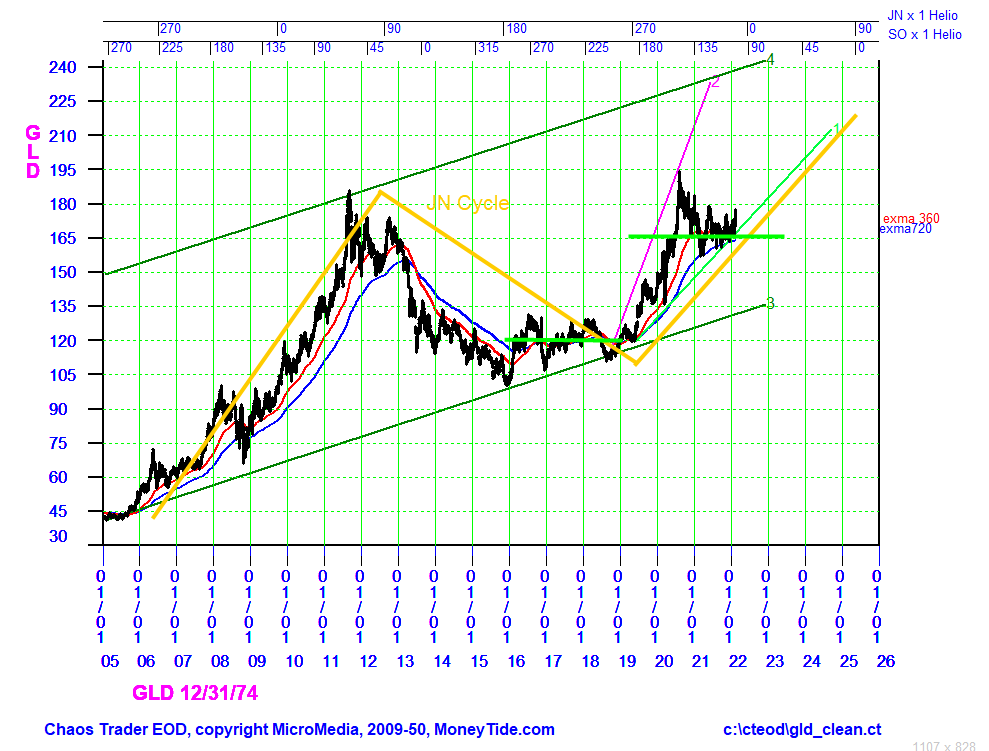 ********************************************************************************
Long Term Gold Cycle
Chaos Clinic for 2/18/2022

********************************************************************************

This is a chart of the GLD exchange traded fund for gold covering 21 years.
In several recent Chaos Clinics I've suggested buying dips to 165 might
a profitable strategy. GLD is now moving up from that level.

Underlying this rally is a strong Jupiter-Neptune heliocentric astro cycle.
This is shown by the gold lines, with the aspects circled along the top.
This cycle comes from Jupiter squaring Neptune is the US gold futures chart.
While that chart is a geocentric chart showing the subject's "natal antenna"
the energy comes from the heliocentric cycle since the "energy transmitter"
is the Sun.

The JN cycle is up into mid 2025, giving this investment time to work.
Prices are expected to reach 240-255. The tracking 360 and 720 day cycles
can be monitored for any sign of trouble.

For more on my work and to subscribe to Tomorrow's Market Email Hotline and access to daytradingforecasts.com see
Moneytide.com
Software to plot electric field flux lines in NinjaTrader is available at
energyfieldtrading.com
---

Below is one of the SPKISS charts from daytradingforecasts.com
and the chat room comments from this Chaos Clinic. Most recent comment is on top.
---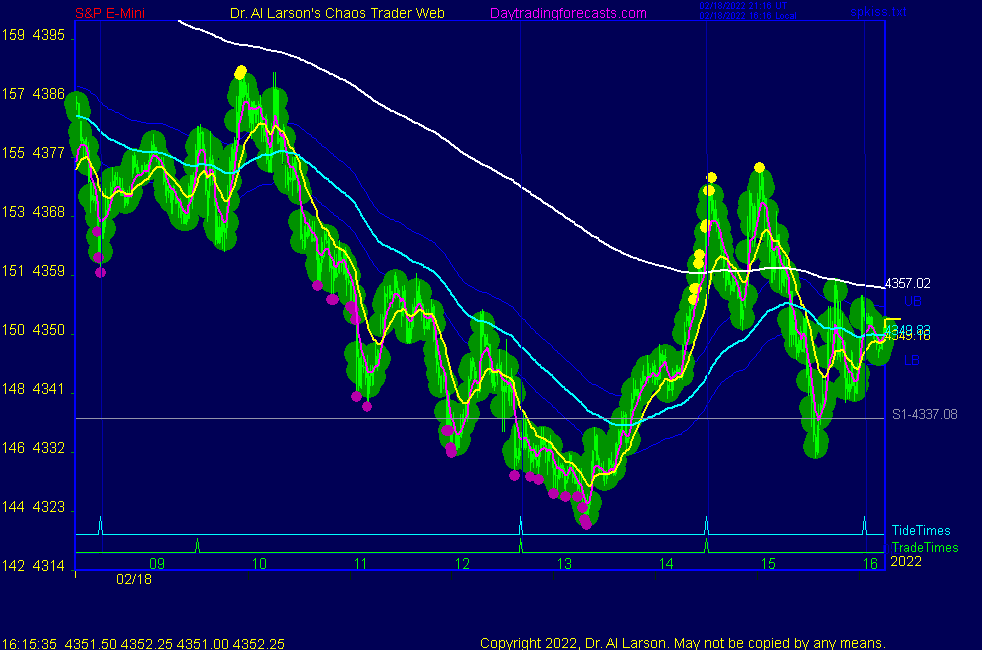 2/18/2022 1:34:09 PM MT pab:: well they did a great job of pushing it up; now losing altitude again
2/18/2022 12:20:32 PM MT pab:: David White saying huge # of people short and he thinks the bottom is in and there could be a huge push at eod, fwiw
2/18/2022 12:20:08 PM MT pab:: WSJ said the invasion had started and then retracted it---they got to get a hold of this media
2/18/2022 12:01:52 PM MT Al****:: unfortunately I have to leave now for a doctor's appointment
good luck with your trade Robert
everyone have a good weekend_see you next week-take some courses
2/18/2022 11:53:29 AM MT Al****:: looking at the Secret->esnat72 chart : the overnight high nearly hit a yellow vibration, now low on 2nd one down
2/18/2022 11:46:27 AM MT Al****:: now 27 minutes after the low getting more buying
2/18/2022 11:40:21 AM MT Al****:: last low got support from the Mercury +Mh135 electric field flux line
2/18/2022 11:39:29 AM MT Robert****:: I am a buyer
2/18/2022 11:38:32 AM MT Al****:: now coming to the Moon T180 timeline
2/18/2022 10:44:29 AM MT Al****:: now we have 3 minor lows each lower in a "3 drives to a low" pattern
and 7 moves down
2/18/2022 10:28:24 AM MT Al****:: that's when the rotating earth rotates the NYSE under the sun
2/18/2022 10:18:45 AM MT Robert****:: what does solar noon represent
2/18/2022 10:16:27 AM MT Al****:: now we have a low a solar noon, so I watch for more buying near 12:27
2/18/2022 10:15:32 AM MT Robert****:: on the Choas Clinic chart - the red and blue diagnals, what are they, price followed them
2/18/2022 10:04:18 AM MT Al****:: then one starts the watching process all over
2/18/2022 10:04:13 AM MT pst****:: Tuesday is a numerology day just like Feb 2 except it is now Feb. 22, It would be fitting to see a high on Feb. 2nd and a low on Feb. 22. That might be asking too much. lol
2/18/2022 9:50:48 AM MT Robert****:: so if the low gets taken out or high then it is not valid correct.
2/18/2022 9:47:31 AM MT Robert****:: very good to know, thanks for the info
2/18/2022 9:44:30 AM MT Al****:: on the SPKISS page chart 4 has push balls on the highs an lows - one thing I watch for is a CIT 27 minutes after the push balls end
2/18/2022 9:43:38 AM MT Robert****:: have you bought yet?
2/18/2022 9:33:47 AM MT Al****:: made a low near 11:00 and just above S1 ; this feels like a market probing for a bottom
2/18/2022 8:56:58 AM MT Al****:: the MTRainbow chart shows the trend is down
2/18/2022 8:43:28 AM MT Al****:: back from breakfast and taking the dog to the park
see prices rolled over to test the low again
2/18/2022 8:01:59 AM MT Al****:: in this case the 20/110 exmas gave a continuation sell, then gave as buy crossing
2/18/2022 7:57:41 AM MT Al****:: early Friday 9:31 MoonTide trades are always problematic so one needs to look at the larger context and not just the short term EXMAs
2/18/2022 7:54:59 AM MT Al****:: that looks to be the case
2/18/2022 7:29:51 AM MT Al****:: this morning's low tested the double bottom of Monday, suggesting the market my try to hold up
2/18/2022 6:49:30 AM MT Al****:: Good Morning visitors. Welcome to the Chaos Clinic. The written Chaos Clinic is on the AUX page.
This site has a lot of charts,
so you may find it useful to have several of them available within your
browser. If you have a tabbed browser, you can open separate charts
in separate tabs by right clicking on any link, and selecting "open in new tab"
from the menu. The main list of site pages is at
http://daytradingforecasts.com/chartlistsec.asp
Recommended pages to watch are SPKISS, MTRainbow, and Chat.
For astro stuff, add SPSunMoon, Wheel, and Chaos Clinic.
A special set of Dr. Al's research charts are on the Secret page.
Comments in the chat room are announced by a
"duck call" noise. This noise also occurs when the software detects a
resonant hex pattern on the Wheel page. MoonTide trading tutorials
are on the right side of the ListOfCharts page. One should
read Trading the MoonTide Tutorial and Keep it Simple as a minimum.
Many subscribers do not strictly trade the MoonTides, but use the charts on this
site as input to their own trading strategies. For example, charts 5 and 6 on the
SPKiss page are a good starting point for swing traders.
Also on this site is the Certified Chaos Trader's Room. That room is open
to graduates of my 4 main courses. See http://moneytide.com -> Courses for details.

2/18/2022 5:40:53 AM MT JRB:: east coast
2/18/2022 5:40:04 AM MT JRB:: 7:39 me i am a newbe here
9:00 Eastern-System: No comments

---