---
CHAOS CLINIC RECAP
---
---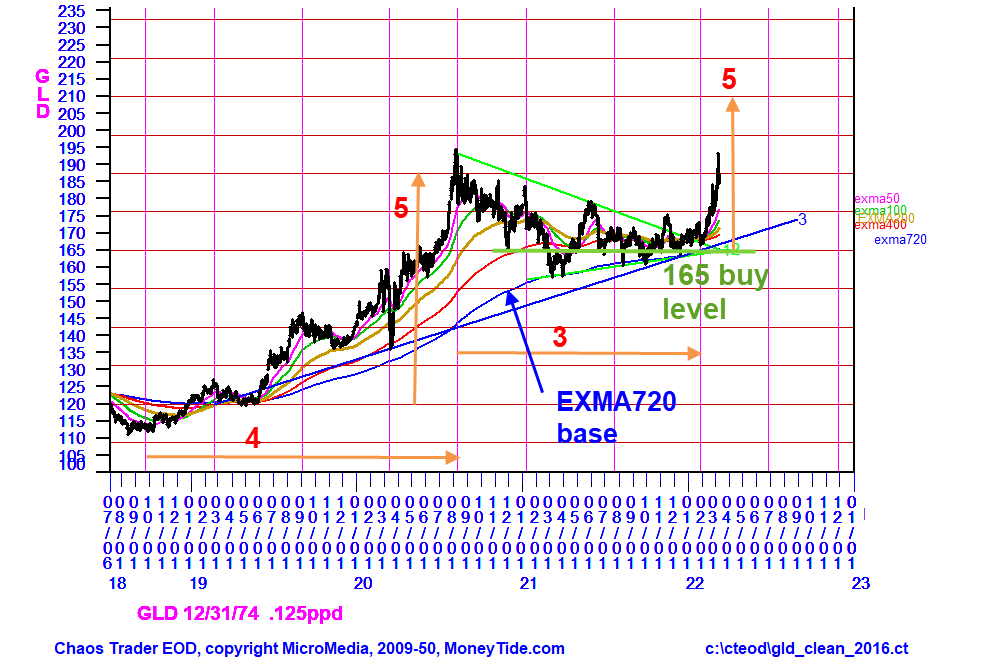 ********************************************************************************
Gold Soars
Chaos Clinic for 3/11/2022

********************************************************************************

This is a daily chart of the gold GLD exchange traded fund since Mid 2018 through present.
In my 10/08/2021 Chaos Clinic, Gold Tunes Into A Rally
I pointed out the possibility of a sharp rally beginning near the first of February.

This was based on the Natural Time and Price grid shown. This grid identifies
harmonic price levels and harmonic times for a change in trend. Markets vibrate
to these, since they are all energy, and energy adds together in harmonic ratios.

During the 9/2018 to 8/2020 period time moved four natural periods, and price
moved up 5 vibration levels. Then during the 9/2020 to 1/2022 period, the contracting
triangle formed a base along the 165 vibration level, with the lows bouncing off the
720 day EXMA, the longest of the EXMA rainbow of 50, 100, 200, 400, and 720 days.

The natural timeline at 1/28/2022 turned out to be incredibly accurate. GLD started up,
as covered in the 1/21/2022 Chaos clinic. Then it made a vertical drop and rebound
right on the timeline. Since then the rally has continued. By the time Russia invaded
Ukraine, the rally was well under way. The war has just added fuel.

A five unit rally would reach 210. Of course, the rally could go any integer number
of levels up.

For more on my work and to subscribe to Tomorrow's Market Email Hotline and access to daytradingforecasts.com see
Moneytide.com
Software to plot electric field flux lines in NinjaTrader is available at
energyfieldtrading.com
---

Below is one of the SPKISS charts from daytradingforecasts.com
and the chat room comments from this Chaos Clinic. Most recent comment is on top.
---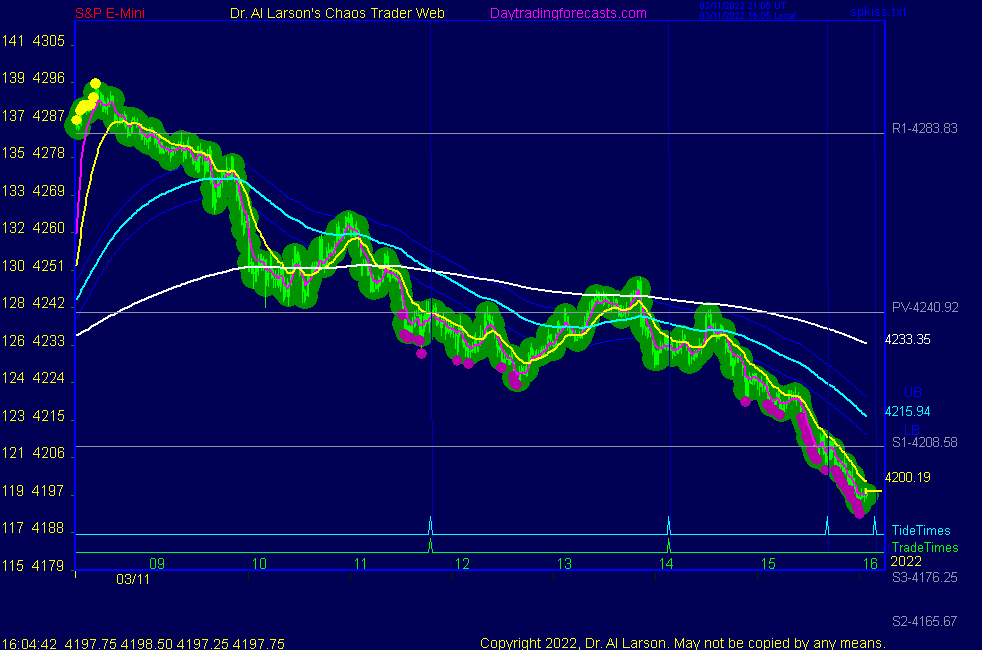 3/11/2022 1:09:10 PM MT Robert****:: Yes that move up in PreMarket was a GIFT to Sell that area up there. I don't see your new chart, what is it I know your having a techno crap issue
3/11/2022 11:26:34 AM MT Al****:: technocrap! the new chart is not working right
meanwhile not on Secret->esnat72 that went up 2 yellow/magenta vibration levels, then down 2
3/11/2022 8:58:07 AM MT Al****:: no the added chart is one of the regular charts
3/11/2022 8:51:55 AM MT Robert****:: the pre-parmet spike was up to the TOP of the SPKiss Chart 7
3/11/2022 8:41:43 AM MT Robert****:: are you refering to the AUX Gld Chart
3/11/2022 8:14:44 AM MT Al****:: I added a new chart to the site - who can find it?
3/11/2022 7:12:06 AM MT Al****:: thanks pab
Good Morning visitors. Welcome to the Chaos Clinic. The written Chaos Clinic is on the AUX page.
This site has a lot of charts,
so you may find it useful to have several of them available within your
browser. If you have a tabbed browser, you can open separate charts
in separate tabs by right clicking on any link, and selecting "open in new tab"
from the menu. The main list of site pages is at
http://daytradingforecasts.com/chartlistsec.asp
Recommended pages to watch are SPKISS, MTRainbow, and Chat.
For astro stuff, add SPSunMoon, Wheel, and Chaos Clinic.
A special set of Dr. Al's research charts are on the Secret page.
Comments in the chat room are announced by a
"duck call" noise. This noise also occurs when the software detects a
resonant hex pattern on the Wheel page. MoonTide trading tutorials
are on the right side of the ListOfCharts page. One should
read Trading the MoonTide Tutorial and Keep it Simple as a minimum.
Many subscribers do not strictly trade the MoonTides, but use the charts on this
site as input to their own trading strategies. For example, charts 5 and 6 on the
SPKiss page are a good starting point for swing traders.
Also on this site is the Certified Chaos Trader's Room. That room is open
to graduates of my 4 main courses. See http://moneytide.com -> Courses for details.

3/11/2022 7:10:23 AM MT pab:: So sorry to hear about Tank---I'm sure he is over the rainbow bridge and out of pain. God bless his soul.
9:00 Eastern-System: No comments

---