---
CHAOS CLINIC RECAP
---
---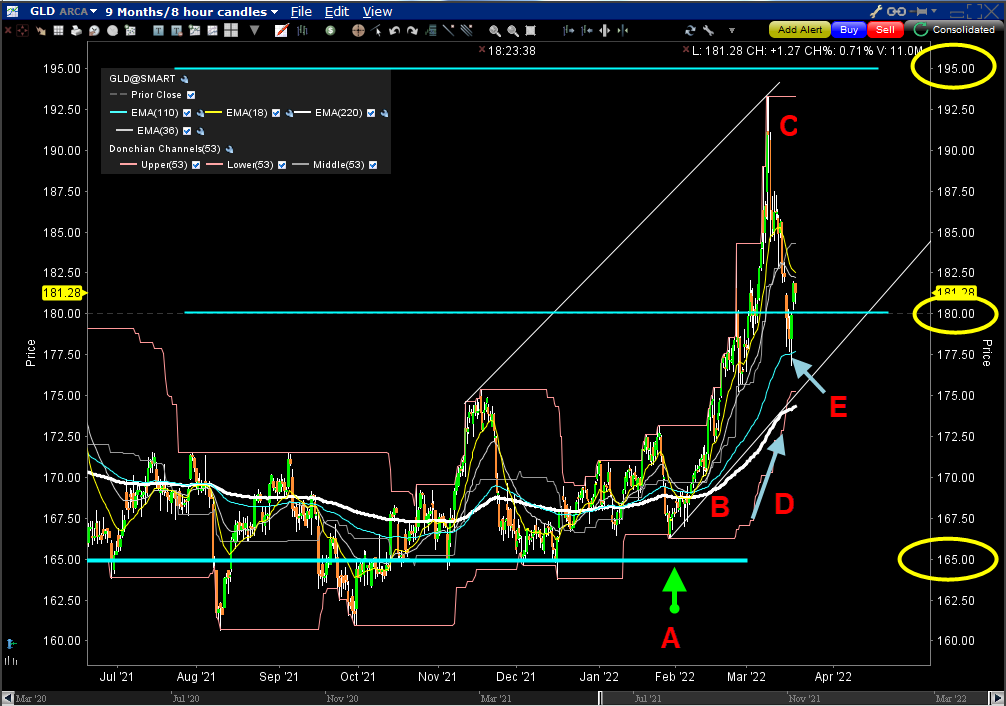 ********************************************************************************

In last week's Chaos Clinic I showed the longer term outlook for GLD, a gold EFT.
This chart shows a close up view of GLD.

This chart uses 8 hour bars, and a rainbow of EXMAs, of 18, 36, 110, and 220 bars.
S&P hotline traders my recognized these as the one minute EXMAs used for trading the S&P.
The chart also has a 53 bar Donchian channel. There are also 3 horizontal lines
at 165, 180, and 195. These are both price and degree lines. They mark every 15
degrees of the circle.

Four points are lettered for discussion purposes. Point A is the vibration time
discussed last week. Right after that point, the 220 and 110 bar EXMAs turned up,
and at B, the 18 and 36 bar EXMAs crossed in a classic buy signal. The rally moved
sharply up to C, falling short of the 195 level. Prices then dropped back to
the 180 level. This rally caused the Donchian channel to push support up at D.
The move also brought the 220 EXMA up sharply.

The drop from C was stopped by the 110 EXMA at E. This started the vibration about
the 180 level. From here one can expect vibration about the 180 level before
further advance.

For more on my work and to subscribe to Tomorrow's Market Email Hotline and access to daytradingforecasts.com see
Moneytide.com
Software to plot electric field flux lines in NinjaTrader is available at
energyfieldtrading.com
---

Below is one of the SPKISS charts from daytradingforecasts.com
and the chat room comments from this Chaos Clinic. Most recent comment is on top.
---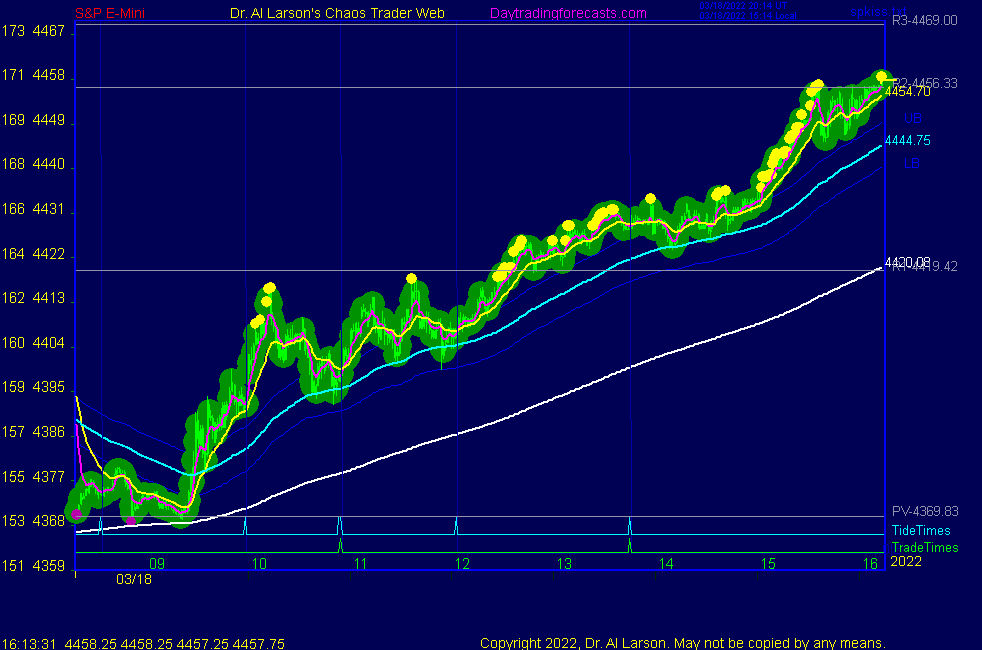 3/18/2022 1:53:28 PM MT Al****:: everyone have a good weekend-thanks for coming-take some courses
3/18/2022 1:42:57 PM MT Al****:: Thanks-those flash boys are good - it helps if you can figure out what they are doing and go with them
3/18/2022 1:37:33 PM MT pab:: Big congrats Al---hit your target and backed right down---one had to have their order in, as you did---fabulous call !!!
3/18/2022 1:35:03 PM MT Al****:: got it !!!!!
3/18/2022 1:10:34 PM MT Al****:: have sell limit at 4456
3/18/2022 1:00:01 PM MT Al****:: normally I quit by now, but I want to see the ending
3/18/2022 12:17:41 PM MT Al****:: no fill on MES contract so carry through
3/18/2022 12:01:09 PM MT Al****:: that would be about 4323, locking in 20
3/18/2022 11:58:06 AM MT Al****:: one way to handle this is to just raise stop up to the 110 EXMA
3/18/2022 11:56:28 AM MT Al****:: charft 4 on SPKISS pages shows first MoonTide trade just before 11:00 with a buy about 4403 -now at next trade time, so need to cover or carry through
3/18/2022 10:59:46 AM MT Al****:: it's all in the flow - see Trading The MoonTide Rainbow linked on right side of ListOfCharts page
3/18/2022 9:32:03 AM MT Robert****:: I am not suprised you know that price level at 4456. You are one of the only people I know who takes 25-50 points a day out of S&P.
3/18/2022 9:30:47 AM MT Robert****:: we going to 4458 today?
3/18/2022 8:34:37 AM MT Al****:: Flash Boys will ride to R1 4419 or possibly R2 4456
3/18/2022 8:31:51 AM MT Al****:: note yellow to yellow on Secret->esnat72
3/18/2022 7:56:27 AM MT raf:: Good morning everyone: 20/110 on 1 min. up to the middle of R1&P - 4394, nice small gain. Thank You Al
3/18/2022 6:48:55 AM MT Al****:: note on the Secret->esnat72 chart that the Flash Boys bought the pivot, which is very near the yellow vibration line

3/18/2022 6:39:37 AM MT Al****:: Good Morning visitors. Welcome to the Chaos Clinic. The written Chaos Clinic is on the AUX page.
This site has a lot of charts,
so you may find it useful to have several of them available within your
browser. If you have a tabbed browser, you can open separate charts
in separate tabs by right clicking on any link, and selecting "open in new tab"
from the menu. The main list of site pages is at
http://daytradingforecasts.com/chartlistsec.asp
Recommended pages to watch are SPKISS, MTRainbow, and Chat.
For astro stuff, add SPSunMoon, Wheel, and Chaos Clinic.
A special set of Dr. Al's research charts are on the Secret page.
Comments in the chat room are announced by a
"duck call" noise. This noise also occurs when the software detects a
resonant hex pattern on the Wheel page. MoonTide trading tutorials
are on the right side of the ListOfCharts page. One should
read Trading the MoonTide Tutorial and Keep it Simple as a minimum.
Many subscribers do not strictly trade the MoonTides, but use the charts on this
site as input to their own trading strategies. For example, charts 5 and 6 on the
SPKiss page are a good starting point for swing traders.
Also on this site is the Certified Chaos Trader's Room. That room is open
to graduates of my 4 main courses. See http://moneytide.com -> Courses for details.
9:00 Eastern-System: No comments

---