---
CHAOS CLINIC RECAP
---
---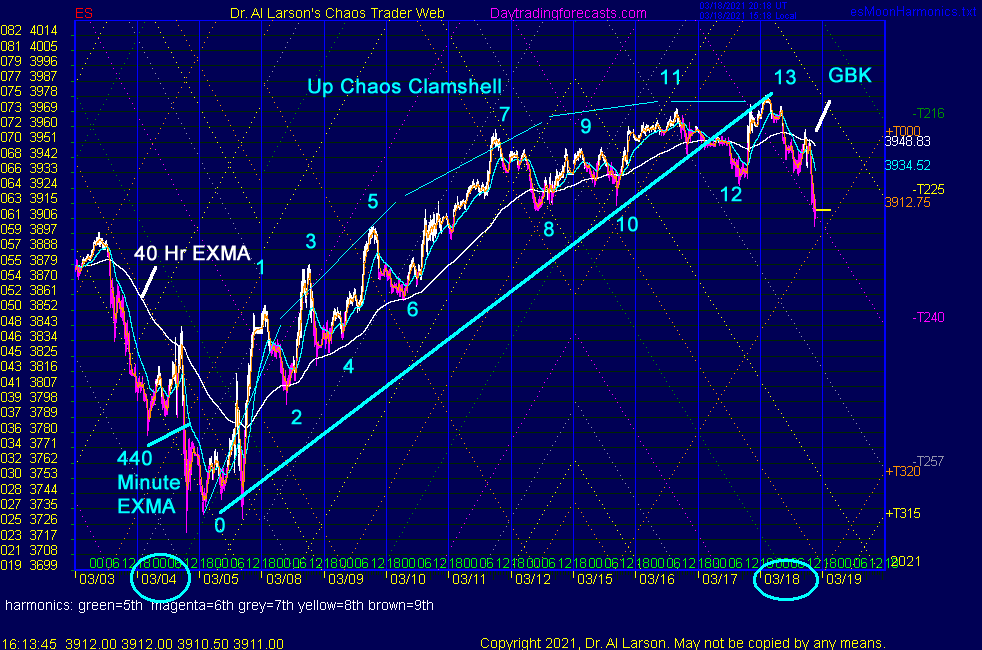 ********************************************************************************
The S&P's Luck Runs Out
Chaos Clinic for 3/19/2021
********************************************************************************

This chart is from the 3/18/2021 SPKISS page on daytradingforecasts.com.

This chart shows the S&P eMini futures over 16 calendar days, using 24 hour data. Prices are tracked by two EXMAs.
The longer term cyan EXMA is 2400 minutes, or 40 hours. Forty hours is the 24th harmonic of the 40 day
Mercury-Moon biblical cycle. Using the 24th harmonic comes from the use of that harmonic to divide our day
into smaller parts. I have found this EXMA is useful for tracking intermediate swings in markets.

The white 440 minute EXMA is 4 degrees of Moon motion. It is the longest EXMA used for day trades in my
MoonTide trading methodology. I have found it useful to use it as the link between daily and longer
term activity. This helps put each day into a longer term context.

The pattern shown is an up Chaos Clamshell. Technically it began on 3/4, and ran to early 3/18. This is half a
Moon cycle. Using the 440 EXMA as a aid, one can count the swings in the Chaos Clamshell.
Normally, there are 7 moves. On occasion, there are more. The second most common number is 13.
Thirteen is an unlucky number. On that number this rally ran out of luck.

One can judge the strength of a move watching two EXMAs. Note that during the first 7 moves, prices and the
440 stayed above the 40 hour. Then on moves 8 and 10 prices dipped below the 40 hour, but the 440 did not.
Move 12 had both price and the 440 break below the 40 hour. It looked like the trend had turned down.

Ah, but 3/17 was a FOMC meeting announcement day. As soon as Mr. Powell started talking prices shot up through
the end of the day. That rally completed move 13. Surprisingly, prices did not even hold up overnight.

Overnight prices, the 440 minute EXMA, and the 40 hour EXMA all turned down. After a morning bounce to give the
40 hour EXMA a GBK (good bye kiss), prices sold off hard on 3/18. Bad luck at 13.

For more on my work and to subscribe to Tomorrows Market Email Hotline and access to daytradingforecasts.com see
Moneytide.com
Software to plot electric field flux lines in NinjaTrader is available at
energyfieldtrading.com
---

Below is one of the SPKISS charts from daytradingforecasts.com
and the chat room comments from this Chaos Clinic. Most recent comment is on top.
---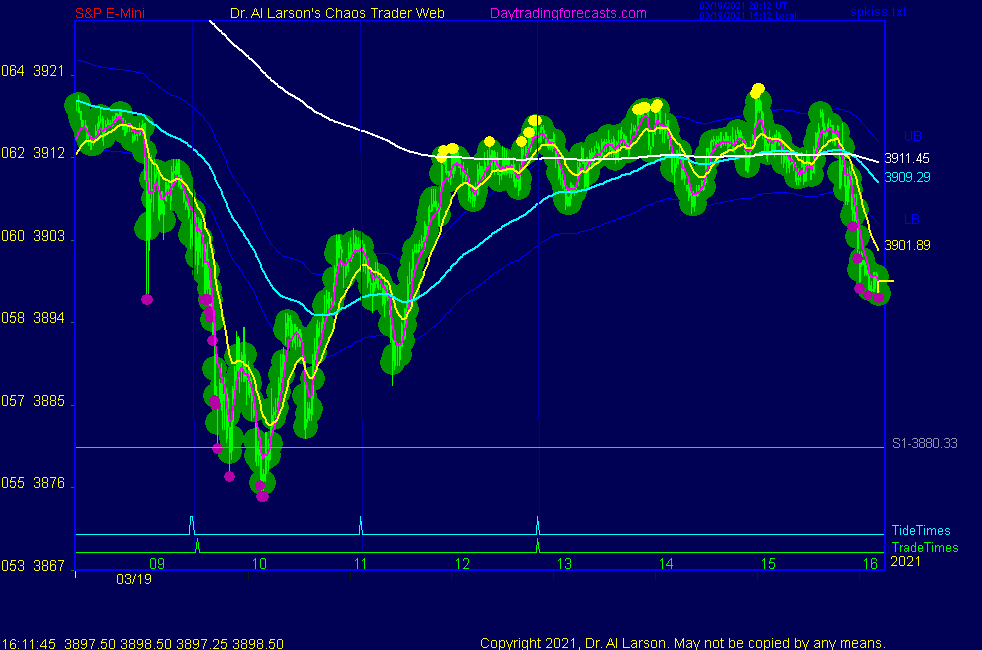 3/19/2021 1:50:46 PM MT pab:: well, did not follow the green tide down today but is triple witching fun and games
3/19/2021 12:09:12 PM MT pab:: 4th week of Fed money dump for the w/e
3/19/2021 11:20:39 AM MT pab:: looks like we got the Fed and the Bond guys duking it out
3/19/2021 11:15:10 AM MT Al****:: gotten pretty dull-I'm going to call it a day-thanks for coming-se you next week -watch for flash boys to rally it to pivot
3/19/2021 11:09:32 AM MT pab:: Treasury Injects A Record $271 BIllion In Cash In One Day, Sending ST Rates Negative- ZeroHedge Looks like more Fed 'juice'---the Fed is on it
3/19/2021 11:06:50 AM MT pab:: I calculated 3916.25 as completion of an abc up---went to 3916---some traders will be watching that imo
3/19/2021 10:29:48 AM MT Al****:: I have placed a Fractal of Pi chart in the Certified Chaos Trader's Room. That room is open
to graduates of my 4 main courses. See http://moneytide.com -> Courses for details.
eMylar Fractal of Pi overlays help you be patient, since they show you future potential moves.
The best bargain in my courses is to take the Cash In On Chaos and Fractal of Pi courses and
learn to use the FOP overlay. Then take Chaos Trading Made Easy, and finish with Face Of God.
3/19/2021 10:17:57 AM MT Al****:: These timelines are where the rotating Earth moves the Exchange to form aspects with the current planets
the number after the planet letter is the angle, or aspect
3/19/2021 10:15:09 AM MT Al****:: note on that chart yesterday's dip on T270 , dip on Sun (H) and Venus, the high on T315. Observe what happens today
3/19/2021 10:08:32 AM MT Al****:: and on the SPSunMoon chart that the Mercury and Moon timelines timed the dip and provided the energy
3/19/2021 10:05:32 AM MT Al****:: note on the 3rd and 4th charts on the SPKISS page that prices have bounced back up to the white 440 minute EXMA
this usually limits a morning rebound
3/19/2021 8:54:10 AM MT Al****:: computer algos bought S1
my experimental auto trader sold and covered for 15
3/19/2021 8:08:06 AM MT Al****:: Florida has no mountains and lots of gators
I actually like snow - sometimes is is a challenge but all those floating hexagons are a great energy source
3/19/2021 7:42:08 AM MT pab:: 27"--Al you need to move to FL !!!
3/19/2021 7:39:09 AM MT pab:: 10-year yield over 1.7% again
3/19/2021 7:02:22 AM MT Al****:: Good Morning visitors. Welcome to the Chaos Clinic. The written Chaos Clinic is on the AUX page.
This site has a lot of charts,
so you may find it useful to have several of them available within your
browser. If you have a tabbed browser, you can open separate charts
in separate tabs by right clicking on any link, and selecting "open in new tab"
from the menu. The main list of site pages is at
http://daytradingforecasts.com/chartlistsec.asp
Recommended pages to watch are SPKISS, MTRainbow, and Chat.
For astro stuff, add SPSunMoon, Wheel, and Chaos Clinic.
A special set of Dr. Al's research charts are on the Secret page.
Comments in the chat room are announced by a
"duck call" noise. This noise also occurs when the sofware detects a
resonant hex pattern on the Wheel page. MoonTide trading tutorials
are on the right side of the ListOfCharts page. One should
read Trading the MoonTide Tutorial and Keep it Simple as a minimum.
Many subcribers do not strictly trade the MoonTides, but use the charts on this
site as input to their own trading strategies. For example, the bottom chart on the SPKiss page is good starting point for swing traders.
Also on this site is the Certified Chaos Trader's Room. That room is open
to graduates of my 4 main courses. See http://moneytide.com -> Courses for details.
9:00 Eastern-System: No comments

---