---
CHAOS CLINIC RECAP
---
---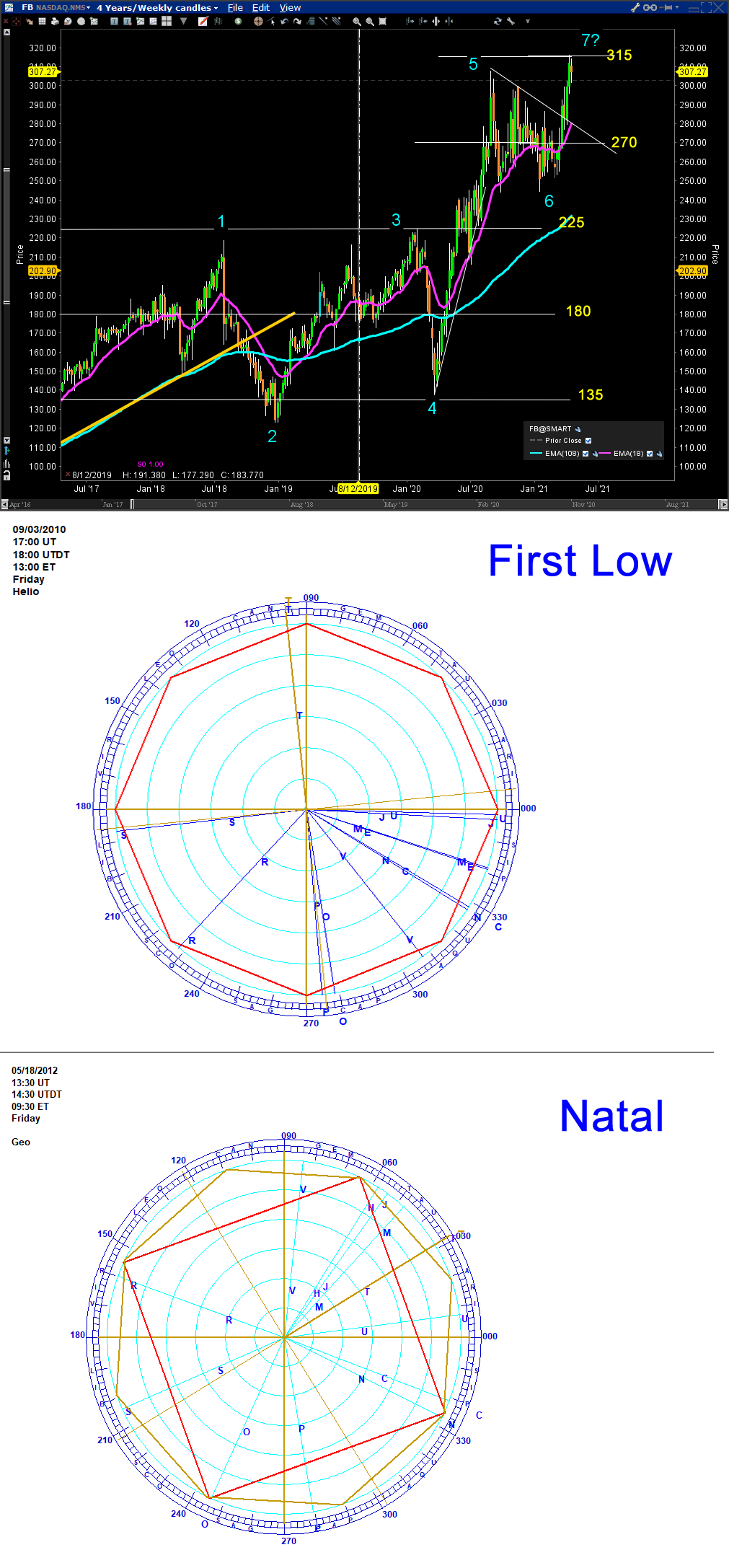 ********************************************************************************
Why Facebook Loves the Eighth Harmonic
Chaos Clinic for 4/16/2021
********************************************************************************

The charts above are 1) a weekly bar chart of Facebook, 2) the ephemeris wheel at
the time of the first low, and 3) the natal ephemeris wheel at time of first trade.

As shown on the bar chart, one can identify a 7 move pattern, a possible Chaos Clamshell.
This pattern may not be finished, but is a warning that it may be near completion.

Marked on the bar chart are 45 point intervals, from 135 to 315. Mapping one point
to one degree of a circle, these are the familiar eighth harmonic points on an ephemeris
wheel.

So where do these levels come from? The answer can be found in a study of the ephemeris.
The heliocentic wheel at the time of the first low of FB stock prices shows
Jupiter conjoined Uranus, square Pluto and Node, opposing Saturn. Offset from them by 45 degrees,
Venus squared Mars. A helio wheel shows how the planets are stretching our gaseous Sun.
The harmonic patterns set up on the Sun show up in the particles carried to Earth by the
solar wind. So think of this wheel as a radio transmitter.

As the solar energy arrives at Earth, it is tuned into by various entities such as people or
stocks. One can study what harmonic a stock tunes into by looking at a natal chart, which
is geocentric.

The Facebook natal chart has a strong fourth harmonic pattern shown in red, formed by
Mars , Node, Neptune.Chiron, and Sun/Jupiter/Mercury. The Sun/Jupiter/Mercury corner
is just forming, and was joined by the Moon a few days after the IPO. Unfortunately,
that was a solar eclipse, and after the IPO prices of Facebook dropped for over three
months into the first low. Mark Bugger was soundly attacked and even accused of fraud.
His only error was not understanding how to perfectly time an IPO.

The eight harmonic in both ephemeris wheels comes from Mars and Saturn. So while imperfect,
Facebook has and will always have a tendency to turn at eight harmonic price levels.

For more on my work and to subscribe to Tomorrows Market Email Hotline and access to daytradingforecasts.com see
Moneytide.com
Software to plot electric field flux lines in NinjaTrader is available at
energyfieldtrading.com
---

Below is one of the SPKISS charts from daytradingforecasts.com
and the chat room comments from this Chaos Clinic. Most recent comment is on top.
---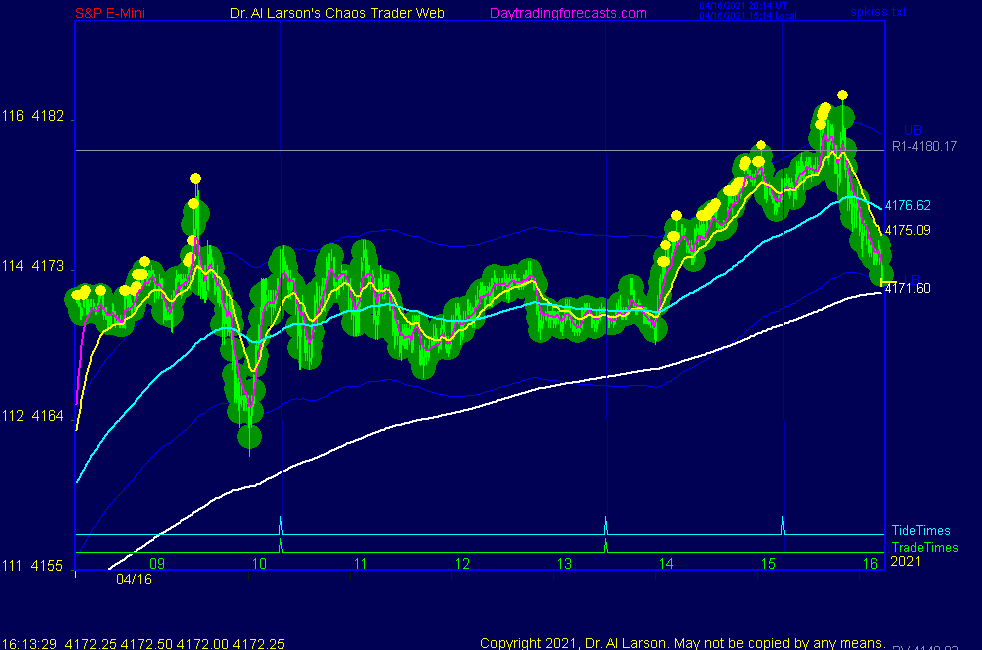 4/16/2021 1:26:10 PM MT Al****:: I'm done. Thanks for coming. See you next week. Take some courses. Have a good weekend.
4/16/2021 1:18:47 PM MT Al****:: stopped for +5 - pressed my stop when prices hit R1
4/16/2021 12:57:04 PM MT Al****:: stop now to 4174.5
4/16/2021 12:56:55 PM MT DWY:: first week in a month that I havent heard any short spx talk here. SIGN of things to come.
4/16/2021 12:49:26 PM MT Al****:: moved stop to lock in 1.5
4/16/2021 12:49:00 PM MT TG****:: My spliced FG says 88 in line with the yellow level
4/16/2021 12:46:24 PM MT Al****:: I will also be watching the Sun +Hg000 flux line on the SPSunMoon chart
4/16/2021 12:40:13 PM MT Al****:: secret->esnat72 suggests making it up to the magenta or yellow vibe level
4/16/2021 12:38:45 PM MT TG****:: looked like a good cross just after the tide time in direction of the 440 so went with it.
4/16/2021 12:37:27 PM MT TG****:: I got in at 70.5 on the 15/20 upside cross but then had to sit through that last downside throwover.
4/16/2021 12:34:59 PM MT Al****:: I somehow managed to get an entry at 4171.25 and have my stop at 4171.5
4/16/2021 12:32:10 PM MT Al****:: then knowing it was a two Moon day and looking at my ephi had me ready to go long again
4/16/2021 12:28:40 PM MT Al****:: that was a long flat to sit through, but I was helped by having bought the 10:00 dip and taking +3.5
4/16/2021 12:20:47 PM MT Al****:: last low was 4 hours after morning low, 6th harmonic of day
4/16/2021 12:03:49 PM MT Al****:: just had to rotate past Uranus
4/16/2021 11:59:09 AM MT Al****:: this things about as flat as my miniature lilac bush with 7 inches of wet spring snow on top of it
4/16/2021 11:37:58 AM MT Al****:: in flat markets the Fractal Grid from Chaos Trading Made Easy is a good tool
post a chart in the CCT Room
4/16/2021 11:25:58 AM MT DWY:: Hourly= Long, 15min = Neutral, 5min = Short
4/16/2021 11:20:15 AM MT Al****:: when it gets this dull I use the time to look at the ephemeris to see if I: can figure out when the energy might pick up
doing this suggests 13:51 Eastern
4/16/2021 11:19:51 AM MT DWY:: kids, looking for a primary trend short entry around 4200-4170 area.
4/16/2021 11:07:50 AM MT Al****:: now rotating pas the Sun - still flat but holding up
4/16/2021 10:45:53 AM MT Al****:: the rotating Earth is about to move the NYSE past Mercury which can add energy
4/16/2021 10:43:33 AM MT Al****:: on the SPSunMoon chart note that prices are slowly up along the +Mg090 electric field flux

4/16/2021 9:25:00 AM MT Al****:: on the Secret->esnat72 chart trading flat on green vibration
early move was up from the white vibe
after pass the two vertical lines may move up
4/16/2021 9:11:07 AM MT Al****:: today is a "two Moon day." There are Moon timelines early and late
see the SPSunMoon chart
these days typically run Moo to Moon or Moon-Noon-Moon
4/16/2021 8:57:59 AM MT Al****:: something to watch for today is the double line green swan shown on the Chaos Clinic chart
4/16/2021 8:24:24 AM MT Al****:: early dip into 10:00 low is typical Friday morning head fake
note on SPSunMoon chart the Moon timeline at 10:20
4/16/2021 6:34:59 AM MT Al****:: Good Morning visitors. Welcome to the Chaos Clinic. The written Chaos Clinic is on the AUX page.
This site has a lot of charts,
so you may find it useful to have several of them available within your
browser. If you have a tabbed browser, you can open separate charts
in separate tabs by right clicking on any link, and selecting "open in new tab"
from the menu. The main list of site pages is at
http://daytradingforecasts.com/chartlistsec.asp
Recommended pages to watch are SPKISS, MTRainbow, and Chat.
For astro stuff, add SPSunMoon, Wheel, and Chaos Clinic.
A special set of Dr. Al's research charts are on the Secret page.
Comments in the chat room are announced by a
"duck call" noise. This noise also occurs when the sofware detects a
resonant hex pattern on the Wheel page. MoonTide trading tutorials
are on the right side of the ListOfCharts page. One should
read Trading the MoonTide Tutorial and Keep it Simple as a minimum.
Many subcribers do not strictly trade the MoonTides, but use the charts on this
site as input to their own trading strategies. For example, the bottom chart on the SPKiss page is good starting point for swing traders.
Also on this site is the Certified Chaos Trader's Room. That room is open
to graduates of my 4 main courses. See http://moneytide.com -> Courses for details.
9:00 Eastern-System: No comments

---