---
CHAOS CLINIC RECAP
---
---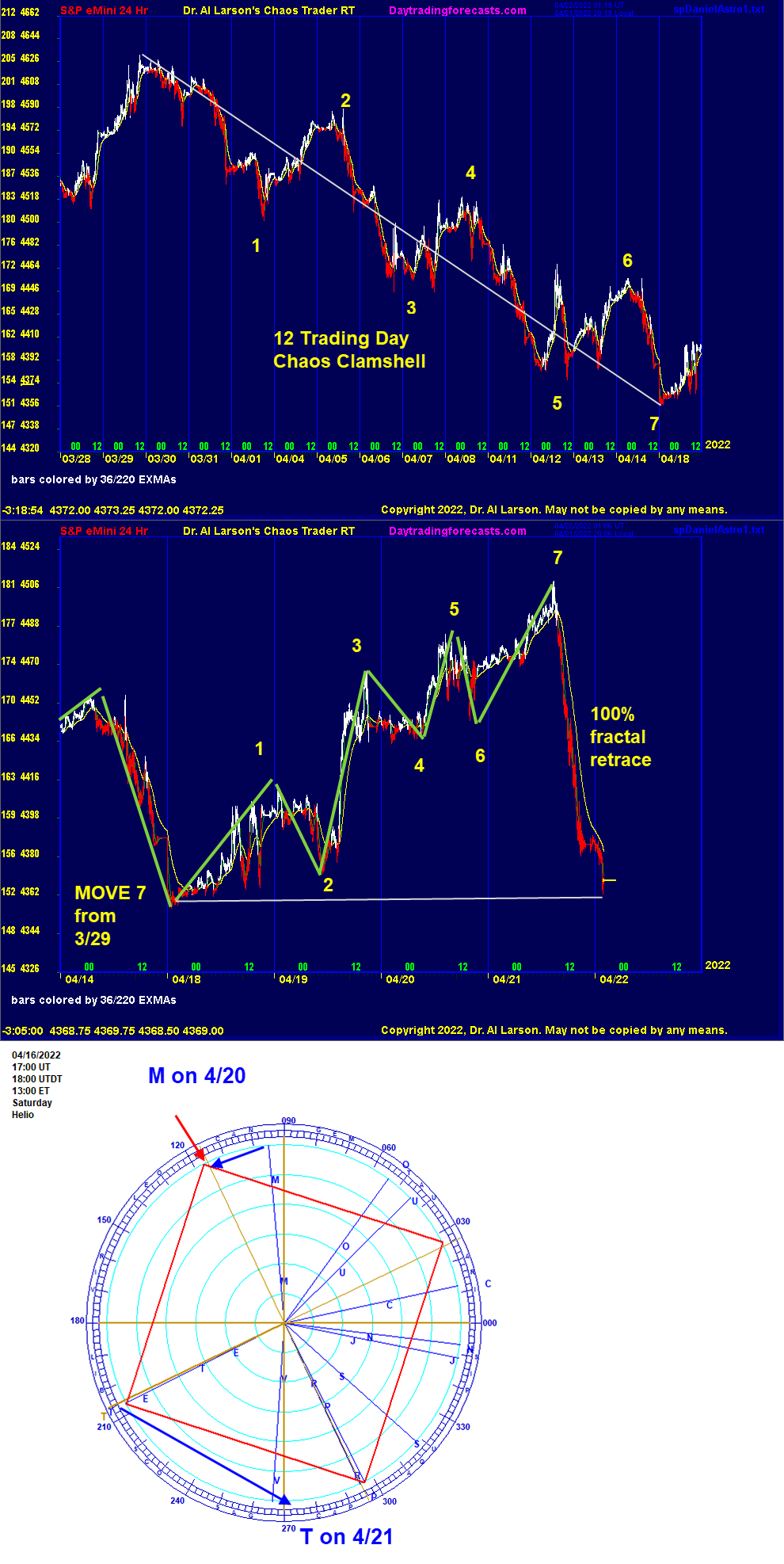 ********************************************************************************
Market Astrophysics And Chaos Clamshells In The S&P
Chaos Clinic for 4/22/2022

********************************************************************************

The two charts above show two Chaos Clamshells ((CCs) in the S&P futures.

The top chart shows a 12 trading day down Chaos Clamshell from 3/292022 to
this Monday, 4/18/2022.

That nice orderly Chaos Clamshell was followed by a fast rally lasting from the
Monday low into the high on 4/21/2022. That rally got a big boost from a
"Two Moon Day" (see 4/30/2021 Chaos Clinic ) on Tuesday the 19th. These days
are often volatile and one way, which it was on Tuesday, forming move 3 of the up CC.

Wednesday worked higher, as the up Chaos Clamshell made moves 5 and 6.Then on Thursday
morning, just after the normal session began, the S&P made an early double top.

The chat room on daytrading forecasts had three comments that suggested what was to come:


4/21/2022 7:05:47 AM ET pb****:: My calendar shows today as a critical day of the month.

4/21/2022 11:26:54 AM MT Al****:: note secret->esnat360 shows 7 moves up from Monday low
esnat72 high shows two closely spaced tops - I call this a "Baby Bird's Mouth"
watch for today's 24 hour low to be taken out

What happened next was a 100% retrace of the up Chaos Clamshell in a few hours. This is chaos at it's finest.

Such wild moves can usually be traced back to the universal electric field, My tool for doing that is the
ephemeris wheel. I often get help from the Creator, reminding me to do my homework. On Thursday April 14th
I go an email from long time client ME asking me what I though the 12.8 year menarche cycle was showing.
On Saturday the 16th I took a look at it. I found that it was the Jupiter-Neptune (JN)cycle, harmonizing
with 8 Venus-Earth (VE) and 6 Earth-Mars (ER) cycles. The JN cycle is nearing a conjunction, the VE cycle
is sextile, and the ER cycle is square. This was obviously the cycle being pointed to by Easter,
which is the first Sunday after the first Full Moon, after the spring Equinox. The ancient liturgical
calendar was set up by very skilled astrologer priests.

Helio cycles are energy coming off the Sun. This energy is focused by the inner planets and the Moon.
The Moon-Mercury cycle is 40 days, also built into the liturgical calendar. So I was curi0us how these
would show up. On the 20th, Mercury opposed Mars and squared the Earth. Then on the 21st. the Moon conjoined
Venus. That triggered the sharp S&P drop.

For more on my work and to subscribe to Tomorrow's Market Email Hotline and access to daytradingforecasts.com see
Moneytide.com
Software to plot electric field flux lines in NinjaTrader is available at
energyfieldtrading.com
---

Below is one of the SPKISS charts from daytradingforecasts.com
and the chat room comments from this Chaos Clinic. Most recent comment is on top.
---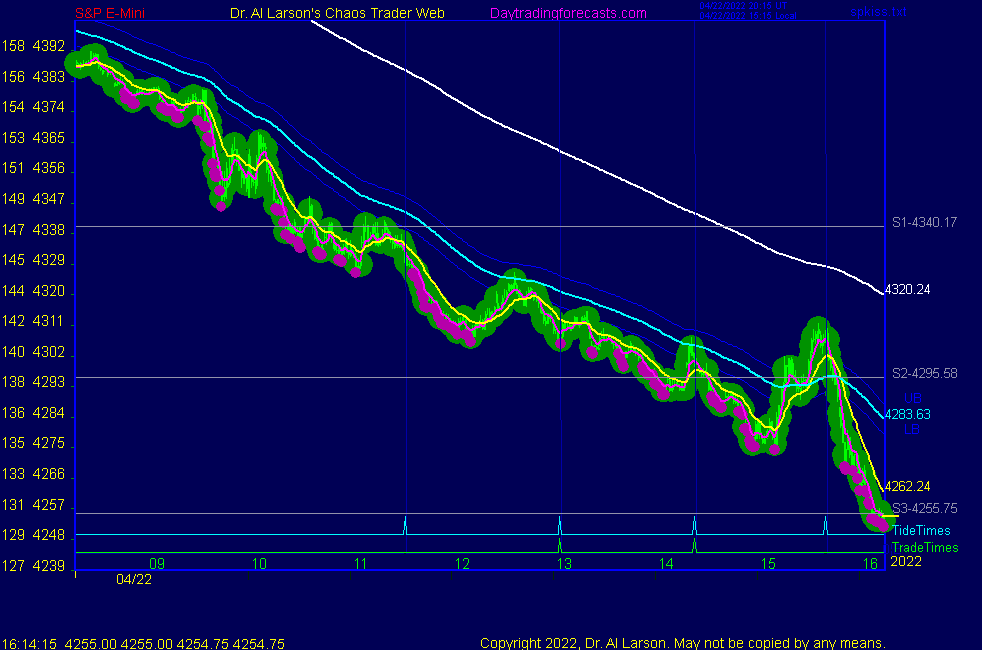 4/22/2022 12:05:54 PM MT Al****:: I'm calling it a day for the clinic. Trend is relentless down for second day in a row. Cycles tell me this is a major break.
thanks for coming. Have a great weekend. See you next weekend. Take some courses.
4/22/2022 10:02:21 AM MT Al****:: that heliocentric cycle has a key date 6/10/2022 when Jupiter finally reaches Neptune. At that time it is also joined by Venus. And Mercury conjoins Pluto, squared by Moon
not a forecast but some information on what seems to be a powerful cycle
4/22/2022 9:47:01 AM MT Al****:: more push balls so going lower
4/22/2022 9:26:07 AM MT Al****:: note the pink push balls on SPKISS page chart 4
I watch to wee if there are no more after 27 minutes
4/22/2022 9:19:04 AM MT Al****:: note on the secret->esnat72 chart the white vibration levels - down 1 level ant this one is S1
4/22/2022 9:16:22 AM MT Al****:: on a follow through day like today, one often sees a CIT near 11:00
4/22/2022 8:59:28 AM MT Al****:: note that this morning's decline is following the red -Tide on SPKISS page chart 1
4/22/2022 7:02:12 AM MT Al****:: Good Morning visitors. Welcome to the Chaos Clinic. The written Chaos Clinic is on the AUX page.
This site has a lot of charts,
so you may find it useful to have several of them available within your
browser. If you have a tabbed browser, you can open separate charts
in separate tabs by right clicking on any link, and selecting "open in new tab"
from the menu. The main list of site pages is at
http://daytradingforecasts.com/chartlistsec.asp
Recommended pages to watch are SPKISS, MTRainbow, and Chat.
For astro stuff, add SPSunMoon, Wheel, and Chaos Clinic.
A special set of Dr. Al's research charts are on the Secret page.
Comments in the chat room are announced by a
"duck call" noise. This noise also occurs when the software detects a
resonant hex pattern on the Wheel page. MoonTide trading tutorials
are on the right side of the ListOfCharts page. One should
read Trading the MoonTide Tutorial and Keep it Simple as a minimum.
Many subscribers do not strictly trade the MoonTides, but use the charts on this
site as input to their own trading strategies. For example, charts 5 and 6 on the
SPKiss page are a good starting point for swing traders.
Also on this site is the Certified Chaos Trader's Room. That room is open
to graduates of my 4 main courses. See http://moneytide.com -> Courses for details.
---