---
CHAOS CLINIC RECAP
---
---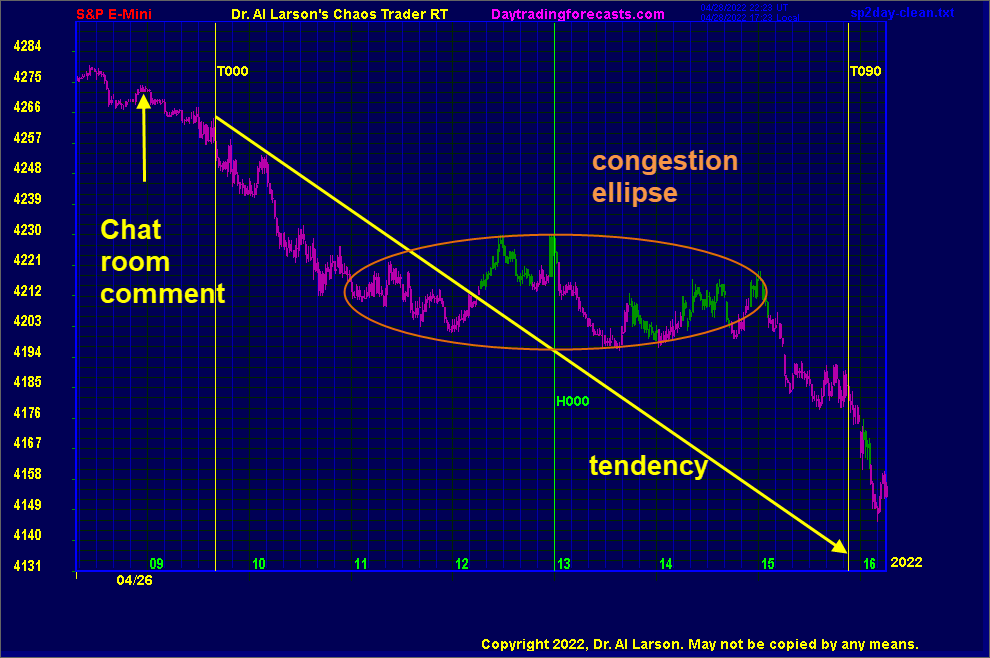 ********************************************************************************
A Great "Two Moon Day" In The S&P
Chaos Clinic for 4/29/2022

********************************************************************************

Subscribers to my S&P day trading hotline at
daytradingforecasts.com
learn about one of the more profitable effects the Moon has on the S&P. This is
what I call a "Two Moon Day." These are days when the rotating Earth
moves the New York Stock Exchange to form an aspect of 0, 90, 180, or 270 degrees
to the Moon.

Two Moon days are often volatile, and tend to move Moon to Moon, or Moon, Noon, Moon.

This chart shows the S&P on 4/26/2022. It is a year after I described Two moon Days in the
4/30/2021 Chaos Clinic.

On this day I warned hotline clients in the chat room that 4/26/2022 was one of these days:
4/26/2022 8:32:16 AM MT Al****:: note: today is a "Two Moon Day"

The TOOO vertical line is where the Earth rotated the NYSE past the Moon. Prices followed the
Moon-to-Moon tendency all day, ending with an end of day dump, just after the T090 timeline.

Mid day, the decline seemed to have stalled. I posted a chart showing that the stall was
a "congestion ellipse." These horizontal ellipses help predict when a congestion will end.
The middle of the ellipse is the widest part. In this case that was the Sun, at 13:00 Eastern
due to daylight time. This ellipse suggested the stall would end near 15:00, which it did.
So it turned out that the ellipse was 4 hours long, a harmonic 1/6th of a day.

Knowing about the Two Moon day, and a bit of patience made for a profitable day.

For more on my work and to subscribe to Tomorrow's Market Email Hotline and access to daytradingforecasts.com see
Moneytide.com
Software to plot electric field flux lines in NinjaTrader is available at
energyfieldtrading.com
---

Below is one of the SPKISS charts from daytradingforecasts.com
and the chat room comments from this Chaos Clinic. Most recent comment is on top.
---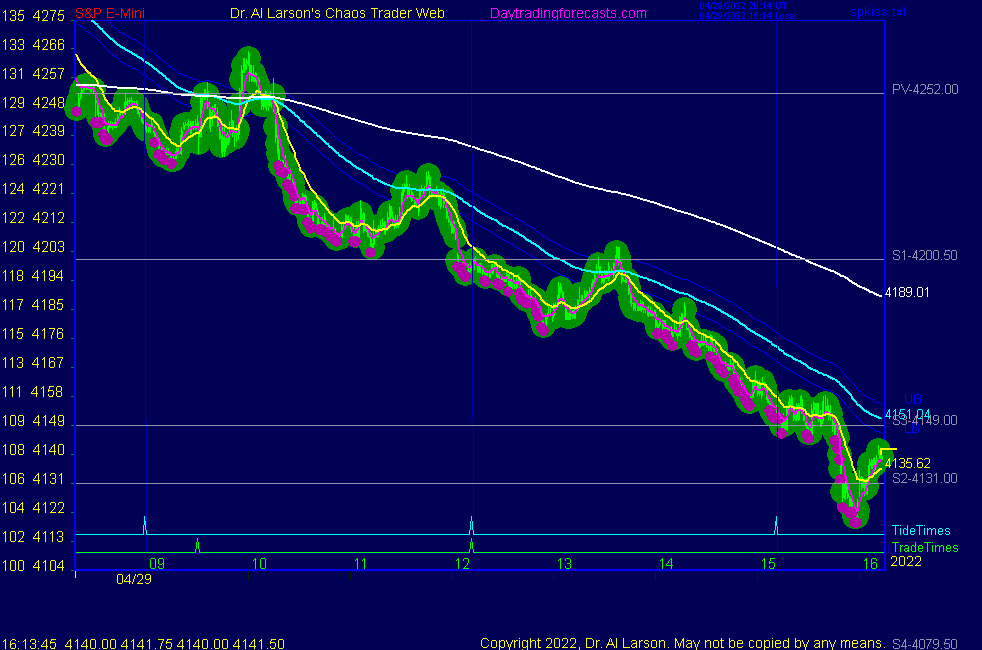 4/29/2022 12:31:12 PM MT Robert****:: 4157 next level signaled price will hit.
4/29/2022 11:37:40 AM MT Al****:: so I'm calling it a day. Thanks for coming. Take some courses.
4/29/2022 11:35:52 AM MT Al****:: further, prices hit the up +T090 Moon flux on the SPSunMoon chart
4/29/2022 11:33:39 AM MT Al****:: also, Robert has good numbers so I respect them when they match my stuff
4/29/2022 11:31:39 AM MT Al****:: I covered because of the harmony on ESNat72, I'm tired, red -Tide suggests up, and I can see 7 moves from the overnight high on secret->esnat72
4/29/2022 11:26:56 AM MT Al****:: I got one good trade, so I'll give thanks to the Creator and quit for today.
4/29/2022 11:25:09 AM MT Al****:: Here's my trade today exported from my IB system
MES,SLD,5,4230.00,14:20:06,20220429,GLOBEX
MES,BOT,5,4188.25,17:02:53,20220429,GLOBEX
4/29/2022 11:16:20 AM MT Al****:: passed solar noon - nice harmonic move on esnat72
not a bad point to take a day trade profit
4/29/2022 11:01:17 AM MT Al****:: on secret->esnat72 that is down two magenta vibration levels
4/29/2022 10:58:34 AM MT Al****:: there's your 4183 Robert
4/29/2022 10:56:47 AM MT Al****:: an interesting thing about EXMAs is that they can reach a "lock limit" point and become straight lines -the 220 has done that
4/29/2022 10:52:50 AM MT Al****:: this is now a "Falling Dagger" market
4/29/2022 10:38:02 AM MT Al****:: the SP short Exchange Traded Fund SH is looking strong
4/29/2022 10:35:51 AM MT Al****:: but with the Fed raising rates next week, these may be weak support
4/29/2022 10:33:13 AM MT Al****:: S2 is 4131 -Flash Boys usually go at least for 2 levels
4/29/2022 10:12:01 AM MT Al****:: there was a clear 20/110 continuation sell at the 2nd MoonTide trade time
4/29/2022 10:10:46 AM MT Robert****:: 4183 is where its going
4/29/2022 10:08:39 AM MT Al****:: bar colors on chart 3 on SPKISS page show steady down
4/29/2022 10:00:51 AM MT Al****:: now note last little rally stayed below the 220 and stopped at the magenta vibration on secret->esnat72
4/29/2022 9:59:11 AM MT Robert****:: we headed down Al?
4/29/2022 9:31:24 AM MT Al****:: on the Secret->esnat72 page note that the overnight high was on a yellow vibration level
Then prices bounced off a green level, the broke it.
the 36/220 EXMAs turned the bar color magenta Then prices declined into 8:30 to the yellow level,
a harmonic 45 degrees down.
then prices bounced 2 levels up to the green level.
it had been support, but now became resistance. This was 3 levels down, 2 up. The entire musical scale is built on this 2:3 ratio. So what looked like chaos was actuall harmonic
4/29/2022 9:14:02 AM MT Al****:: after that early choppiness, the Flash Boy computers all got on the same page .
4/29/2022 8:25:19 AM MT Al****:: spike high early in normal session came as exchange passed Neptune,Venus, and Jupiter
4/29/2022 8:22:34 AM MT Al****:: may go lower
4/29/2022 8:13:06 AM MT Al****:: the first chart on the Chaos clinic page paints an interesting picture of a trading range market until late
4/29/2022 8:08:36 AM MT Al****:: early Friday day trades are always tough, but today especially since it is last day of month
4/29/2022 8:06:02 AM MT Al****:: I'm just watching - too choppy
4/29/2022 8:01:05 AM MT lik:: Al, did you get some trade ? tia.
4/29/2022 7:17:36 AM MT Al****:: note on Secret->esnat72 Flash Boys sold the pivot on the economic report at 8:30 Eastern
4/29/2022 6:30:52 AM MT Al****:: Good Morning visitors. Welcome to the Chaos Clinic. The written Chaos Clinic is on the AUX page.
This site has a lot of charts,
so you may find it useful to have several of them available within your
browser. If you have a tabbed browser, you can open separate charts
in separate tabs by right clicking on any link, and selecting "open in new tab"
from the menu. The main list of site pages is at
http://daytradingforecasts.com/chartlistsec.asp
Recommended pages to watch are SPKISS, MTRainbow, and Chat.
For astro stuff, add SPSunMoon, Wheel, and Chaos Clinic.
A special set of Dr. Al's research charts are on the Secret page.
Comments in the chat room are announced by a
"duck call" noise. This noise also occurs when the software detects a
resonant hex pattern on the Wheel page. MoonTide trading tutorials
are on the right side of the ListOfCharts page. One should
read Trading the MoonTide Tutorial and Keep it Simple as a minimum.
Many subscribers do not strictly trade the MoonTides, but use the charts on this
site as input to their own trading strategies. For example, charts 5 and 6 on the
SPKiss page are a good starting point for swing traders.
Also on this site is the Certified Chaos Trader's Room. That room is open
to graduates of my 4 main courses. See http://moneytide.com -> Courses for details.
9:00 Eastern-System: No comments

---