---
CHAOS CLINIC RECAP
---
---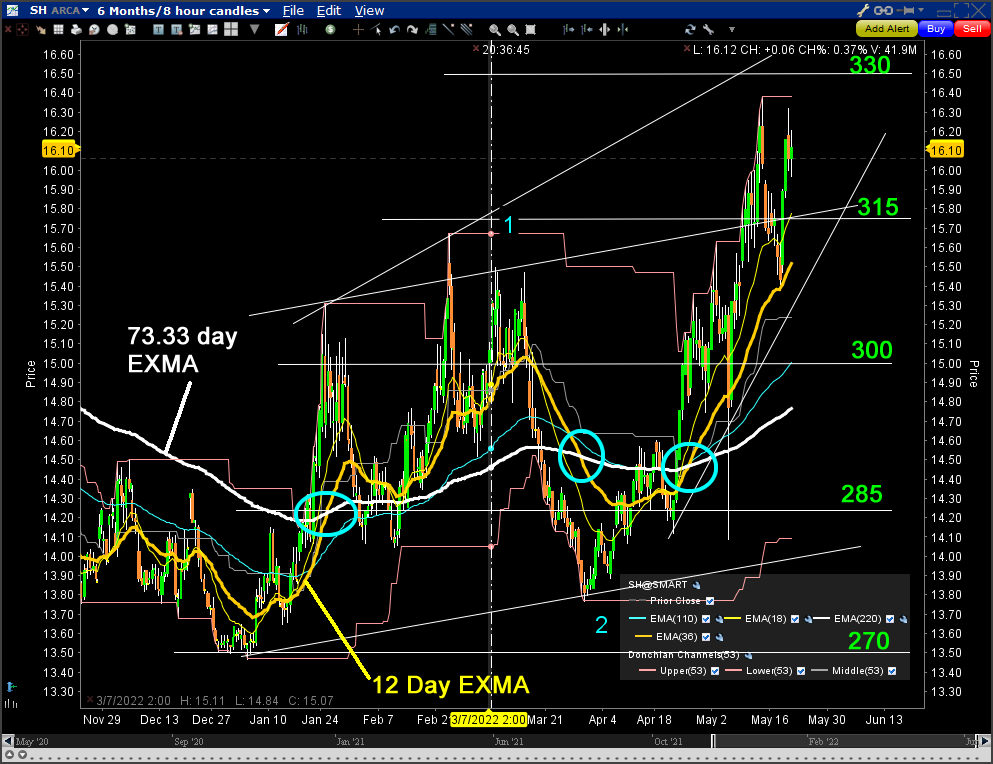 ********************************************************************************
The Short S&P ETF Chart
Chaos Clinic for 5/20/2022

********************************************************************************

This chart is an 8 hour bar chart of the short S&P exchange traded fund SH.
This ETF is useful for profiting from declines in the S&P, especially over
periods of months.

Overlaid on this plot is a rainbow of EXMAs of 18, 36, 110, and 220 bars.
The yellow 36 bar is 12 days, and the white 220 is 73.30 days. Watching these is
useful on finding the moves in a Chaos Clamshell. Noting the 3 crossings of these
EXMAs helps see that this chart shows a 1, 2, and now 3 move out of 7 in a
Chaos Clamshell.

I like to somehow convert price to the circle so IK can see the harmonic moves.
Here I have multiplied price by 20 to get a reasonable scale. I would anticipate
a move of at least 90 degrees. If this scaling is correct, that would mean a
move to 18 eventually. Right now, SH is likely to form a move 4.


For more on my work and to subscribe to Tomorrow's Market Email Hotline and access to daytradingforecasts.com see
Moneytide.com
Software to plot electric field flux lines in NinjaTrader is available at
energyfieldtrading.com
---

Below is one of the SPKISS charts from daytradingforecasts.com
and the chat room comments from this Chaos Clinic. Most recent comment is on top.
---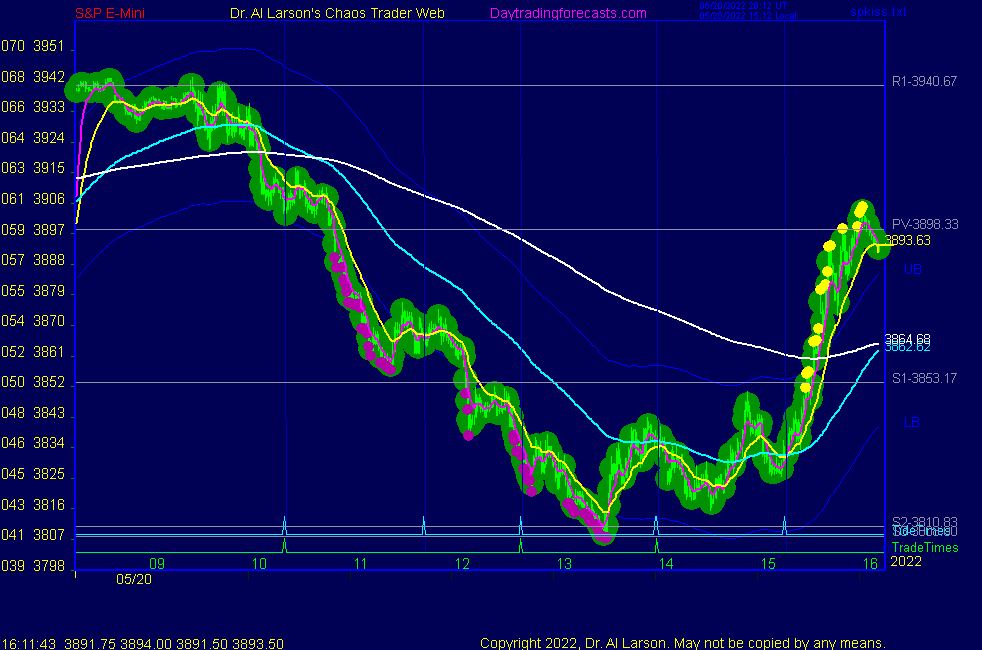 5/20/2022 12:02:15 PM MT Al****:: got a nice gain out of that drop-may be more but I'm tired, so calling it a day-thanks for coming-take some courses-see you next week
5/20/2022 11:58:19 AM MT Al****:: on Secret->esnat72 note range of 3 green vibrations
5/20/2022 11:56:17 AM MT Al****:: got bounce off of S2 / magenta vibe on Secret ->esnat360
5/20/2022 11:06:53 AM MT Al****:: on a move like this, the EXMAs can reach a limit rate of movement and become straight lines
this lets yo draw a line along one and extend it to the close
doing that now on the 110 projects 3762
5/20/2022 10:43:32 AM MT Al****:: today the Moon conjoined Pluto
in a few past Chaos Clinics I've noted that Pluto helio electric field flux lines show up as support/resistance levels
Today's high was +Ph045 about 3942. from that subtract multiples of 45 to get possible targets
5/20/2022 10:09:49 AM MT Al****:: and broke it
5/20/2022 10:08:29 AM MT Al****:: pressing last week's low of 3855
5/20/2022 9:23:53 AM MT Al****:: this could be a falling knife like Wednesday
a common trading error is to try to buy it - but if it is really a falling knife, the bar colors on Secret->esnat72 will stay magenta
5/20/2022 9:03:07 AM MT Al****:: see chart 3 on SPKISS page
5/20/2022 9:00:49 AM MT Al****:: first MoonTide trade was a sell with all the EXMAs curling over
5/20/2022 8:51:14 AM MT Al****:: look good on my Atarti
5/20/2022 8:28:26 AM MT WTL:: ...but can't see too much on my Commodore 64....
5/20/2022 8:27:07 AM MT WTL:: Wowzer, Dr Al Procharts are wild thank you
5/20/2022 8:10:13 AM MT Al****:: one of the new features on the site are the Pro1K and Pro4K pages
which give you 12 charts on one screen
5/20/2022 6:41:04 AM MT Al****:: Good Morning visitors. Welcome to the Chaos Clinic. The written Chaos Clinic is on the AUX page.
This site has a lot of charts,
so you may find it useful to have several of them available within your
browser. If you have a tabbed browser, you can open separate charts
in separate tabs by right clicking on any link, and selecting "open in new tab"
from the menu. The main list of site pages is at
http://daytradingforecasts.com/chartlistsec.asp
Recommended pages to watch are SPKISS, MTRainbow, and Chat.
For astro stuff, add SPSunMoon, Wheel, and Chaos Clinic.
A special set of Dr. Al's research charts are on the Secret page.
Comments in the chat room are announced by a
"duck call" noise. This noise also occurs when the software detects a
resonant hex pattern on the Wheel page. MoonTide trading tutorials
are on the right side of the ListOfCharts page. One should
read Trading the MoonTide Tutorial and Keep it Simple as a minimum.
Many subscribers do not strictly trade the MoonTides, but use the charts on this
site as input to their own trading strategies. For example, charts 5 and 6 on the
SPKiss page are a good starting point for swing traders.
Also on this site is the Certified Chaos Trader's Room. That room is open
to graduates of my 4 main courses. See http://moneytide.com -> Courses for details.
9:00 Eastern-System: No comments

---