---
CHAOS CLINIC RECAP
---
---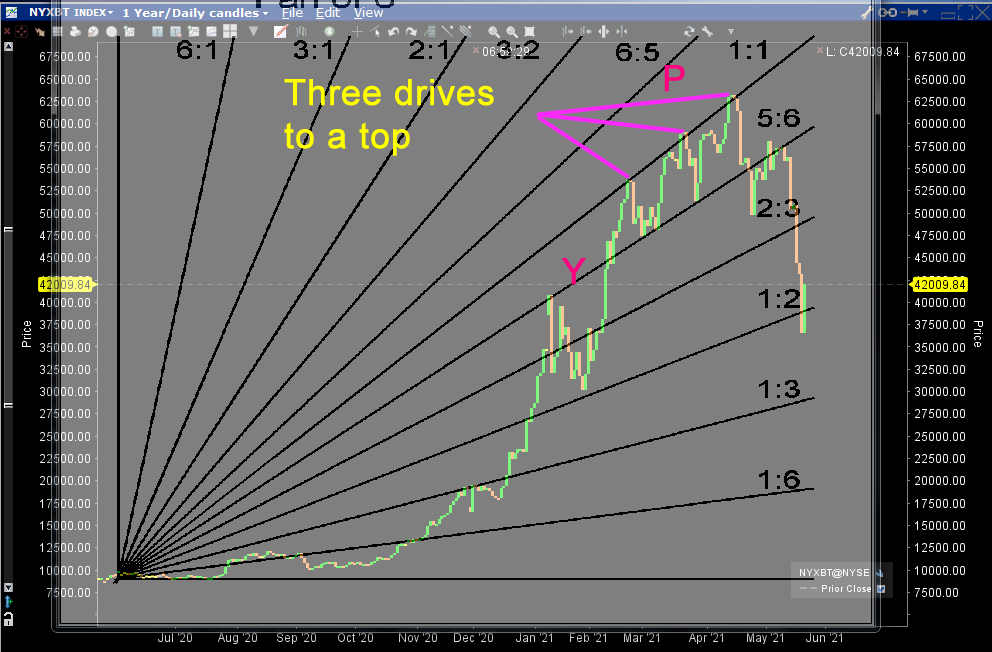 ********************************************************************************
The Gann Fan in Bitcoin
Chaos Clinic for 5/21/2021
********************************************************************************

This chart shows the Gann Fan in the NYXBT bitcoin index.

Bitcoin was supposedly invented as an electronic medium of exchange that could not
be controlled by central banks. It is not really a currency, but a computer calculation.
The calculation is a data file which can be updated by anyone who can break its encryption.
The person ( called a miner) who breaks the code cannot change the current file, but only add a line to it.
When the updated file is saved, it changes the encryption, so the next update requires the
next person to update the file to break the encryption again. This is called a block chain.
The basic technology has many applications other than a crypto currency.

Bitcoin has exploded in the past year. While doing so it has displayed a radial harmonic behavior
discovered by legendary trader W. D. Gann. This is shown by the my fan overlay.
My fan is labeled with the slope ratios. For example, 6:1 is the steepest slope.
I do this because the ratios relate to pitch in the musical scale.
Gann and most software use a x:y notation, so would label the line 1x6.

The fan of harmonic lines serve as a diagonal form of support and resistance.
In mid 2020, prices were flat, then moved up and followed the 1:6 for a while,
before dropping back below it. In late 2020, prices broke above it, hitting
the 1:3. This was evidence of increased vibration. Prices then moved sharply
up to the 5:6, back to the 1:2, then up to the 1:1.

This rally did not go unnoticed by US Treasury Secretary Janet Yellen, who in
late February warned that bitcoin is an "extremely inefficient" way to conduct
monetary transactions. This is because each transactions requires more computer power
and electricity than the last.

In March, Federal Reserve Chairman Powell warned that
Bitcoin and other crypto currencies are "not really useful as a store of value."
The letters Y and P on the chart mark these comments.

After reaching the 1:1, prices formed a trader's "Three drives to a top" pattern, vibrating between
the 1:1 and the 5:6. They have now pulled back to the 1:2. the Gann fan equivalent
to a 50 percent pullback.

So while Bitcoin may not be efficient, it is harmonic.

For more on my work and to subscribe to Tomorrow's Market Email Hotline and access to daytradingforecasts.com see
Moneytide.com
Software to plot electric field flux lines in NinjaTrader is available at
energyfieldtrading.com
---

Below is one of the SPKISS charts from daytradingforecasts.com
and the chat room comments from this Chaos Clinic. Most recent comment is on top.
---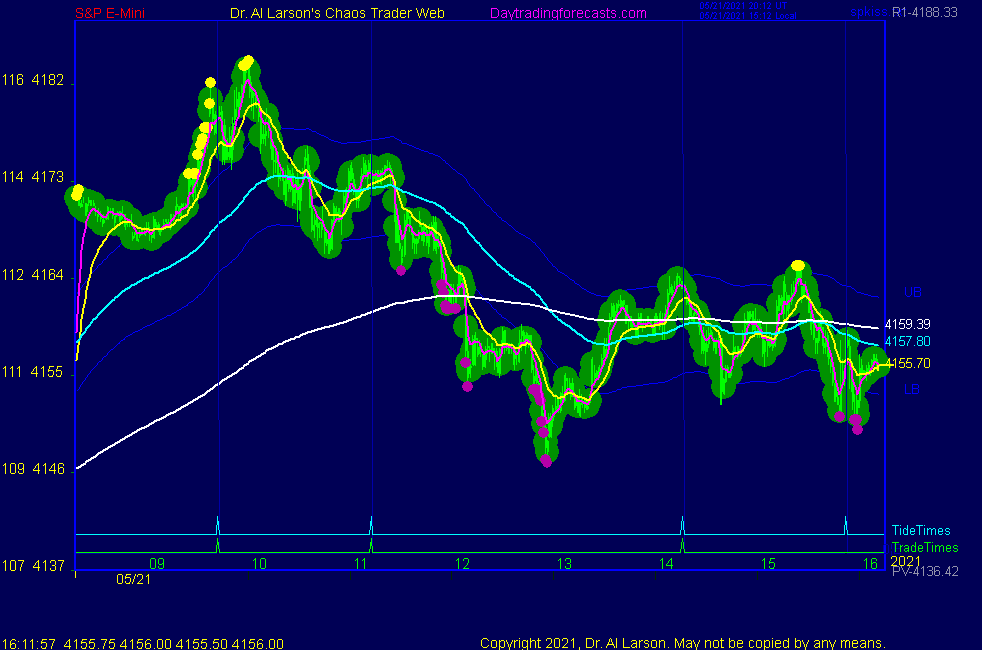 5/21/2021 2:09:43 PM MT Al****:: nice TG; everyone have a good weekend
5/21/2021 2:05:38 PM MT Al****:: took 7
5/21/2021 2:04:47 PM MT TG****:: If the last trade time was a bottom I got in pretty good I possibly would have held through a throwover especially if there was more time. but this late in the day with the tide forecast going flat I just couldn't let 9 points on the board turn into anything worse than Even.
5/21/2021 1:57:30 PM MT Al****:: hard for me to do, but still holding
5/21/2021 1:46:22 PM MT Al****:: I sold 62.20 after the little push ball top
5/21/2021 1:41:52 PM MT Al****:: 16:00 may be hot because Exchange rotates past Mars exactly then
5/21/2021 1:38:42 PM MT TG****:: Sold 61.25 coming out of last trade time and thought I was home free. Stopped for Even.
5/21/2021 1:35:43 PM MT Al****:: I'm only thing about today
5/21/2021 1:35:06 PM MT Al****:: plus those vertical lines on Secret chart
5/21/2021 1:34:34 PM MT qq:: I'm thinking a last minute push up near the close as a set-up to scalp later.
5/21/2021 1:34:17 PM MT Al****:: I'm watching for aq late sell off based on Down thrust, ABC correction
5/21/2021 1:30:30 PM MT qq:: Al, Any possibility they might scalp this near close or premarket Monday? EXAMS are up, but they're aging.
5/21/2021 1:24:02 PM MT pab:: Fed's Harker "Time to start talking about tapering sooner rather than later."
5/21/2021 12:38:52 PM MT Al****:: earlier qq said: Thinking a wild guess: Down a little more, then up a while, then last trade window down.
5/21/2021 11:58:08 AM MT qq:: For what it's worth from Cobra market blog:"This rise in put volume - both buying and selling - has pushed the Equity Put/Call Ratio to one of its highest levels of the past year, even though losses on stocks have been minor. Our De-Trended version of the ratio shows that a shorter-term moving average is more than 20% higher than a long-term moving average. This has preceded a very favorable annualized return since 1997." https://sentimentrader.com/blog/when-op ... turned-50/
5/21/2021 11:41:24 AM MT Al****:: it held, so got a bounce - think I'll call it a day-charts will run to close-thanks for coming-see you next week-take some courses
5/21/2021 11:21:10 AM MT Al****:: on chart 5 on SPKISS page have reached the white 2400 minute EXMA
breaking through it would be significant
5/21/2021 11:04:40 AM MT Al****:: that little congestion on the esnat72 vibe is good information for placing a stop: just above the congestion high, with the white vibe level as a buffer
5/21/2021 10:57:04 AM MT Al****:: now the Rainbow of EXMAs is down
high came as Exchange passed Chiron, the arbiter
now passing solar noon
5/21/2021 10:47:55 AM MT Al****:: looks like giving up white vibe on Secret->esnat72
not vertical lines end of day
5/21/2021 10:38:17 AM MT Al****:: The MTRainbow chart is showing downward curl on the longer EXMAs, suggesting weakness
5/21/2021 10:30:56 AM MT qq:: Thinking a wild guess: Down a little more, then up a while, then last trade window down.
5/21/2021 10:02:26 AM MT Al****:: just a caution that this may not be a big down move. But the EXMAs did indicate sell
5/21/2021 9:57:19 AM MT qq:: Thanks Al
5/21/2021 9:50:20 AM MT Al****:: the Chaos Clinic chart is showing mixed MoonTides, with just quick small moves. On Fridays this usually means "hold up to close"
5/21/2021 9:47:14 AM MT qq:: Support looking slippery
5/21/2021 8:42:59 AM MT Al****:: stalled at magenta vibe on esnat72 after an possible 7 move pattern
rest of day may be choppy
5/21/2021 8:29:16 AM MT qq:: Bounce off SPKISS ESNat72 green line?
5/21/2021 8:06:28 AM MT qq:: See 2nd SPKISS chart - could be a clue.
5/21/2021 8:04:33 AM MT Al****:: bar colors in Chaos Clinic chart suggest that
5/21/2021 8:00:55 AM MT qq:: Looks like it might keep up till next trade window.
5/21/2021 8:00:49 AM MT Al****:: note the white vibe support on Secret->esnat72, then the break through the green as normal session began
5/21/2021 6:57:00 AM MT Al****:: Good Morning visitors. Welcome to the Chaos Clinic. The written Chaos Clinic is on the AUX page.
This site has a lot of charts,
so you may find it useful to have several of them available within your
browser. If you have a tabbed browser, you can open separate charts
in separate tabs by right clicking on any link, and selecting "open in new tab"
from the menu. The main list of site pages is at
http://daytradingforecasts.com/chartlistsec.asp
Recommended pages to watch are SPKISS, MTRainbow, and Chat.
For astro stuff, add SPSunMoon, Wheel, and Chaos Clinic.
A special set of Dr. Al's research charts are on the Secret page.
Comments in the chat room are announced by a
"duck call" noise. This noise also occurs when the sofware detects a
resonant hex pattern on the Wheel page. MoonTide trading tutorials
are on the right side of the ListOfCharts page. One should
read Trading the MoonTide Tutorial and Keep it Simple as a minimum.
Many subcribers do not strictly trade the MoonTides, but use the charts on this
site as input to their own trading strategies. For example, charts 5 and 6 on the
SPKiss page are a good starting point for swing traders.
Also on this site is the Certified Chaos Trader's Room. That room is open
to graduates of my 4 main courses. See http://moneytide.com -> Courses for details.
9:00 Eastern-System: No comments

---