---
CHAOS CLINIC RECAP
---
---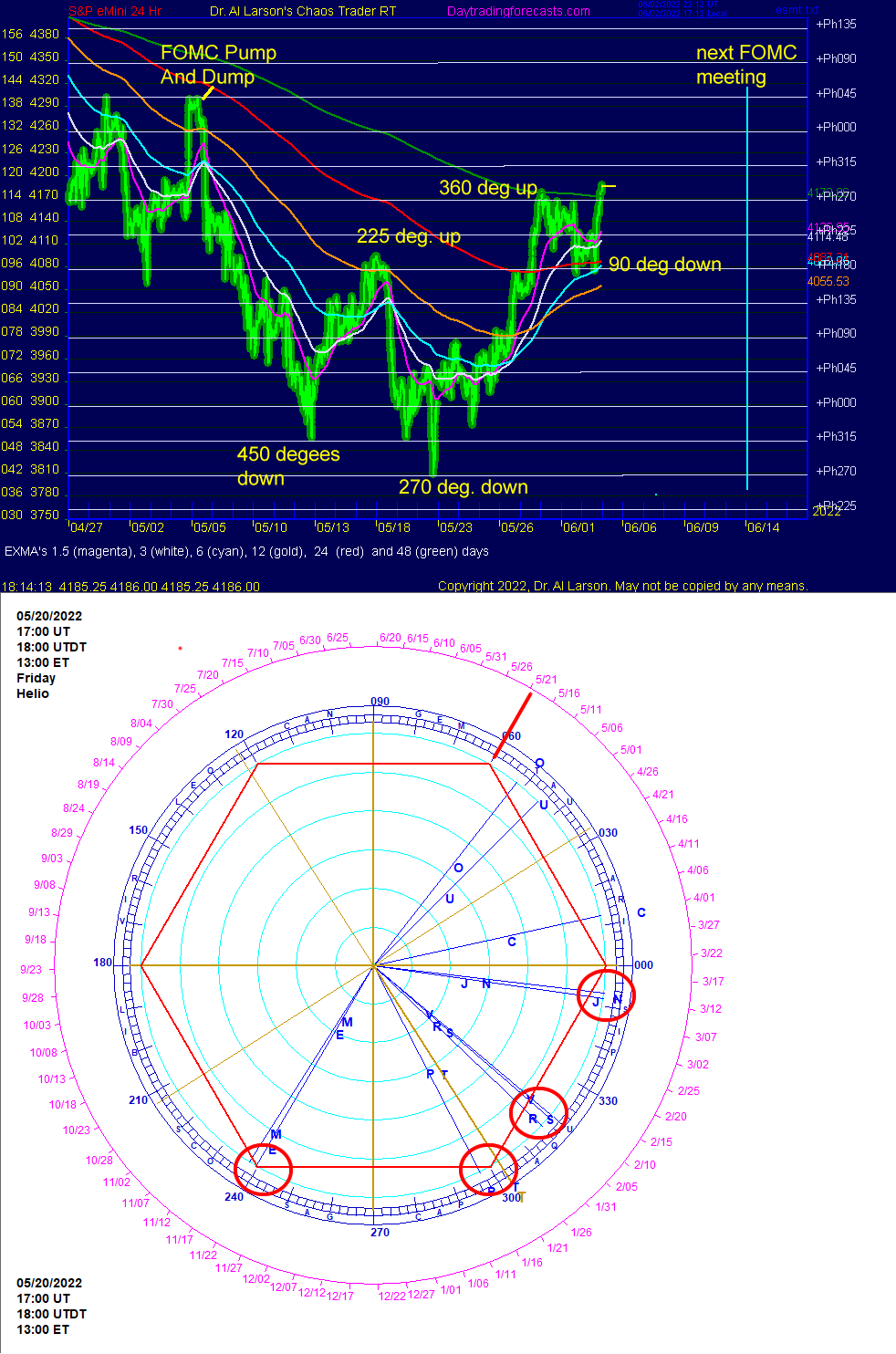 ********************************************************************************
Pluto Harmonics In The S&P
Chaos Clinic for 6/3/2022

********************************************************************************

This price chart (top) of the S&P futures over the past 10 weeks. Overlaid on it
are horizontal lines for Pluto's heliocentric position. The importance of
using heliocentric is because as the planets orbit the sun, they create tidal forces
that stir up the sun, timing it's emissions of charged particles. In my article
reprint package Market Astrophysics and Chaos<\B> the article
In Search of The Cause of Cycles shows the computation of this stirring
force, which I call The Master Clock. In that computation, Pluto accounts
for about 40% of the stirring force, due to it's long lever arm.

The Pluto flux lines are plotted every 45 degrees. Harmonic moves are multiples
of these. Starting from the FOMC Pump and Dump, prices dropped 450 degrees ( 5/4 of a circle),
rallied 225 degrees (5/8 of circle), dropped 270 degrees (3/4 of circle),
then rallied a full circle, before pulling back 90 degrees this week.
It is obvious that Pluto has a large effect on the S&P.

The low on this chart was on 5/20/2022. The lower chart of the helio ephemeris
shows that on this day, the Moon conjoined Pluto, at the same time that Mercury
conjoined Earth. In the Master clock calculations, Mercury also accounts
for about 40% of the stirring force, due to it's closeness to the Sun and it's
speed. There are two other conjunctions, of Venus, Saturn, and Mars and
of Jupiter and Neptune. These act to increase the stirring because they are
synchronized.

For more on my work and to subscribe to Tomorrow's Market Email Hotline and access to daytradingforecasts.com see
Moneytide.com
Software to plot electric field flux lines in NinjaTrader is available at
energyfieldtrading.com
---

Below is one of the SPKISS charts from daytradingforecasts.com
and the chat room comments from this Chaos Clinic. Most recent comment is on top.
---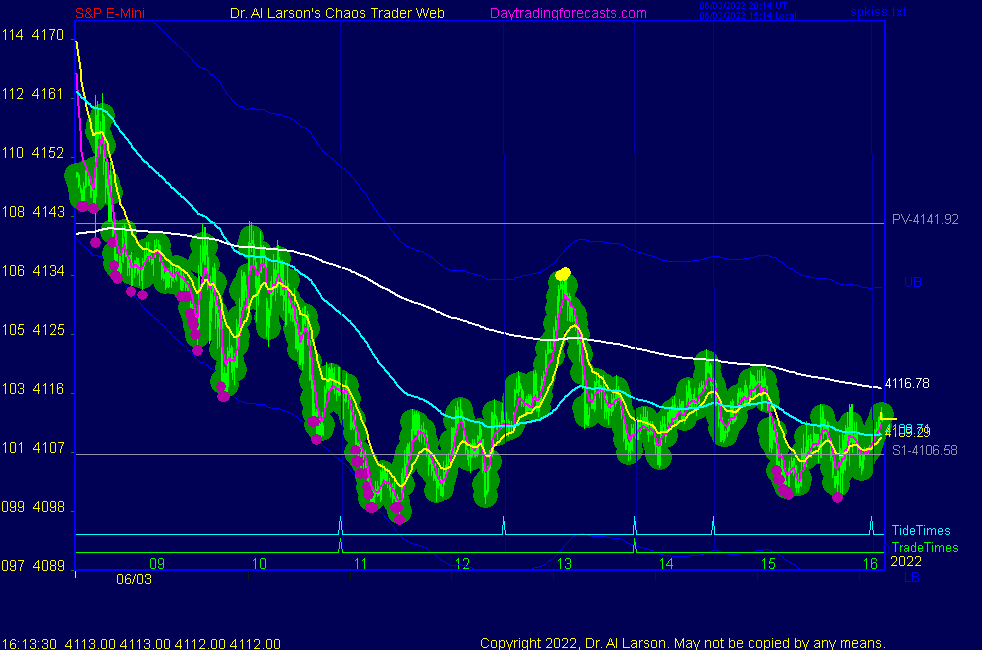 6/3/2022 12:13:35 PM MT Al****:: gotten dull-I'm going to day it a day-thanks for coming-see you next week-take some course
6/3/2022 11:47:24 AM MT Al****:: updated my chart in the CCT Room
6/3/2022 11:29:32 AM MT Al****:: that type of popup causes a "hook and go" on the EXMAs, which lag the astro events
6/3/2022 11:24:10 AM MT Al****:: note on SPKISS chart 4 the isolate push ball on the noon high
6/3/2022 11:19:57 AM MT Al****:: solar noon turned it back down
6/3/2022 11:10:22 AM MT Al****:: now note on Secret->esnat72 the two vertical lines at the end of the day
these are high energy times and coincide with the Exchange conjoining the Moon
6/3/2022 11:06:52 AM MT Al****:: and the 36/220 crossing
6/3/2022 11:05:49 AM MT Al****:: there is the Sun energy
6/3/2022 10:54:52 AM MT Al****:: note chart 3 on SPKISS has a 20/110 buy crossing with the 110 curling up
6/3/2022 10:39:38 AM MT Al****:: about that time the 36/220 minute EXMAs should give a buy crossing
6/3/2022 10:37:55 AM MT Al****:: energy should increase as Exchange rotates past Sun at 13:00 Eastern
6/3/2022 10:25:08 AM MT Al****:: support is on the Mercury +Mh225 electric field flux line
6/3/2022 10:06:23 AM MT Al****:: note on SPKISS chart 6 support on cyan 6 day EXMA and red 24 day
6/3/2022 10:00:09 AM MT Al****:: probing for a bottom; note secret->esnat72 down almost 2 yellow vibration levels, with trade at S1 as pas Mercury time line
6/3/2022 8:47:44 AM MT Al****:: support failed
6/3/2022 8:14:52 AM MT Al****:: behaving much like yesterday morning when prices tested +Ph180, but today it is +Ph225
6/3/2022 7:57:07 AM MT Al****:: I have posted a chart in the CCT Room
6/3/2022 6:50:25 AM MT Al****:: Good Morning visitors. Welcome to the Chaos Clinic. The written Chaos Clinic is on the AUX page.
This site has a lot of charts,
so you may find it useful to have several of them available within your
browser. If you have a tabbed browser, you can open separate charts
in separate tabs by right clicking on any link, and selecting "open in new tab"
from the menu. The main list of site pages is at
http://daytradingforecasts.com/chartlistsec.asp
Recommended pages to watch are SPKISS, MTRainbow, and Chat.
For astro stuff, add SPSunMoon, Wheel, and Chaos Clinic.
A special set of Dr. Al's research charts are on the Secret page.
Comments in the chat room are announced by a
"duck call" noise. This noise also occurs when the software detects a
resonant hex pattern on the Wheel page. MoonTide trading tutorials
are on the right side of the ListOfCharts page. One should
read Trading the MoonTide Tutorial and Keep it Simple as a minimum.
Many subscribers do not strictly trade the MoonTides, but use the charts on this
site as input to their own trading strategies. For example, charts 5 and 6 on the
SPKiss page are a good starting point for swing traders.
Also on this site is the Certified Chaos Trader's Room. That room is open
to graduates of my 4 main courses. See http://moneytide.com -> Courses for details.
9:00 Eastern-System: No comments

---