---
CHAOS CLINIC RECAP
---
---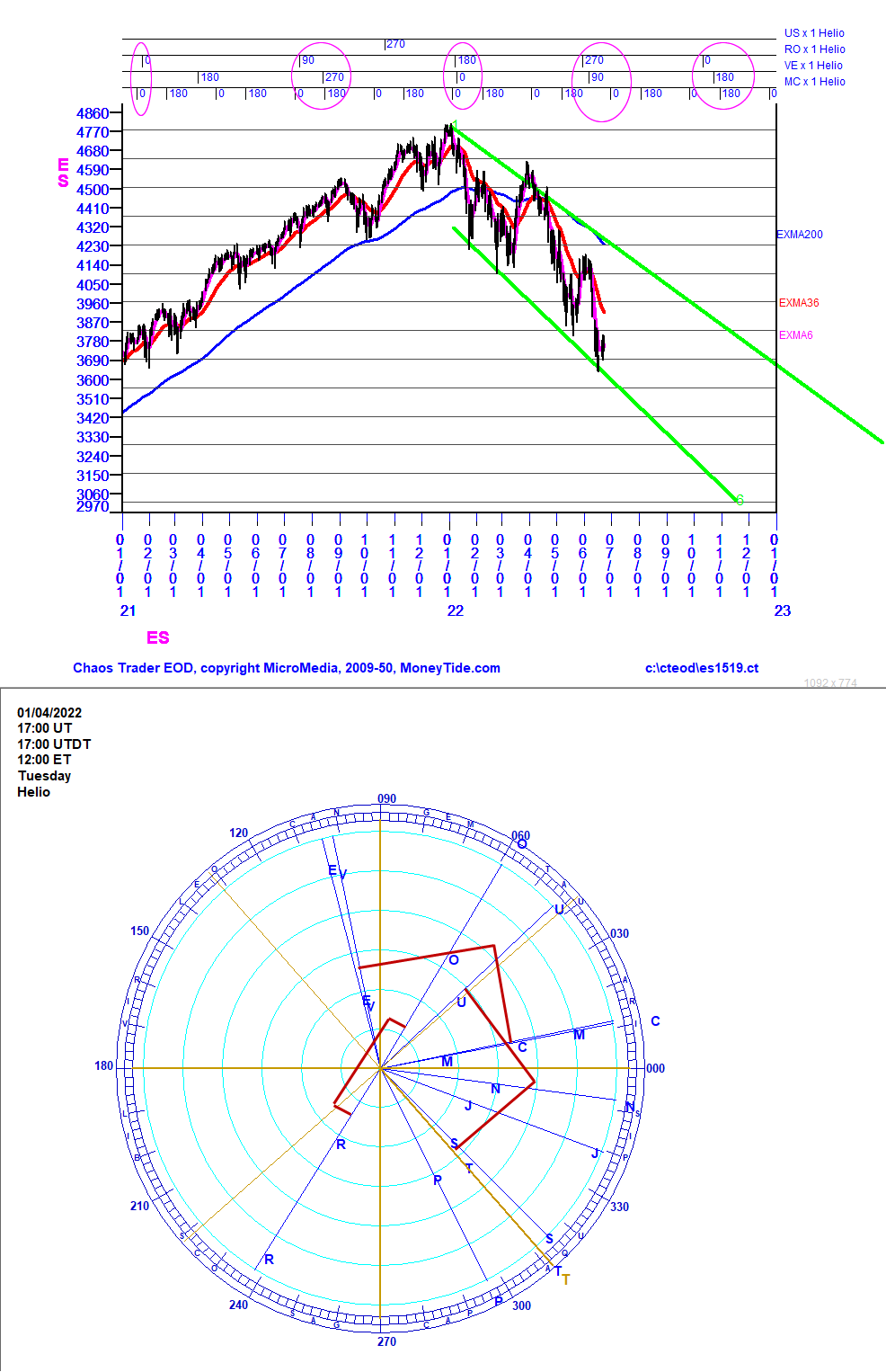 **************************************************************************************
Status Of The S&P Bear Market
Chaos Clinic for 6/24/2022
***************************************************************************************

This is a chart showing the 2021-2022 S&P futures. It is a daily chart, with horizontal
vibration levels. It shows prices for all of 2021 and to date for 2022.

The first thing to note is that in less than six months, 2022 prices have retraced all
of the 2021 gain. So the bear market is moving twice as fast as the bull market.

Along the top of the chart are four helio astro cycles. These are taken from the
ephemeris for 1/4/2022, shown below the price chart. On that day Mercury conjoined Chiron
as Venus conjoined Earth and these pairs were squaring each other.
At the same time, Mars was opposing the Node, and Uranus and Saturn were square.

Helio patterns show the stirring force on the sun. Multiple patterns like this one
are times when the stirring force changes, changing the particle radiation from the
the sun. From there the solar wind carries the particles to the earth At the earth
the geocentric patterns focus the earth, aided by the Moon. People and markets
tune into this energy based on their "natal antenna." For more see my book
"Your Electric Life" available on Amazon.

Points of synchronization are circled along the top of the price chart. This helps
anticipate how long a move might last. This suggests the current bear market
will last at least into late October or early November.

To learn more about Chaos Clamshells, I suggest my Cash In On Chaos course,
available at Moneytide.com
---

Below is one of the SPKISS charts from daytradingforecasts.com
and the chat room comments from this Chaos Clinic. Most recent comment is on top.
---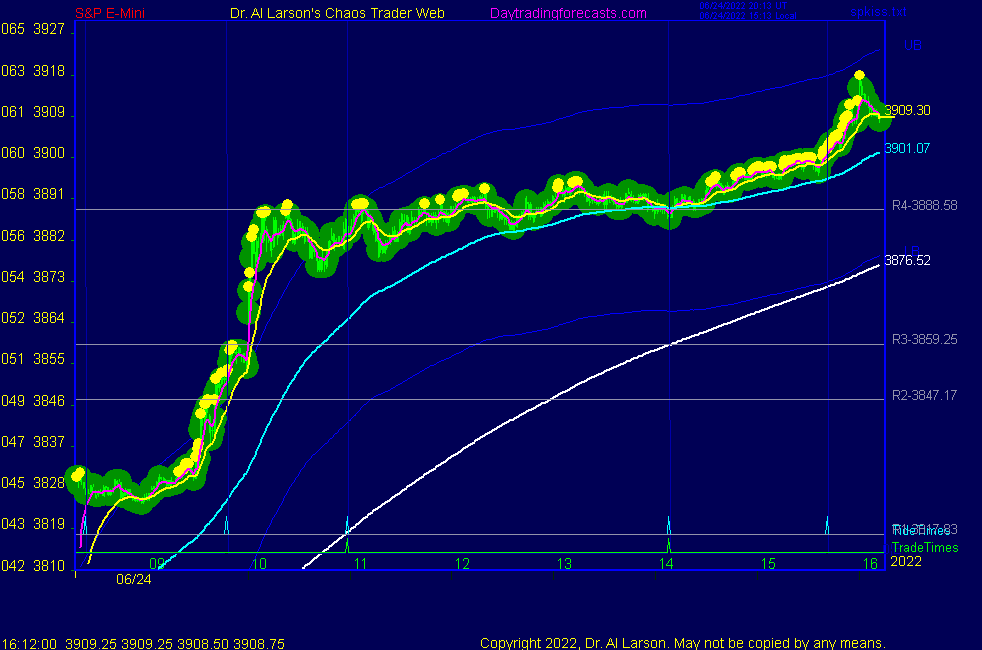 6/24/2022 11:46:23 AM MT Al****:: I'm done for the day. Thanks for coming. See you next week. Take some courses.
6/24/2022 11:42:14 AM MT Al****:: that frees it to go higher :)
6/24/2022 11:41:07 AM MT Al****:: covered for .25
6/24/2022 11:08:25 AM MT Al****:: my sob story is that I missed the opening fast move - I had a nice gain on an overnight swing trade which I covered before the normal session
then I was having breakfast with my wife
can't cry over what you missed, just focus on going forward
6/24/2022 11:00:23 AM MT Al****:: I took a MoonTide trade on first trade time and am still holding it
bought 3888.61
6/24/2022 10:43:34 AM MT Al****:: now the 110 minute EXMA has caught up to support price
6/24/2022 10:05:10 AM MT Al****:: this rally started yesterday at solar noon 13:00
I see a lot of moves that are 29.5 hours long , the 24th harmonic of the 29.53 day Full Moon cycle
6/24/2022 9:54:33 AM MT Al****:: some would call the pattern so far today a flagpole and pennant-a continuation pattern
6/24/2022 9:50:57 AM MT Al****:: two Moon days are often volatile and one way, running Moon to Moon or run Moon-Noon-Moon
6/24/2022 9:44:25 AM MT Al****:: gaining energy as Exchange passes Mercury
6/24/2022 9:21:12 AM MT Al****:: then note on Secret->esnat71 the double top on the white vibration
6/24/2022 9:18:56 AM MT Al****:: note on SPKISS chart 4 the two push balls on R4 and on chart 7 that prices have hit the top of the ribbon
6/24/2022 8:19:59 AM MT Al****:: note hit R4
6/24/2022 8:08:30 AM MT Al****:: fast start thanks to Moon time line near open-see SPSunMoon chart
6/24/2022 6:21:00 AM MT Al****:: Good Morning visitors. Welcome to the Chaos Clinic. The written Chaos Clinic is on the AUX page.
This site has a lot of charts,
so you may find it useful to have several of them available within your
browser. If you have a tabbed browser, you can open separate charts
in separate tabs by right clicking on any link, and selecting "open in new tab"
from the menu. The main list of site pages is at
http://daytradingforecasts.com/chartlistsec.asp
Recommended pages to watch are SPKISS, MTRainbow, and Chat.
For astro stuff, add SPSunMoon, Wheel, and Chaos Clinic.
A special set of Dr. Al's research charts are on the Secret page.
Comments in the chat room are announced by a
"duck call" noise. This noise also occurs when the software detects a
resonant hex pattern on the Wheel page. MoonTide trading tutorials
are on the right side of the ListOfCharts page. One should
read Trading the MoonTide Tutorial and Keep it Simple as a minimum.
Many subscribers do not strictly trade the MoonTides, but use the charts on this
site as input to their own trading strategies. For example, charts 5 and 6 on the
SPKiss page are a good starting point for swing traders.
Also on this site is the Certified Chaos Trader's Room. That room is open
to graduates of my 4 main courses. See http://moneytide.com -> Courses for details.
9:00 Eastern-System: No comments

---