---
CHAOS CLINIC RECAP
---
---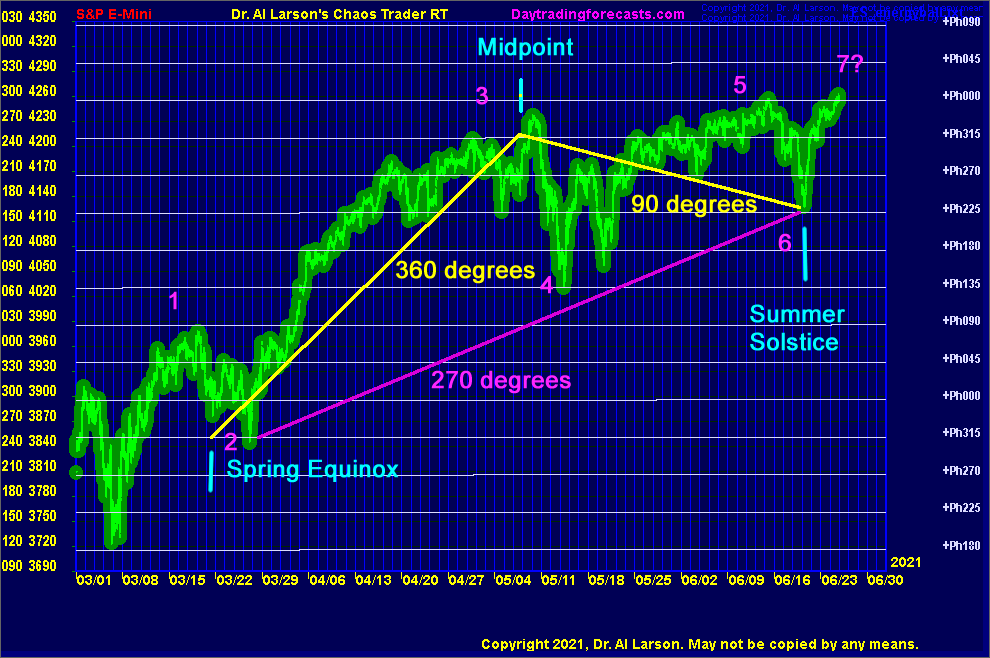 ********************************************************************************
The S&P And The Seasonal Cycle
Chaos Clinic for 6/25/2021
********************************************************************************

This chart shows S&P EMini over the past 4 months. It helps put the past two weeks
in context.

In prior Chaos Clinics I've noted the helio Pluto support and resistance levels.
The help one to see the harmonic ratios between moves.

The most notable thing about last week's low was that it came exactly on the summer solstice.
Many markets follow the Earth's seasonal cycle of solstices and equinoxes. Our holidays
cluster near these dates.

We also have holidays clustered near the midpoints of the seasonal swings. So there is a natural
tendency to divide the year into eight parts. Two swings of such a cycle are shown by the
yellow line on the chart. The rally portion moved 360 degrees, with the pullback portion
being just 90 degrees.

Given the strength of the solstice dip rebound, one might expect another 6 weeks of rally.
On the other hand, one can label 7 moves of a possible Chaos Clamshell, so longs should be cautious.

For more on my work and to subscribe to Tomorrow's Market Email Hotline and access to daytradingforecasts.com see
Moneytide.com
Software to plot electric field flux lines in NinjaTrader is available at
energyfieldtrading.com
---

Below is one of the SPKISS charts from daytradingforecasts.com
and the chat room comments from this Chaos Clinic. Most recent comment is on top.
---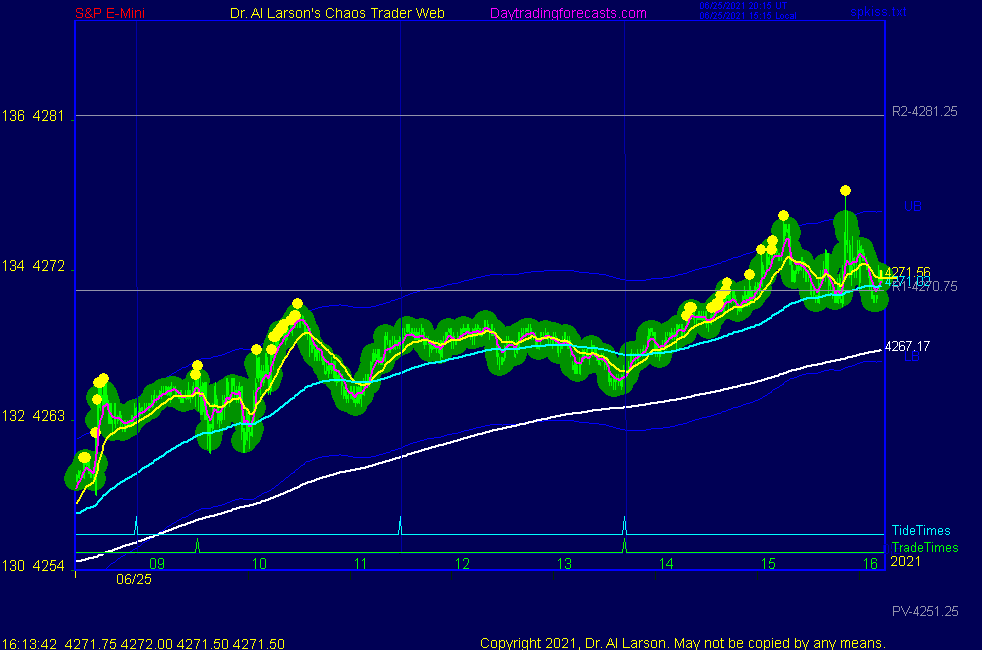 6/25/2021 2:00:08 PM MT DWY:: Es_4278 not printed QED....that's how it's done, kids.
6/25/2021 1:55:00 PM MT Al****:: note Secret->esnat72 ; run up the third vertical line
6/25/2021 1:47:58 PM MT Al****:: it's not over til the fat lady sings
6/25/2021 1:46:28 PM MT pab:: ES Buyers need to hold any pullback above 4266.25, IF so, then 4278 target; IF 4266.25 breaks 1st, anticipate more Selling, imo
6/25/2021 1:37:27 PM MT DWY:: the tell was the inversion on xtide2 red line around 12:20. This is how I knew the red line was the dominant line at 12:20. inversions are deterministic, and they can be confirmed with a particular transform of price. . this is how I knew 4278 wasnt happening
6/25/2021 1:34:00 PM MT Al****:: out so now I can rally more-thanks for coming-see you in 2 weeks-take some courses
6/25/2021 1:27:23 PM MT Al****:: stop to 70.25
6/25/2021 1:23:08 PM MT DWY:: pay attn to the red line on xtide2
6/25/2021 1:21:31 PM MT DWY:: es_4278 not today
6/25/2021 1:19:11 PM MT Al****:: Flash Boys will be looking for R2 at 4281
6/25/2021 1:12:47 PM MT Al****:: Secret->esnat72 suggests 4278 yellow vibe
6/25/2021 1:11:45 PM MT Al****:: stop 69.5
6/25/2021 1:11:36 PM MT DWY:: exit longs with indicators at positive extremes....wait for the indicators to reach lower extremes, go LONG. this strategy has made a fool of ALL bears for over a year now
6/25/2021 1:10:28 PM MT pab:: 4273 target hit
6/25/2021 1:09:42 PM MT DWY:: see how easy making money is. Just go LONG
6/25/2021 1:05:37 PM MT Al****:: one could move stop to 4268 and wait
6/25/2021 12:53:58 PM MT Al****:: flash boys debating R1 - could try for R2 but that looks too high for me-plan to just cover on close if not stopped
6/25/2021 12:47:33 PM MT Al****:: day traders could move stop to 4266
6/25/2021 12:26:46 PM MT pab:: target I have is 4273
6/25/2021 12:13:26 PM MT Al****:: red -Tide is up to close
6/25/2021 12:07:12 PM MT Al****:: a break above 4269 will trigger some computer break out algos
6/25/2021 12:02:35 PM MT Al****:: stop at 4264 held so it is a good stop
when market holds up like this, usually get a short covering rally after 2:30 Eastern
6/25/2021 11:52:34 AM MT Al****:: note the three vertical lines on the Secret ->esnat72 and other charts-watch for energy on the middle one
6/25/2021 11:44:36 AM MT Al****:: dip into second trade time -Moon, Venus, and Pluto timelines coming up , then Mars and Saturn in last hour
6/25/2021 11:30:07 AM MT Al****:: this is almost as good as a sleeping pill :)
6/25/2021 10:25:22 AM MT Al****:: long day traders could now move stop to 4264 at the up sloping 440 minute EXMA

6/25/2021 10:00:53 AM MT Al****:: that early hex pattern identified the Mercury timeline as a harmonic point. Just passed it. It was a dip. The Chiron timeline was near 7:30. The Mars and Saturn ones are in the last hour
6/25/2021 9:37:04 AM MT Al****:: if you waited, there was another continuation buy near 4266 just before 11:00 Eastern
6/25/2021 9:32:34 AM MT Al****:: that pattern suggest up all day
one could have bought the first MoonTide trade time at about 4264 and now have a stop at 4262 below the 440 EXMA
6/25/2021 9:05:18 AM MT Al****:: I have placed a Fractal Grid chart from the Chaos Trading Made Easy course in the Certified Chaos Trader's Room. That room is open
to graduates of my 4 main courses. See http://moneytide.com -> Courses for details.
eMylar Fractal of Pi overlays help you be patient, since they show you future potential moves.
The best bargain in my courses is to take the Cash In On Chaos and Fractal of Pi courses and
learn to use the FOP overlay. Then take Chaos Trading Made Easy, and finish with Face Of God.
6/25/2021 7:33:09 AM MT Al****:: note chart 5 on SPKISS page - for swing trade longs the white 2400 minute EXMA is a good stop guide
6/25/2021 7:17:50 AM MT Al****:: meanwhile TSLA is up strong last few days - see Chaos Clinic page on it from two weeks ago. Past clinics are linked on the home page of http://moneytide.com
6/25/2021 7:10:48 AM MT Al****:: Got a "duck call" alert of a hex wheel
see the Hex Wheels Today link on the right side of ListOfCharts page
look at [062520211351wheelhex.png]
It came as the Exchange squared the Moon and shows the
hex corners are due to Saturn, Chiron, Mercury, and Mars.
Watch as the Exchange rotates past them.
6/25/2021 6:26:30 AM MT Al****:: Good Morning visitors. Welcome to the Chaos Clinic. The written Chaos Clinic is on the AUX page.
This site has a lot of charts,
so you may find it useful to have several of them available within your
browser. If you have a tabbed browser, you can open separate charts
in separate tabs by right clicking on any link, and selecting "open in new tab"
from the menu. The main list of site pages is at
http://daytradingforecasts.com/chartlistsec.asp
Recommended pages to watch are SPKISS, MTRainbow, and Chat.
For astro stuff, add SPSunMoon, Wheel, and Chaos Clinic.
A special set of Dr. Al's research charts are on the Secret page.
Comments in the chat room are announced by a
"duck call" noise. This noise also occurs when the sofware detects a
resonant hex pattern on the Wheel page. MoonTide trading tutorials
are on the right side of the ListOfCharts page. One should
read Trading the MoonTide Tutorial and Keep it Simple as a minimum.
Many subcribers do not strictly trade the MoonTides, but use the charts on this
site as input to their own trading strategies. For example, charts 5 and 6 on the
SPKiss page are a good starting point for swing traders.
Also on this site is the Certified Chaos Trader's Room. That room is open
to graduates of my 4 main courses. See http://moneytide.com -> Courses for details.
9:00 Eastern-System: No comments

---