---
CHAOS CLINIC RECAP
---
---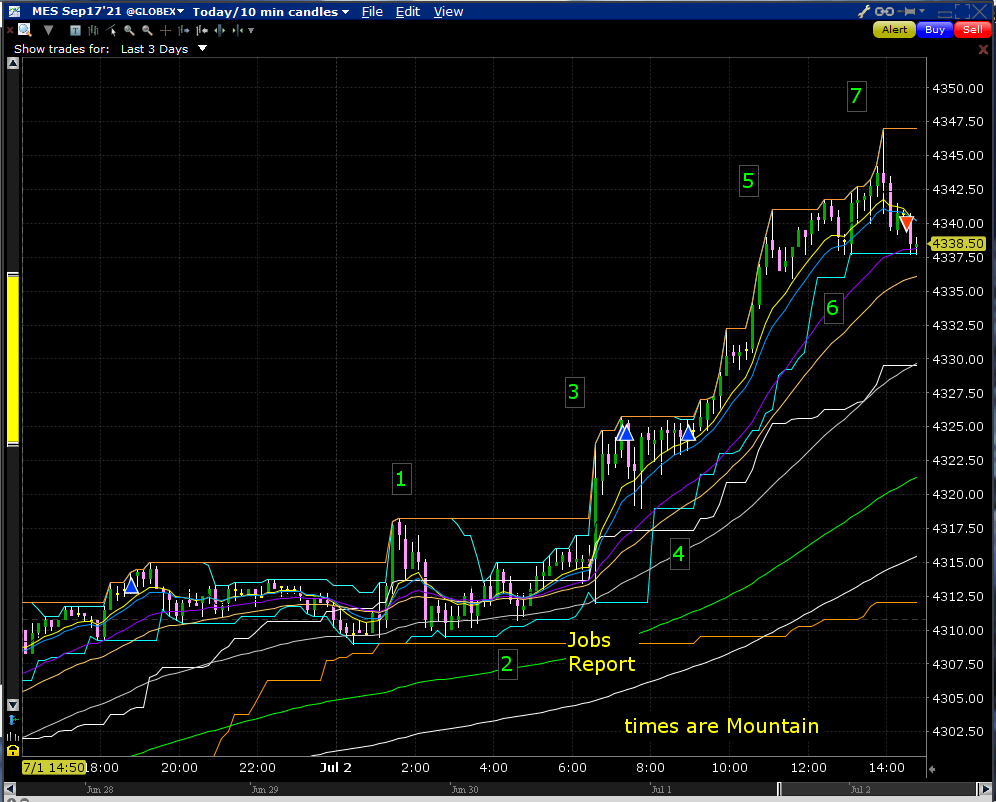 ********************************************************
Jobs, Jobs, Jobs
impromptu notes from The 7/2/2021 Chaos Clinic
********************************************************

This chart shows the Chaos Clamshell in the Micro ES
for today. The chats show what I said.

I did remove comments from a non-subscriber tauting their own system.
which violates the chat room rules.

---

Below is one of the SPKISS charts from daytradingforecasts.com
and the chat room comments from this Chaos Clinic. Most recent comment is on top.
---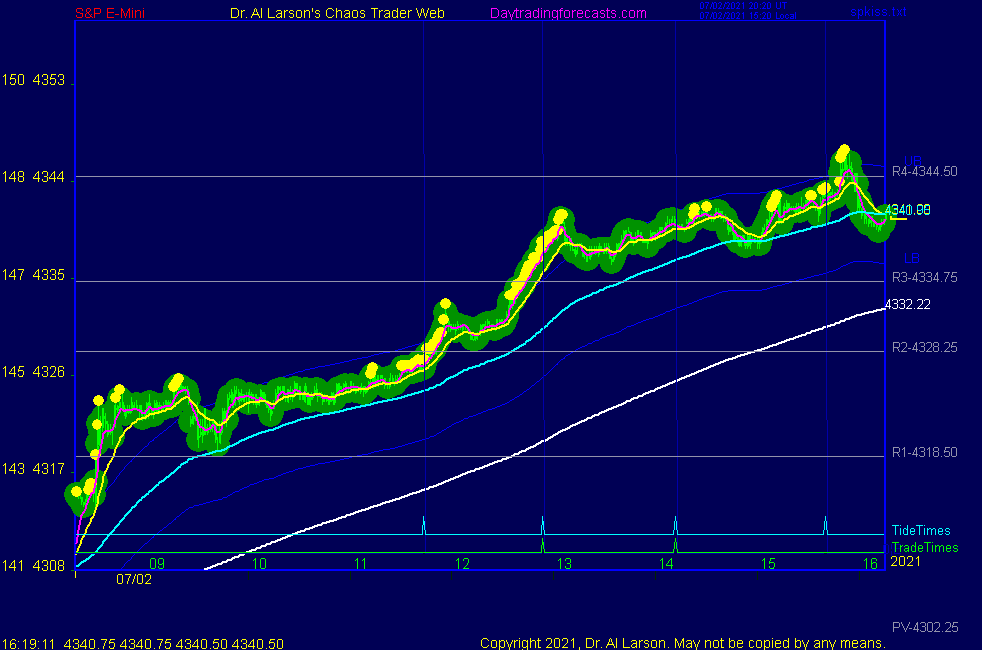 7/2/2021 2:35:53 PM MT Al****:: Had to leave for a dental appt. Didn't quite make target but OK. Have a good weekend.
7/2/2021 1:58:51 PM MT qq:: We are NEVER, EVER going down again.
7/2/2021 12:10:18 PM MT Al****:: up dated the chart - the last hour should be hot due to Saturn/Mars timelines near 15:00 Eastern
7/2/2021 11:24:49 AM MT Al****:: I've posted the chart I'm using on the AUX page
7/2/2021 11:06:51 AM MT Al****:: looking at the esNat72 chart, raise3d my cover to 4350, just under the green vibration line
7/2/2021 10:52:13 AM MT Al****:: I'll cover that at 4344, R4
7/2/2021 10:48:34 AM MT Al****:: note on Secret->esnat72 how trading was flat until after the 3rd vertical line. There is a tendency for the market to move after this third line. I used that to buy 4325.
7/2/2021 7:40:31 AM MT Al****:: TSLA was the subject of the 6/11/2021 Chaos Clinic
It has been in a congestion for 7 days (1/4th Moon)
Looks like it may be breaking out of that today
7/2/2021 7:24:14 AM MT Al****:: note on Secret->esnat72 the streak up the grey vertical line - before the employment report
7/2/2021 7:04:51 AM MT Al****:: Certified Chaos Traders: I have added a tutorial video to the CCT Room
7/2/2021 6:47:24 AM MT Al****:: Good Morning visitors. Welcome to the Chaos Clinic. There is no written Chaos Clinic today due to the long weekend.
This site has a lot of charts,
so you may find it useful to have several of them available within your
browser. If you have a tabbed browser, you can open separate charts
in separate tabs by right clicking on any link, and selecting "open in new tab"
from the menu. The main list of site pages is at
http://daytradingforecasts.com/chartlistsec.asp
Recommended pages to watch are SPKISS, MTRainbow, and Chat.
For astro stuff, add SPSunMoon, Wheel, and Chaos Clinic.
A special set of Dr. Al's research charts are on the Secret page.
Comments in the chat room are announced by a
"duck call" noise. This noise also occurs when the sofware detects a
resonant hex pattern on the Wheel page. MoonTide trading tutorials
are on the right side of the ListOfCharts page. One should
read Trading the MoonTide Tutorial and Keep it Simple as a minimum.
Many subcribers do not strictly trade the MoonTides, but use the charts on this
site as input to their own trading strategies. For example, charts 5 and 6 on the
SPKiss page are a good starting point for swing traders.
Also on this site is the Certified Chaos Trader's Room. That room is open
to graduates of my 4 main courses. See http://moneytide.com -> Courses for details.
9:00 Eastern-System: No comments

---