---
CHAOS CLINIC RECAP
---
---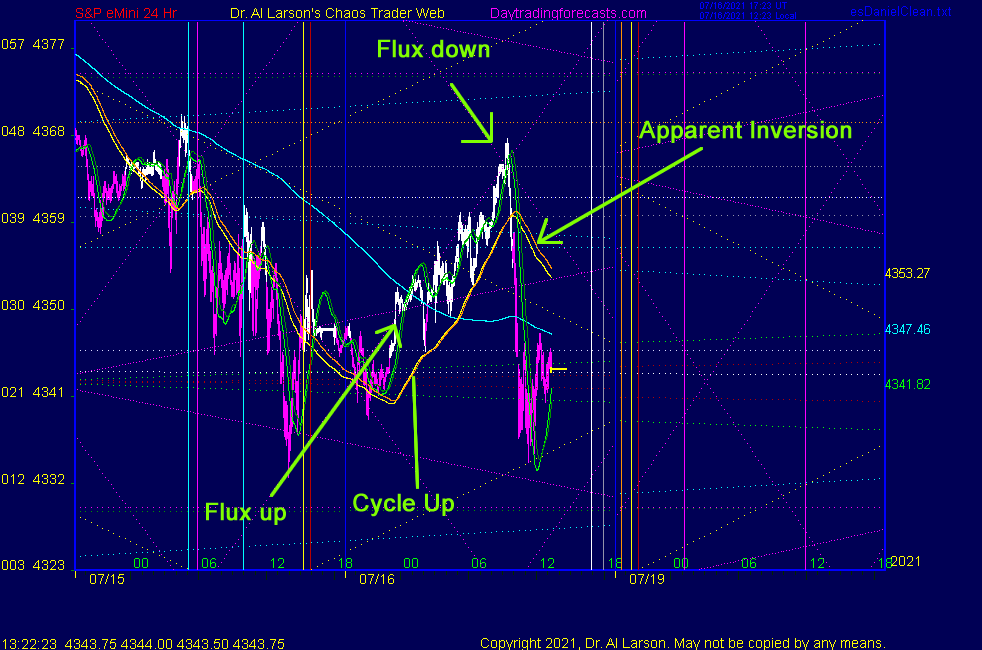 ********************************************************************************
Inversions Or Chaos?
Chaos Clinic for 7/16/2021
********************************************************************************

This chart shows the Secret->esDaniel chart from daytradingforecasts.com.
It was produced to answer a question about inversions. See the chat romm comments.

For more on my work and to subscribe to Tomorrow's Market Email Hotline and access to daytradingforecasts.com see
Moneytide.com
Software to plot electric field flux lines in NinjaTrader is available at
energyfieldtrading.com
---

Below is one of the SPKISS charts from daytradingforecasts.com
and the chat room comments from this Chaos Clinic. Most recent comment is on top.
---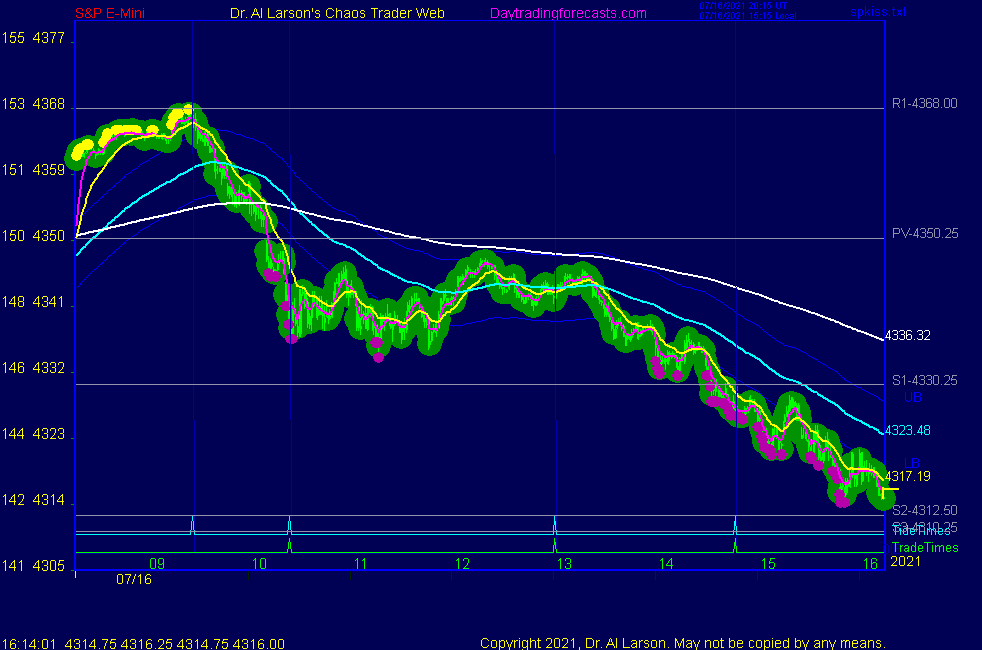 7/16/2021 2:04:28 PM MT Al****:: out for nice gain- $463 in two trades trading 4 MES. Done for day. Thanks for coming. Takes some courss.
7/16/2021 1:48:14 PM MT Al****:: my stop is now 4321.5
7/16/2021 1:47:20 PM MT Al****:: that would be 4308 so put my cover 4308.5
7/16/2021 1:44:33 PM MT Al****:: may drop to next green vibration for a 60 point range
7/16/2021 1:26:34 PM MT Al****:: did get a small bounce off the yellow vibe, but stop at 4330 held
7/16/2021 1:10:26 PM MT Al****:: broke the yellow vibe, so expect the green. I also wqatch the pivots. S2/S3 are near 4312-10
7/16/2021 1:07:40 PM MT Al****:: now I watch carefully the Secret->esnat72 chart. It has gone from yellow to yellow vibration. So I make sure I have a winning ttade.
7/16/2021 1:01:15 PM MT Al****:: What I do not do is look at the red Tide and decide to cover and buy. It is just a forecast, which can "invert", so I just follow the EXMAs.
7/16/2021 12:57:29 PM MT Al****:: now at the third Tide time, one can cover, or carry through. On a day like today just carrying a trailing stop should work. A good guide is just above the 220 minute EXMA
7/16/2021 12:53:08 PM MT Al****:: In this case, the second trade had a nice sell setup just after the second trade time. The white 440 minute EXMA and grey 220 minute were down, so a sell about 4340 was suggested.
7/16/2021 12:45:44 PM MT Al****:: For simplicity, the 3rd chart on the SPKISS page is what works best for trading the MoonTides. The bars are colored by the 20/110 minute EXMAs. Because forecasts CAN AND WILL invert, I use tracking EXMAs to confirm the forecasts. I just look for a setup near the trade time.
7/16/2021 11:46:19 AM MT Al****:: To complete the discussion on inversions, on the AUX page I have placed an a copy of the Secret->esDaniel chart, which models some of the many electric fields that are at play in the S&P. It clearly shows the physical source of today's so called inversion.
7/16/2021 11:42:29 AM MT Al****:: zo - the MoonTides are more consistant
7/16/2021 11:32:13 AM MT zo:: Hey Al I have a question why do you prefer to trade the Moon tides over the S&P Xtides. Which one would you recommend for beginner subscribers
7/16/2021 11:22:48 AM MT Al****:: I demonstrate this balance in Chaotic systems in my talk at the 13th Astro Economic Conference. It is on my You Tube channel at https://www.youtube.com/watch?v=2iD-P-N1BPI
7/16/2021 11:22:21 AM MT ska:: AI reply ,statement is golden ,a lot more to delve further into this pond ..
7/16/2021 11:09:46 AM MT Al****:: Markets never really invert. Such points are balance points in chaos theory. When opposing forces balance in a chaotic system, a tiny input can tip the balance. This is driven by the mathematics of chaos. Markets can mathematically be proven to be chaotic. This is covered in my Cash In On Chaos course.
But when one tries to make forecasts, one has to use a model. A popular one is the cycle model, popularized by the Foundation For The Study Of Cycles, and the books by Dewey. If one uses a cycle model, one forecast a sinusoidal pattern. When one does this, there are forecasts that "invert" suddenly. Sometimes one can figure out what caused the inversion physically. Many times not. In my work, I've found that a better model is needed. For example, today's early high was in the red -MoonTide.
7/16/2021 11:01:54 AM MT ska:: I can and I do recognize the inversion immediately after it happens ,almost instantly .But I cannot predict it before hand
7/16/2021 10:55:25 AM MT ska:: I need to know What field and How should I proceed to be able to learn that Yes Inversions r predictable . DWY `s answers to any question by AL or me r a little bit half hearted. I am willing to pursue any path where i learn How to predict inversions
7/16/2021 10:55:25 AM MT ska:: I need to know What field and How should I proceed to be able to learn that Yes Inversions r predictable . DWY `s answers to any question by AL or me r a little bit half hearted. I am willing to pursue any path where i learn How to predict inversions
7/16/2021 10:33:23 AM MT DWY:: Al, i dont get out much anymore. the big boys got me locked down. they bitch about exclusivity, blah, blah, blah. i remember when Scout was just a puppy. He was a pretty cocker. The last time we talked i was a grad student at GT.
7/16/2021 10:31:32 AM MT DWY:: I learned long ago that just because I don't know how to do something doesn't mean that someone else can't. Yea, inversions are predictable
7/16/2021 10:30:09 AM MT DWY:: My call a couple of weeks ago was the verification that inversions are predictable. Unless you understand the process in which al is making the xtide calculations, you won't know how to predict the tides inversions. The tide parameter is necessary to find the INVERSION KEY. The key is used to predict the tide inversion. The price based indicators are used to anticipate and confirm the inversion. IF you understand what creates inversions, meaning the sufficient conditions, you can anticipate and confirm the tide inversions from the price-based indicators. WHY? Homomorphisms.
7/16/2021 10:12:41 AM MT ska:: I don`t know But I thought inversions r not predictable
7/16/2021 10:09:47 AM MT ska:: DWY R u verifying the inversion or predicting the inversion with XTIDE PARAMETERS ?????
7/16/2021 9:54:29 AM MT Al****:: I have posted a second chart in the CCT Room
7/16/2021 9:37:07 AM MT Al****:: Please send me an email at dr.al.larson@earthink.net
7/16/2021 9:35:06 AM MT Al****:: DWY: if you've been following me that long, why don't I know who you are?
7/16/2021 8:49:28 AM MT DWY:: Al, this msg is for you. Just like clockwork. XTide struck again!!! Al, your XTide research is good. I first read your work when you went by your grandfather's name almost 40 years ago. Here is a hint to find inversions. Inversions are predictable. I showed this real-time when I refuted a call for a price high to be reached and called the high within 1 point. What happened was the tide switched/inversion, as I stated that day too. First, use the PARAMETER in the computation to find the inversion times. Note, the capitalized word. I can't overemphasize the word. Second, use the found parameter to formulate price based confirmation indicators to verify the inversion.
7/16/2021 8:29:26 AM MT Al****:: my overnight trade was stopped for a profit -pushed stop up when I looked at Secret->esnat71 chart
note 7 moves in rally, stopping at yellow vibration
7/16/2021 7:54:12 AM MT Al****:: it did. That chart is available to hotline subscribers only.
7/16/2021 7:28:37 AM MT qq:: Market closely following XGO past week or so.
7/16/2021 6:57:10 AM MT Al****:: for Certified Chaos Traders, I have posted a Face Of God chart in the CCT Room. It is an updated version of the one I posted there yesterday. That chart suggested today would be a strong up day.
7/16/2021 6:53:04 AM MT Al****:: Good Morning visitors. Welcome to the Chaos Clinic. There is no written Chaos Clinic today.
This site has a lot of charts,
so you may find it useful to have several of them available within your
browser. If you have a tabbed browser, you can open separate charts
in separate tabs by right clicking on any link, and selecting "open in new tab"
from the menu. The main list of site pages is at
http://daytradingforecasts.com/chartlistsec.asp
Recommended pages to watch are SPKISS, MTRainbow, and Chat.
For astro stuff, add SPSunMoon, Wheel, and Chaos Clinic.
A special set of Dr. Al's research charts are on the Secret page.
Comments in the chat room are announced by a
"duck call" noise. This noise also occurs when the sofware detects a
resonant hex pattern on the Wheel page. MoonTide trading tutorials
are on the right side of the ListOfCharts page. One should
read Trading the MoonTide Tutorial and Keep it Simple as a minimum.
Many subcribers do not strictly trade the MoonTides, but use the charts on this
site as input to their own trading strategies. For example, charts 5 and 6 on the
SPKiss page are a good starting point for swing traders.
Also on this site is the Certified Chaos Trader's Room. That room is open
to graduates of my 4 main courses. See http://moneytide.com -> Courses for details.
9:00 Eastern-System: No comments

---