---
CHAOS CLINIC RECAP
---
---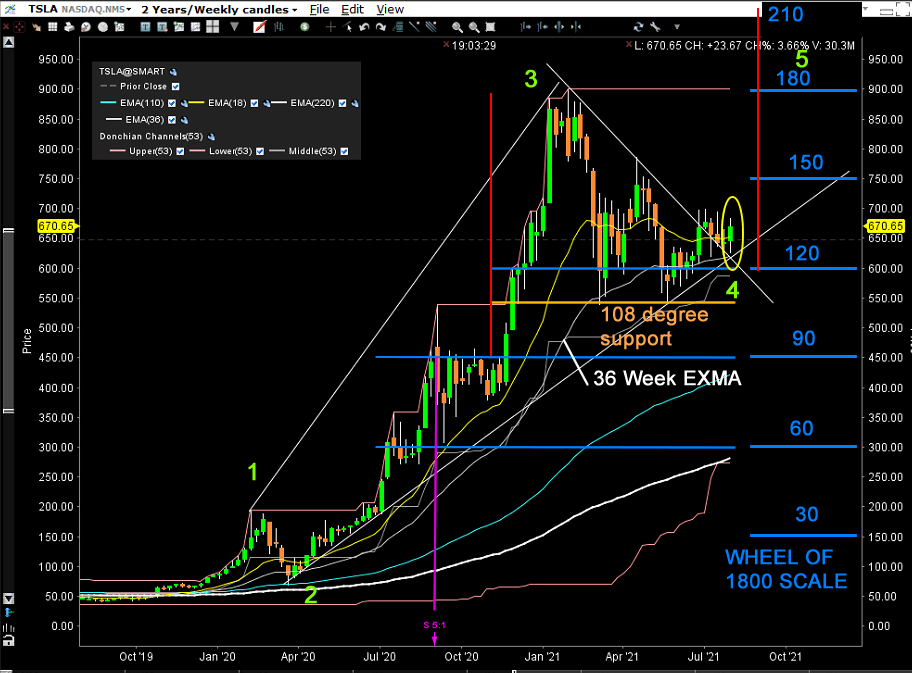 ********************************************************************************
TSLA Is On The Launch Pad
Chaos Clinic for 7/30/2021
********************************************************************************

The 6/l1/2021 Chaos Clinic said TSLA was looking up, in a congestion expected
to end in July. This chart shows that TSLA is now ready to launch higher.

This chart uses weekly bars. After last year's 5:1 split (vertical magenta line )
the scaling of TSLA changed from a Wheel Of 360 to a Wheel of 1800. The scale for
this is shown in blue on the right of the chart.

Chaos Clamshells have seven moves. Four of the moves are numbered on the chart.
Prices have been in a move 4 congestion. Six weeks ago, prices formed a green up
candle using the 36 week EXMA as a base. The one for this week is circled in yellow.
It is also an up candle above the rising 36 week EXMA. This EXMA is rising.
This congestion based at 108 degrees, 540. Now the congestion has shifted above
120 degrees.

After the 5:1 split, prices congested, then broke through resistance at 90 degrees,
soaring quickly to 180 degrees. This move is shown by the left red vertical line,

A similar 90 degree move from 120 degrees would take prices to 210 degrees or $1050.

For more on my work and to subscribe to Tomorrow's Market Email Hotline and access to daytradingforecasts.com see
Moneytide.com
Software to plot electric field flux lines in NinjaTrader is available at
energyfieldtrading.com
---

Below is one of the SPKISS charts from daytradingforecasts.com
and the chat room comments from this Chaos Clinic. Most recent comment is on top.
---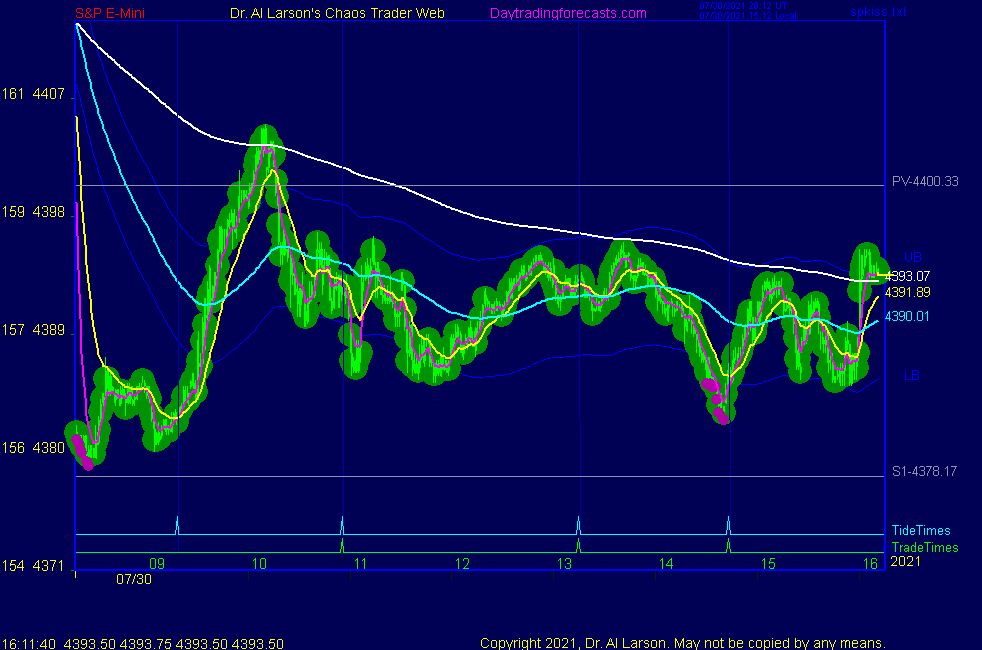 7/30/2021 1:55:09 PM MT Al****:: DWY - my Face of God pattern is not the sane as the astrologer's YOD, sometimes called the Finger Of God
7/30/2021 1:35:49 PM MT DWY:: FYI, ppl are talking about the yod, face of god, blah blah blah pattern and not attributing the name to u....furthermore, I know another person who found this pattern back in the 70s
7/30/2021 12:44:29 PM MT DWY:: Al, is your Face of God...Yod....pattern trademarked?
7/30/2021 11:10:57 AM MT Al****:: gotten dull - I'm going to wish everyone a good weekend and call it a day. Thanks for coming. See you next week and month. Takse come courses.
7/30/2021 10:43:38 AM MT Al****:: on Chaos Clinic chart have mixed Tides -green early, now red
odds favor green-red-green
7/30/2021 9:29:42 AM MT qq:: At double red swan now
7/30/2021 9:27:29 AM MT qq:: OR NOT.
7/30/2021 9:25:31 AM MT qq:: I'm guessing up from here for a bit.
7/30/2021 9:07:35 AM MT qq:: Upward channel on that Daniel since about 3AM
7/30/2021 8:34:02 AM MT Al****:: Flash Boys ran it from S1 to above pivot, then sold
note astro resistance on Secret->esDaniel chart
on that chart sometimes price looks like the volatility forecast,
it has a late drop whcih may or may not be there
7/30/2021 7:49:43 AM MT Al****:: good job QQ. This is a "gap down" day -usually get a rally until about 11:00 as you know
being last day of month may just chop after that
7/30/2021 7:34:52 AM MT qq:: Sold my put at a great profit. Now waiting for a rebound if any.
7/30/2021 7:02:45 AM MT Al****:: Good Morning visitors. Welcome to the Chaos Clinic. The written Chaos Clinic is on the AUX page.
This site has a lot of charts,
so you may find it useful to have several of them available within your
browser. If you have a tabbed browser, you can open separate charts
in separate tabs by right clicking on any link, and selecting "open in new tab"
from the menu. The main list of site pages is at
http://daytradingforecasts.com/chartlistsec.asp
Recommended pages to watch are SPKISS, MTRainbow, and Chat.
For astro stuff, add SPSunMoon, Wheel, and Chaos Clinic.
A special set of Dr. Al's research charts are on the Secret page.
Comments in the chat room are announced by a
"duck call" noise. This noise also occurs when the sofware detects a
resonant hex pattern on the Wheel page. MoonTide trading tutorials
are on the right side of the ListOfCharts page. One should
read Trading the MoonTide Tutorial and Keep it Simple as a minimum.
Many subcribers do not strictly trade the MoonTides, but use the charts on this
site as input to their own trading strategies. For example, charts 5 and 6 on the
SPKiss page are a good starting point for swing traders.
Also on this site is the Certified Chaos Trader's Room. That room is open
to graduates of my 4 main courses. See http://moneytide.com -> Courses for details.
9:00 Eastern-System: No comments

---