---
CHAOS CLINIC RECAP
---
---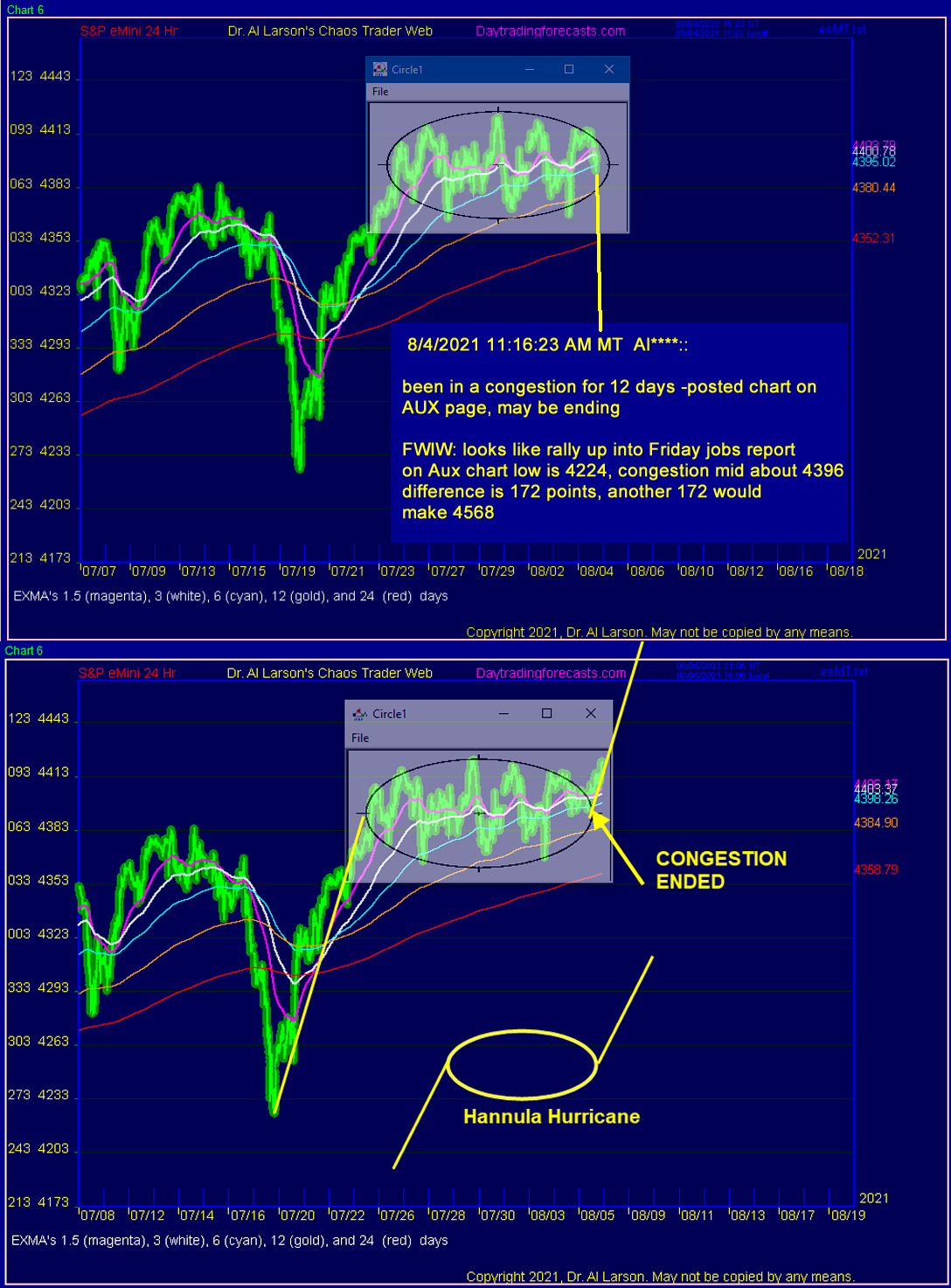 ********************************************************************************
S&P Hurricane
Chaos Clinic for 8/6/2021
********************************************************************************

These two charts show the S&P eMini futures over the past month.
These charts are chart 6 on the SPKISS page at http://daytradingforecasts.com.

After the sharp dip into 7/16/2021, prices rallied for a week, then stalled.
It looked like it was topping one day, then rallying the next.
This was frustrating to both the bulls and the bears. It was not clear to me
until 8/4, when I realized that this was a CONGESTION ELLIPSE, something I have found
in my research.

Congestion ellipses form when energy fields form an "eddy vortex." If you've ever
trout fished in a stream, you've seen these near the base of small falls.
They are a form of George Bayer's ellipses. One characteristic of them is that
they have a near vertical move in the middle. That helps find the end of the pattern.
The other thing that helps is that at the end, a "half width" move forms.

When I saw this forming I posted the top chart on the AUX page, and made the comment
shown on the chart. Subscribers who where logged into the site and monitoring the chat
room were alerted to the possibility of a rally ahead. My reasoning was simple:
A "rally of hope" was likely going into the Friday employment report.

A rally of significant size is possible if the move after the congestion equals
the move going into the congestion. This is a pattern I call the "Hannula Hurricane."
It is the symbol used by weathermen for hurricanes.

Like any pattern, this one can fail, but if one looks at the rainbow of EXMAs
on the charts, the sharp low on 8/3 bounced up from the gold 12 day, and the lows
on 8/4 based on the 6 day EXMA. These show the S&P is gaining strength.

For more on my work and to subscribe to Tomorrow's Market Email Hotline and access to daytradingforecasts.com see
Moneytide.com
Software to plot electric field flux lines in NinjaTrader is available at
energyfieldtrading.com
---

Below is one of the SPKISS charts from daytradingforecasts.com
and the chat room comments from this Chaos Clinic. Most recent comment is on top.
---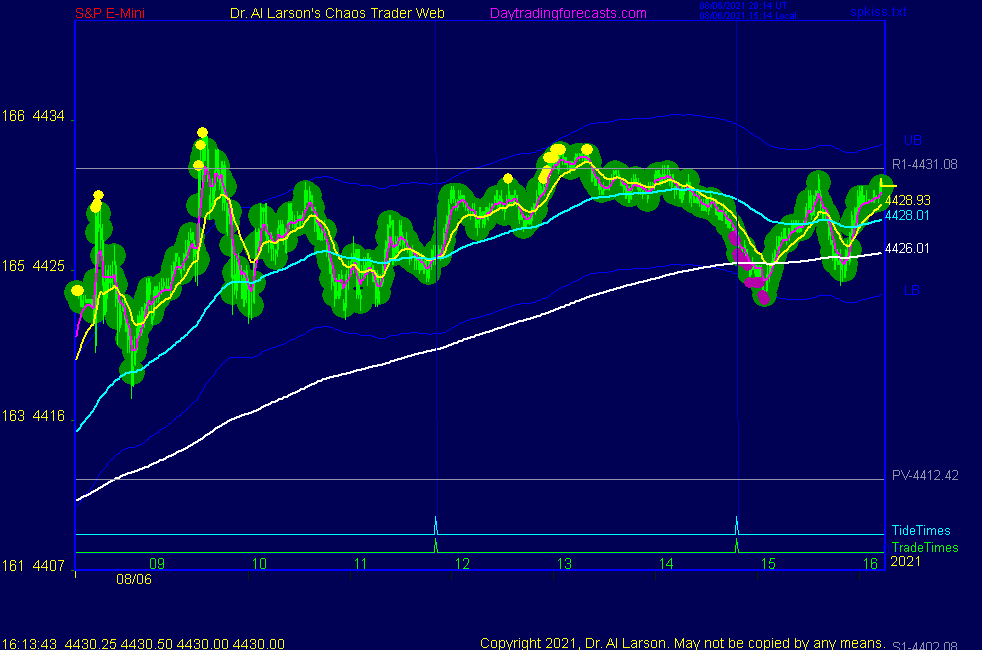 8/6/2021 2:08:01 PM MT DWY:: yeah, ACE was his name.....he was fun too.....ace is also how u can find me on twitter
8/6/2021 2:07:37 PM MT Al****:: have a good weekend everyone
8/6/2021 2:06:10 PM MT Al****:: we've had 8 cockers - all black one was Ace others black and white and a couple of black, white, and tan
8/6/2021 1:58:36 PM MT DWY:: u had another buddy...I forgot his name...u had an all black puppy and a mix.
8/6/2021 1:55:07 PM MT qq:: Hourly TICKS down since yesterday close. Wonder what that will do.
8/6/2021 1:38:00 PM MT Al****:: really am loading up the camper but now with Tank
8/6/2021 1:36:13 PM MT Al****:: that dip was in the green +Tide - an exact 9 point harmonic dip-going higher
8/6/2021 1:35:41 PM MT DWY:: I remember the time when u really were loading up the camper with scout
8/6/2021 1:13:08 PM MT Al****:: You too
8/6/2021 12:36:53 PM MT Ahab****:: Thanks for the good guidance and have a good weekend.
8/6/2021 12:32:13 PM MT Al****:: gotten duller-time to load up the camper
thanks for comin-see you next week-take some courses
8/6/2021 11:56:47 AM MT Al****:: imho cyber is a big swindle - and please do not advertise for others on my site
8/6/2021 11:38:36 AM MT pab::xxxxxxxx is having his Cyber Symposium next week xxxxxxxxxxxxxxx---that may rattle the market imo
8/6/2021 11:27:35 AM MT qq:: From my Market Trader Titanium I'm see a projected drop on Monday. This is based 2 ways: Planatary Picures, but more precisely with the Statistical Expert which measures aspectic and other celestial factors as percentage up vs down.
8/6/2021 11:18:13 AM MT Al****:: crawled above R1 4431, R2 is 4441.42
8/6/2021 11:06:33 AM MT Al****:: last minor low was 4427.25 and came off the 110 EXMA - can move MoonTide trade stop to near the 220 at 4426.5
8/6/2021 11:01:44 AM MT Al****:: chart 3 on SPKISS showing a steady climb
8/6/2021 10:54:06 AM MT Al****:: FYI: I am sitting on a swing trade long from 4399 based on the Chaos Clinic analysis. Stop is 4414, locking 15
8/6/2021 10:48:12 AM MT Al****:: got a little lift on the Moon timeline; now coming to the Sun-solar noon at 13:00 Eastern
8/6/2021 10:36:29 AM MT Al****:: note on the Secret->esDaniel chart that the cyan cycle is up
8/6/2021 10:20:27 AM MT Al****:: I have placed a Face Of God chart in the Certified Chaos Trader's Room. That room is open
to graduates of my 4 main courses. See http://moneytide.com -> Courses for details.

8/6/2021 10:08:49 AM MT Al****:: thanks
8/6/2021 10:06:21 AM MT Ahab****:: good calls Al.
8/6/2021 10:03:39 AM MT Al****:: EXMAs suggest first MoonTide trade a continuation buy near 4427
a reasonable stop would be 4423
8/6/2021 9:16:58 AM MT Al****:: note the white 2400 minute EXMA on chart 5 of SPKISS page
during the congestion prices trade both sides of it, now on one side
8/6/2021 9:00:10 AM MT Al****:: lazy sideways trading; Moon timeline near 11:30 could add energy
8/6/2021 7:37:27 AM MT Al****:: This comment I made in the chat room yesterday may be helpful today: 8/5/2021 12:05:41 PM MT Al****::
re Secret->esnat72: low on 8/3 was on yellow vibe
just broke yellow vibe one up
next one up is 4458
8/6/2021 7:08:19 AM MT Al****:: Good Morning visitors. Welcome to the Chaos Clinic. The written Chaos Clinic is on the AUX page.
This site has a lot of charts,
so you may find it useful to have several of them available within your
browser. If you have a tabbed browser, you can open separate charts
in separate tabs by right clicking on any link, and selecting "open in new tab"
from the menu. The main list of site pages is at
http://daytradingforecasts.com/chartlistsec.asp
Recommended pages to watch are SPKISS, MTRainbow, and Chat.
For astro stuff, add SPSunMoon, Wheel, and Chaos Clinic.
A special set of Dr. Al's research charts are on the Secret page.
Comments in the chat room are announced by a
"duck call" noise. This noise also occurs when the software detects a
resonant hex pattern on the Wheel page. MoonTide trading tutorials
are on the right side of the ListOfCharts page. One should
read Trading the MoonTide Tutorial and Keep it Simple as a minimum.
Many subscribers do not strictly trade the MoonTides, but use the charts on this
site as input to their own trading strategies. For example, charts 5 and 6 on the
SPKiss page are a good starting point for swing traders.
Also on this site is the Certified Chaos Trader's Room. That room is open
to graduates of my 4 main courses. See http://moneytide.com -> Courses for details.
9:00 Eastern-System: No comments

---