---
CHAOS CLINIC RECAP
---
---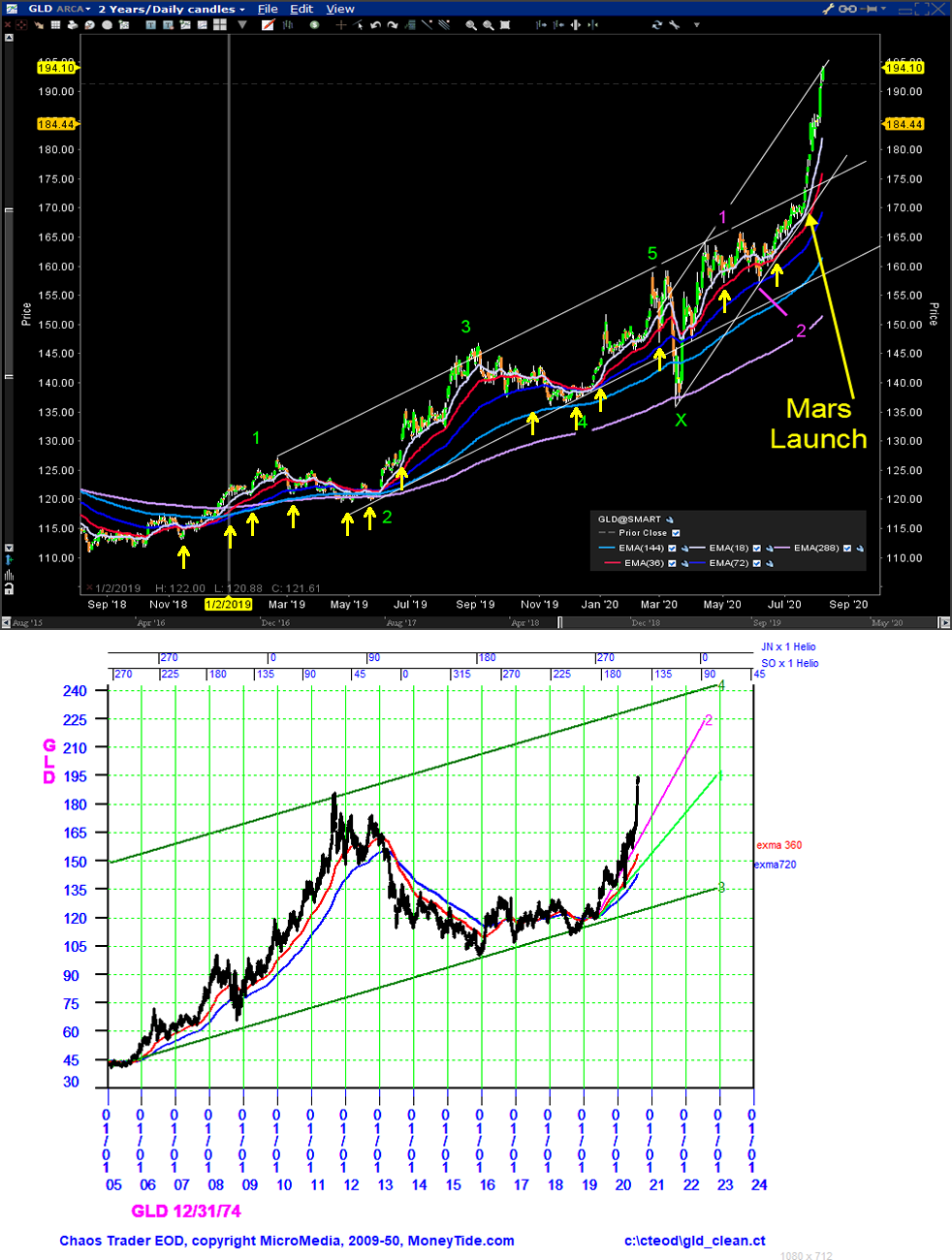 ********************************************************************************
Gold Becomes A Moonshot
Chaos Clinic for 8/7/2020
********************************************************************************

These charts show the gold Exchange Traded Fund GLD. Over the past 20 months I
have commented on GLD many times in the Chaos Clinic, including

11/30/2018 price 115 Is Gold Set to Rally?
01/04/2019 price 122 Gold Is Shining
02/08/2019 price 123 Long Term Outlook For Gold
03/15/2019 price 123 A Possible Golden Opportunity
04/12/2019 price 122 Gold Looks Ready To Rally
05/31/2019 price 122 Gold May Be Starting A Major Move
06/14/2019 price 126 S&P Stalls While Gold Soars
10/18/2019 price 140 Gold and Silver Set To Rally
12/06/2019 price 139 Gold Is Looking Bright
01/10/2020 price 146 Gold Is Not Done
03/06/2020 price 158 Gold Is An Anti-Virus
05/08/2020 price 161 Gold Is Waving The "Going Higher" Flag
06/19/2020 price 163 Gold Silently Gains Strength

08/07/2020 price 191

Each of these Chaos Clinics is in my blog on the home page at Moneytide.com
On the top chart these comments are marked by yellow up arrows.

On that chart, there are two channels. The first one looked like a nice orderly
1-2-3-4-5. Them came the sharp spike low at X. I traced the cause of this to
two close natal transits. After that a new, steeper channel formed. Just
as the top of these two channels crossed, GLD rocketted higher. I traced
this to Mars transit the natal Moon. What a launch!

The bottom chart shows the longer term pattern in GLD, updated from the 02/08/2019 Chaos Clinic.
It continues to suggest that GLD will continue up into mid 2022. A channel drawn by lines 3 and 4
suggests a 240 target. The steep slope of the recent move, however, suggests a possible
scale jump, a property of chaotic systems. This move up could become a non-linear
growth curve, which could exceed the top of the linear channel shown.

More on my work can be found at Moneytide.com
---

Below is one of the SPKISS charts from daytradingforecasts.com
and the chat room comments from this Chaos Clinic. Most recent comment is on top.
---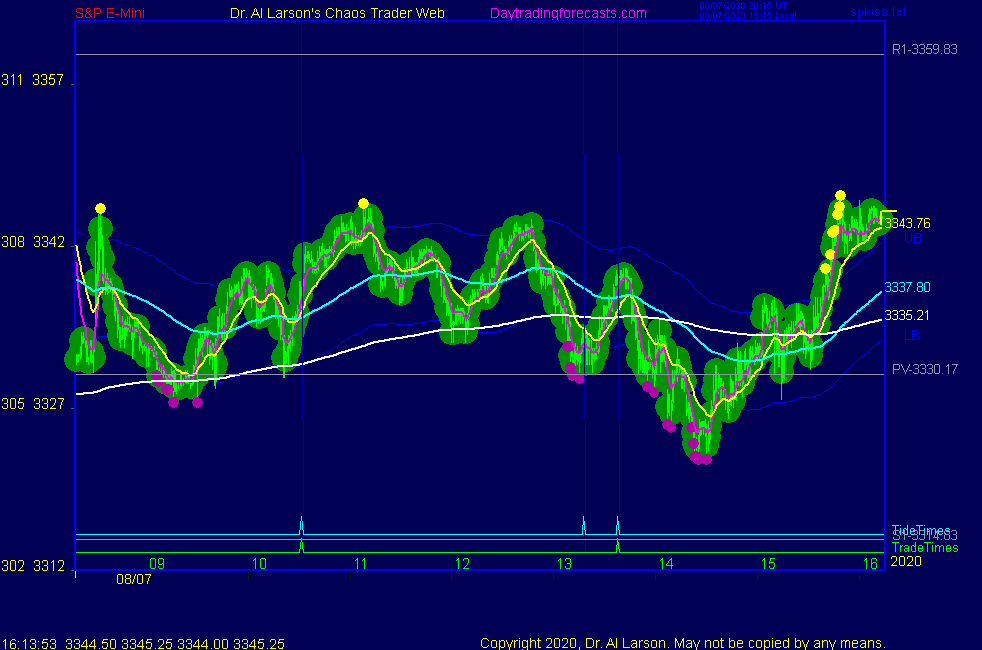 8/7/2020 1:08:49 PM MT TG****:: Hi Al and everyone. This doctor lays out a treatment plan for the virus that he says has been working well for his patients and for some other countries that have been using something similar. worth watching. https://www.youtube.com/watch?v=eDSDdwN2Xcg
8/7/2020 12:25:00 PM MT Al****:: CCTs see CCT Chat Room
8/7/2020 11:57:48 AM MT Al****:: possible late dump on those esnat72 lines
8/7/2020 10:05:19 AM MT Al****:: I expect prices to hold up to the close. I'm going to call it quits and go pack up the camper
Thanks for coming, see you next week. Take some courses. STAY SAFE!!!!!!!
8/7/2020 10:02:10 AM MT Al****:: OK, stopped for +1.25
8/7/2020 9:56:31 AM MT Al****:: on the Secret ->esNat 72 and other charts there are 2 vertical lines later today -they could add energy
hope my stop holds til then
8/7/2020 9:45:31 AM MT Al****:: I have now posted a Fractal of Pi chart in the CCT Room.
It suggests holding to close
8/7/2020 9:34:06 AM MT Al****:: from doing my own homework in the Chaos Trading Made Easy course I know more buying is probable after 12:10
8/7/2020 9:24:34 AM MT Al****:: pulled back from test of yesterday's high
third chart on SPKISS page shows a 1-2-3 now in 4 pattern
I expected pullback, so moved my stop just enough to have a win
8/7/2020 9:13:16 AM MT Al****:: moved my stop up to 3335
8/7/2020 9:05:29 AM MT Al****:: moved my stop up to 3330
I am trading one micro Emini, symbol MES. It is $5 per point.
A subscription to this site is about $5 per day.
8/7/2020 9:01:46 AM MT Al****:: back from breakfast
I have placed a Face of God chart in the Certified Chaos Trader's Room. It helped me find my entry.
That room is open
to graduates of my 4 main courses. See http://moneytide.com -> Courses for details.
eMylar Fractal of Pi overlays help you be patient, since they show you future potential moves.
The best bargain in my courses is to take the Cash In On Chaos and Fractal of Pi courses and
learn to use the FOP overlay. Then take Chaos Trading Made Easy, and finish with Face Of God.
8/7/2020 8:00:23 AM MT Al****:: trade is in place, taking a breakfast break
8/7/2020 7:55:08 AM MT Al****:: the third chart on the SPKISS page is a good one to watch
8/7/2020 7:50:19 AM MT Al****:: I bought 3333.75 stop 3325.75 cover 3359 at R1
8/7/2020 7:42:22 AM MT Al****:: note on the MTRainbow chart the convergence of the EXMAs with the 440 minute still up
8/7/2020 7:33:02 AM MT Al****:: note on the Secret->esnat72 chart the magenta and yellow vibration levels bracketing the pivot price
the magenta is support right now
8/7/2020 6:38:53 AM MT Al****:: Good Morning visitors. Welcome to the Chaos Clinic. The written Chaos Clinic is on the AUX page.
This site has a lot of charts,
so you may find it useful to have several of them available within your
browser. If you have a tabbed browser, you can open separate charts
in separate tabs by right clicking on any link, and selecting "open in new tab"
from the menu. The main list of site pages is at
http://daytradingforecasts.com/chartlistsec.asp
Recommended pages to watch are SPKISS, MTRainbow, and Chat.
For astro stuff, add SPSunMoon, Wheel, and Chaos Clinic.
A special set of Dr. Al's research charts are on the Secret page.
Comments in the chat room are announced by a
"duck call" noise. This noise also occurs when the sofware detects a
resonant hex pattern on the Wheel page. MoonTide trading tutorials
are on the right side of the ListOfCharts page. One should
read Trading the MoonTide Tutorial and Keep it Simple as a minimum.
Many subcribers do not strictly trade the MoonTides, but use the charts on this
site as input to their own trading strategies. For example, the bottom chart on the SPKiss page is good starting point for swing traders.
Also on this site is the Certified Chaos Trader's Room. That room is open
to graduates of my 4 main courses. See http://moneytide.com -> Courses for details.

This is a trying time for us all. One way to feel you have some control is to use
Guided Imagery. I created one for burning Covid-19 at
https://youtu.be/Fa7C7zb_vyE
You can download the core videos at
http://moneytide.com/download/BurnVirusBurn2.mp4
http://moneytide.com/download/BurnVirusBurn10rep.mp4
Feel free to use spread these videos around.
9:00 Eastern-System: No comments

---