---
CHAOS CLINIC RECAP
---
---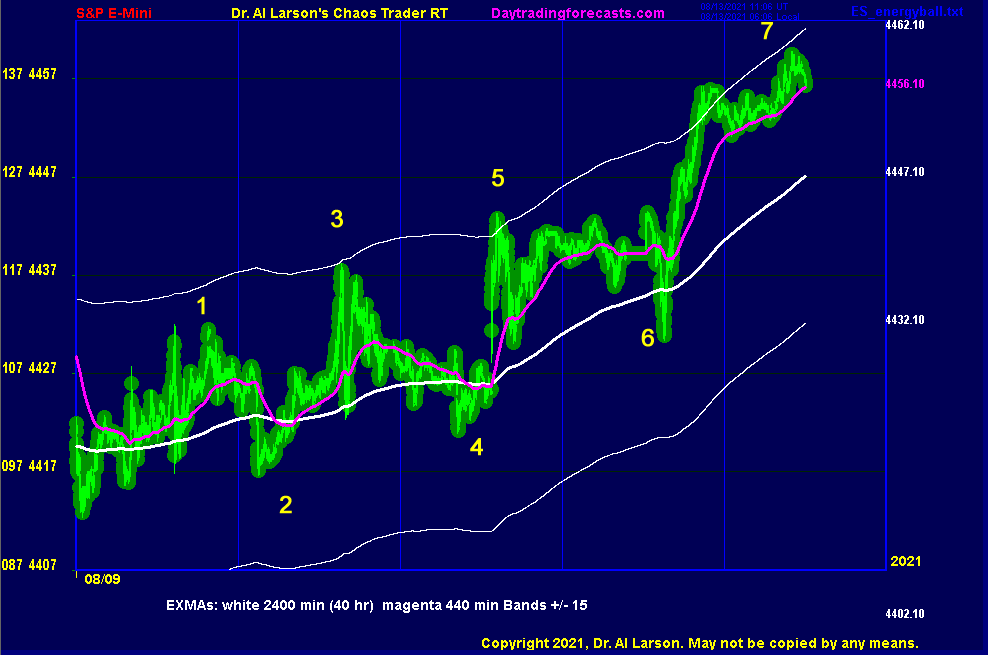 ********************************************************************************
S&P Has A Weak Week
Chaos Clinic for 8/13/2021
posted 7:35 AM 8/13/2021
********************************************************************************

This chart shows the S&P futures for the first 4 days of this week. The data
is 24 hour 1 minute data displayed as a plasma chart. This has been a choppy
slow rally.

The 2400 minute EXMA has risen about 20 points in 4 days - just 5 points per day.
This is about one third the average rate over the past 16 months. The Moon
moves roughly 15 degrees per day. On a Wheel Of 360, this is 15 degrees per day.

On this chart the bands have been running +/- 45 points. This week the bands
are +/- 15 points.

The rally shown has the clear 7 moves of an up Chaos Clamshell. It suggests
a pullback ahead. This would be confirmed by the 440 minute EXMA turning down.
Paying customers should check out the SP3XGO page. Proceed at your own risk.

For more on my work and to subscribe to Tomorrow's Market Email Hotline and access to daytradingforecasts.com see
Moneytide.com
Software to plot electric field flux lines in NinjaTrader is available at
energyfieldtrading.com
---

Below is one of the SPKISS charts from daytradingforecasts.com
and the chat room comments from this Chaos Clinic. Most recent comment is on top.
---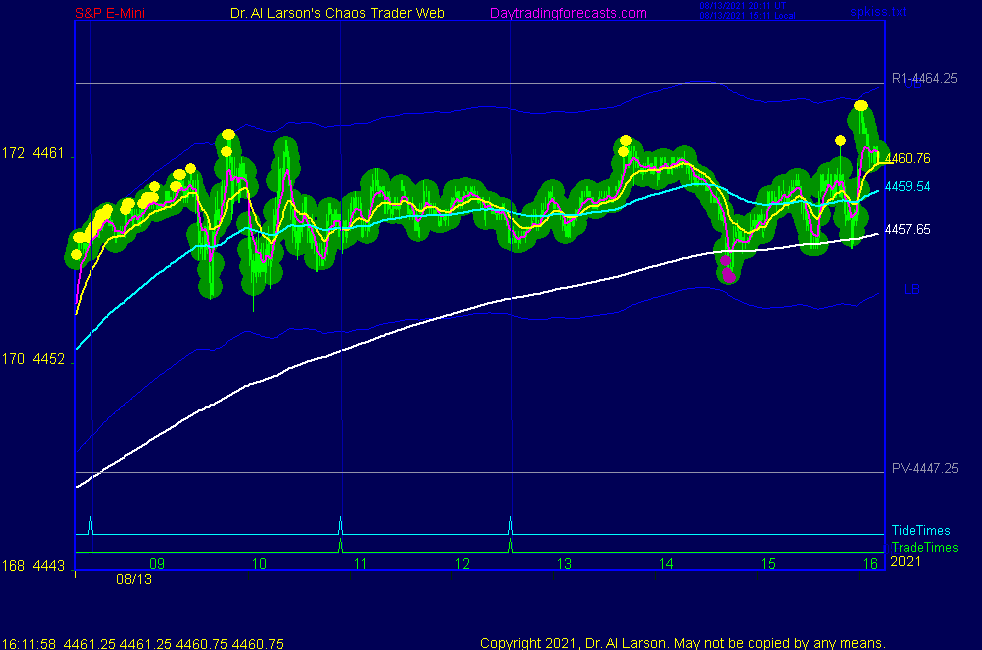 8/13/2021 2:13:59 PM MT Al****:: or just go camping
8/13/2021 2:04:27 PM MT DWY:: crossed above a significant trendline yesterday....clsoed above it today...short at your own peril.....safer strategy is BTD
8/13/2021 1:58:59 PM MT DWY:: the short term hourly is still UP...not even a neutral yet
8/13/2021 1:57:30 PM MT DWY:: u see in hindsight why i told u here in late june that the bears are retarded
8/13/2021 1:57:29 PM MT Al****:: all 3 set by +Mh315 Mercury electric field flux line
8/13/2021 1:56:15 PM MT DWY:: kids, thinking spx is going anywhere but UP in the intermediate term is a MISTAKE
8/13/2021 1:54:36 PM MT Al****:: Chart 4 SPKISS shows triple top -note pushballs
8/13/2021 12:30:11 PM MT DWY:: Food for thought: Given an astro measure like XGO, do the weekly and daily measures have the same relationship to a response? I already know the answer. Something u want to explore.
8/13/2021 11:42:15 AM MT Al****:: I'm going to call it a day-thanks for coming-see yoo next week -take some course
8/13/2021 11:08:09 AM MT Al****:: now the rotating earth has moved the Exchange past the sun
8/13/2021 10:51:02 AM MT Al****:: a flat like this is where many option traders put on spread trades
8/13/2021 10:43:51 AM MT Al****:: watch chart 3 on the SPKISS page for the white 440 min EXMA to turn down
8/13/2021 10:38:37 AM MT Al****:: the market moved up from the earlier vertical lines to the white one
8/13/2021 10:35:29 AM MT Al****:: note the vertical white line on the Secret->esnat72 chart
8/13/2021 10:27:22 AM MT Al****:: that's 90 degrees in 10 calendar days which is 1/4 the ercury-Moon 40 day cycle recorded in the Bible
8/13/2021 10:23:07 AM MT Al****:: Back on the 5th I said:
8/5/2021 12:05:41 PM MT Al****:: re Secret->esnat72: low on 8/3 was on yellow vibe
just broke yellow vibe one up
next one up is 4458
8/13/2021 10:07:54 AM MT Al****:: where we go is a high altitude lake surrounded by snow capped peaks called the Indian Peaks Wilderness - old growth forest -very high energy place - its where the Creator lives
8/13/2021 9:42:57 AM MT qq:: 10,300 feet! Must be very quiet up there. Also a great place to meditate.
8/13/2021 9:39:57 AM MT Al****:: where we go camping is 10,300 feet - when you get up there is is hard to breath- that's what this market feels like
8/13/2021 9:19:07 AM MT Al****:: volatility is to trading what wind is to a sail boat
8/13/2021 9:00:10 AM MT Al****:: note on Secret->esnat72 trade is along the yellow vibration level
but going nowhere
8/13/2021 7:32:09 AM MT Al****:: this high is a harmonic 60 points ( 60.25 ) up from yesterday's low
8/13/2021 6:51:53 AM MT Al****:: Good Morning visitors. Welcome to the Chaos Clinic. The written Chaos Clinic is on the AUX page.
This site has a lot of charts,
so you may find it useful to have several of them available within your
browser. If you have a tabbed browser, you can open separate charts
in separate tabs by right clicking on any link, and selecting "open in new tab"
from the menu. The main list of site pages is at
http://daytradingforecasts.com/chartlistsec.asp
Recommended pages to watch are SPKISS, MTRainbow, and Chat.
For astro stuff, add SPSunMoon, Wheel, and Chaos Clinic.
A special set of Dr. Al's research charts are on the Secret page.
Comments in the chat room are announced by a
"duck call" noise. This noise also occurs when the software detects a
resonant hex pattern on the Wheel page. MoonTide trading tutorials
are on the right side of the ListOfCharts page. One should
read Trading the MoonTide Tutorial and Keep it Simple as a minimum.
Many subscribers do not strictly trade the MoonTides, but use the charts on this
site as input to their own trading strategies. For example, charts 5 and 6 on the
SPKiss page are a good starting point for swing traders.
Also on this site is the Certified Chaos Trader's Room. That room is open
to graduates of my 4 main courses. See http://moneytide.com -> Courses for details.
---