---
CHAOS CLINIC RECAP
---
---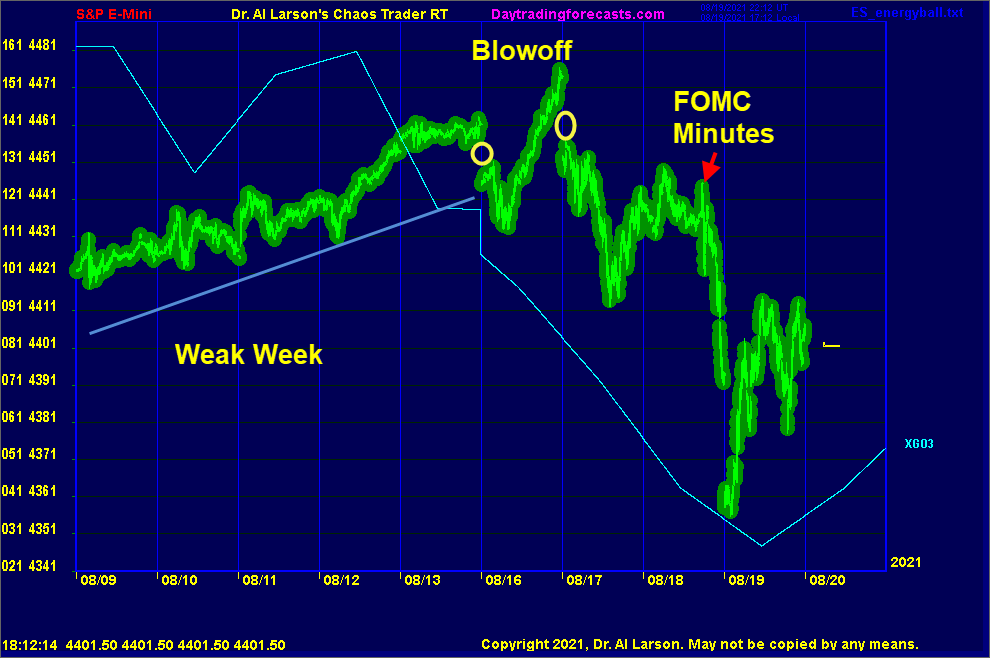 ********************************************************************************
S&P Dips As Per SP3XGO
Chaos Clinic for 8/20/2021

********************************************************************************

In last week's Clinic, I said, "It suggests
a pullback ahead. This would be confirmed by the 440 minute EXMA turning down.
Paying customers should check out the SP3XGO page. Proceed at your own risk."

This chart shows what happened this week. This chart uses data from 6:15 to 14:15
Eastern, the normal session plus the hour before the open when most economic
reports occur. Overlayed on it is the SP3XGO forecast from daytradingforecasts.com.
Regular subscriber Ahab pointed out last week, "Ignore SP3XGO at your own risk."

The week began with a gap down, but Monday ended with a fast rally to new highs.
It looked like a blow off move. That was confirmed on Tuesday, which gapped down,
dropped, and then rallied.

Wednesday traded choppy and flat until 14:00 Eastern, when the FOMC minutes were released.
This created a panic decline, which ran into Thursday morning. Interestingly, at
the exact time the drop started, the Exchange rotated past Mars and Mercury, which were
exactly conjoining.

Thursday's bounce came as per SP3XGO. You can see more of SP3XGO by subscribing to
to Tomorrow's Market Email Hotline or by ordering and XGO chart on MoneyTide.com.

For more on my work and to subscribe to Tomorrow's Market Email Hotline and access to daytradingforecasts.com see
Moneytide.com
Software to plot electric field flux lines in NinjaTrader is available at
energyfieldtrading.com
---

Below is one of the SPKISS charts from daytradingforecasts.com
and the chat room comments from this Chaos Clinic. Most recent comment is on top.
---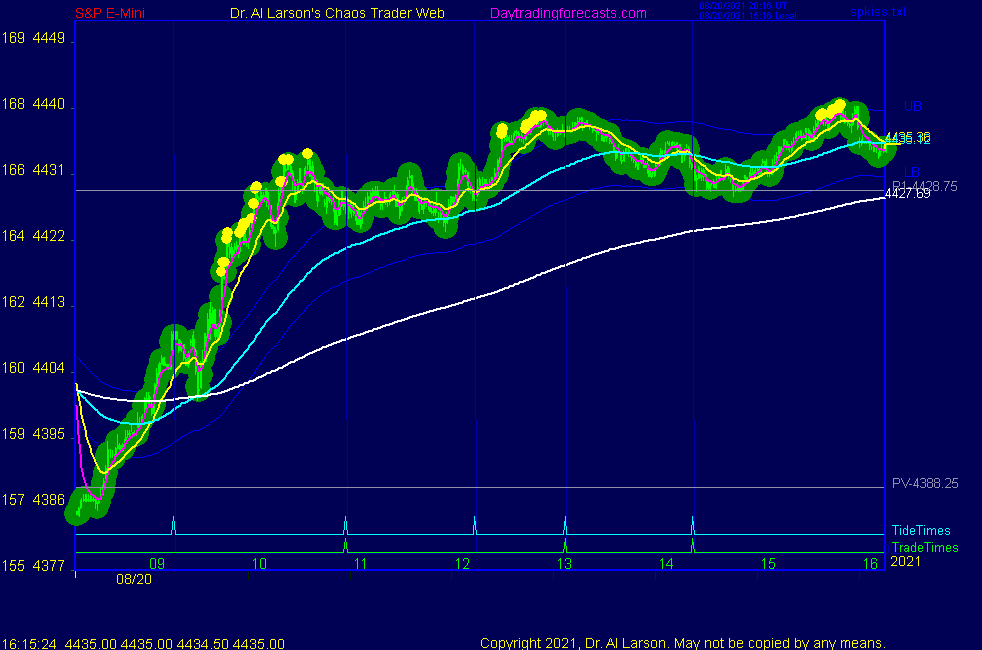 8/20/2021 11:18:51 AM MT Al****:: I'm leaving now-thanks for coming-see you in 2 weeks-take some courses
8/20/2021 8:46:41 AM MT Al****:: Flash Boys ran prices from pivot to R1, and on Secret->esnat72 white to white
8/20/2021 7:49:47 AM MT Al****:: learn about them on the [ MoonTides and Black Swans] link on the right side of the ListOfCharts page
8/20/2021 7:46:24 AM MT Al****:: on the Chaos Clinic page note the double green swan lines
8/20/2021 7:41:37 AM MT Al****:: note on the Secret->esnat72 chart the most recent vertical lines and the base on the white vibration with the pivot just above
that's where the early birds bought
8/20/2021 7:22:49 AM MT Al****:: chart 7 on SPKISS page shows a 1-2 pattern
8/20/2021 7:09:12 AM MT Al****:: Good Morning visitors. Welcome to the Chaos Clinic. The written Chaos Clinic is on the AUX page.
This site has a lot of charts,
so you may find it useful to have several of them available within your
browser. If you have a tabbed browser, you can open separate charts
in separate tabs by right clicking on any link, and selecting "open in new tab"
from the menu. The main list of site pages is at
http://daytradingforecasts.com/chartlistsec.asp
Recommended pages to watch are SPKISS, MTRainbow, and Chat.
For astro stuff, add SPSunMoon, Wheel, and Chaos Clinic.
A special set of Dr. Al's research charts are on the Secret page.
Comments in the chat room are announced by a
"duck call" noise. This noise also occurs when the software detects a
resonant hex pattern on the Wheel page. MoonTide trading tutorials
are on the right side of the ListOfCharts page. One should
read Trading the MoonTide Tutorial and Keep it Simple as a minimum.
Many subscribers do not strictly trade the MoonTides, but use the charts on this
site as input to their own trading strategies. For example, charts 5 and 6 on the
SPKiss page are a good starting point for swing traders.
Also on this site is the Certified Chaos Trader's Room. That room is open
to graduates of my 4 main courses. See http://moneytide.com -> Courses for details.
9:00 Eastern-System: No comments

---