---
CHAOS CLINIC RECAP
---
---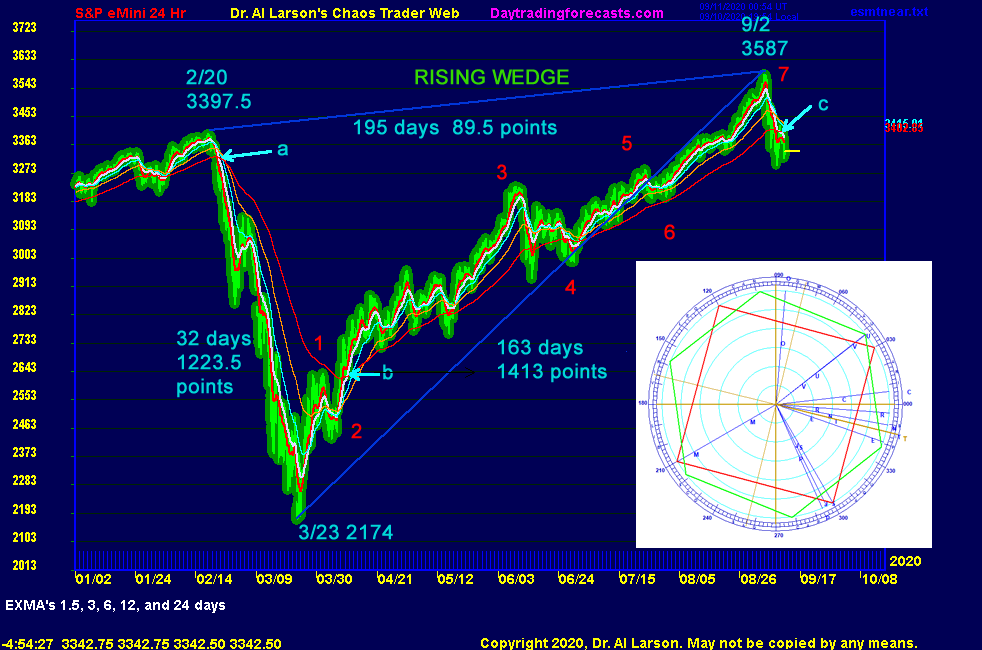 ********************************************************************************
The S&P Turns Down
Chaos Clinic for 9/11/2020
********************************************************************************
Last week I said

"So it could well be that the S&P has ended its COVID-19 'recovery bounce.'"

This chart shows more evidence that this is true.

The main evidence is provided by the rainbow of EXMAs. The longest of these is the dark red 24 day.
This EXMA turned down in February at point a. following that the S&P dropped over 1200 points in 32 days.
This was a 36% drop.

Thanks to the huge injection of money by Congress, the S&P turned up, turning the 24 day EXMA up at point B.
Then the S&P rallied for 163 days and 1413 points. That was a 65 percent rally.

While prices sagged back to the 24 day EXMA several times, the slope of the EXMA remained up until this week
Now it has turned down at point C.

The pattern formed is a rising wedge, typical of tops. The rally has an arguable 7 moves as shown, an up
Chaos Clamshell.

Major tops and bottoms usually show up in heliocentric planetary patterns. On 9/2/2020 there was such a
pattern. The ephemeris wheel for 9/2 is shown on the chart. Mercury is perfectly square Saturn.
Venus is exactly conjoin Uranus. This pair is sextile Earth. The green sextile pattern suggests a 2 month
initial down move. The square suggests a 3 month move.

Longer term cycles are at play. Venus-Uranus is a 226 day cycle. Mercury-Venus
is a 144 day cycle. Venus-Earth is 584 days.

The square is anchored by the forming Jupiter-Saturn conjunction. That cycle is 7353 days, about 20 years.
It was W. D. Gann's Master cycle. The 2007 top was 20 years from the
Crash of 1987. The JS conjunction comes 11/4/2020. The last conjunction in 2000 led to a 28 month decline.

For more on my work see
Moneytide.com
---

Below is one of the SPKISS charts from daytradingforecasts.com
and the chat room comments from this Chaos Clinic. Most recent comment is on top.
---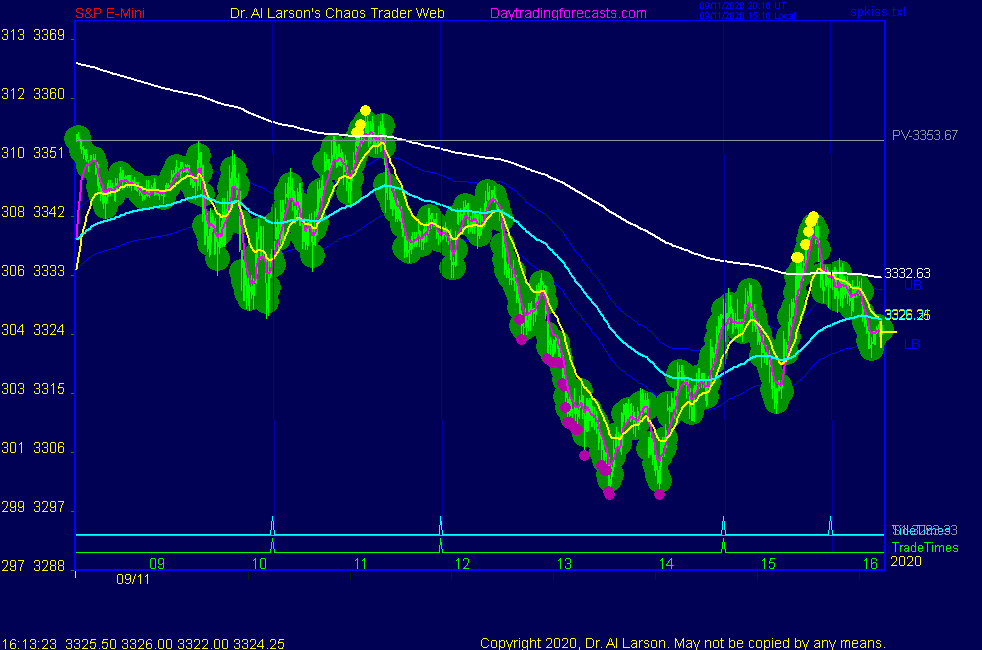 9/11/2020 12:16:51 PM MT Al****:: thanks for coming. Have a good weekend. Take some courses.
9/11/2020 12:15:34 PM MT Al****:: this thing may go lower, but I'm tired and have a nice gain of +24 here, net +18 for the day
9/11/2020 12:13:49 PM MT Al****:: covering here at 3315
9/11/2020 12:02:59 PM MT Al****:: now note on esnat72 green vibration resistance, and high, could go down to next green
9/11/2020 12:00:32 PM MT Al****:: stop to 3320, jut above 110 minute EXMA
9/11/2020 11:59:21 AM MT Al****:: Sure. Hope it works out.
9/11/2020 11:56:13 AM MT qq:: Thanks Al re 3135 target
9/11/2020 11:51:13 AM MT Al****:: stop to 3322, just above the 110 minute EXMA
9/11/2020 11:43:41 AM MT Al****:: stop to 3324; getting bounce off of esnat72 white vibration
9/11/2020 11:32:09 AM MT Al****:: stop to 3329 locking 10 ; I'm in this trade because of that Down Moon flux setting the high - the electric fields are real
9/11/2020 11:16:45 AM MT Al****:: I can now lower my stop to 3339, my entry. Note on Secret-EXNat72 that is just above the yellow vibration , which got a little bounce up to it as a GBK - Good Bye Kiss
9/11/2020 11:06:22 AM MT Al****:: on a wheel of 1800 vibration chart I see a target of 3135 over the next 15 days
9/11/2020 10:58:06 AM MT Al****:: on Secret->Daniel the yellow cycle turned down
I try to trade in the direction of that cycle
9/11/2020 10:54:08 AM MT qq:: So far following red tide Xtide2Plus
9/11/2020 10:44:58 AM MT Al****:: my SH EFT 8 hr bar chart looks to have turned up
9/11/2020 10:41:04 AM MT Al****:: the high of the day came on a Natural Time that has a correspondence with the vertical line near 2:30 on the Secret charts - that should make it hot
9/11/2020 10:36:49 AM MT Al****:: this little down move was forecast by the Fractal Grid pattern that I posted
9/11/2020 10:35:25 AM MT Al****:: I pay attention to Venus because on the first day of trading there were Venus timelines near open and close
9/11/2020 10:33:34 AM MT Al****:: on the SPSunMoon chart hit Moon down flux on Moon timeline and Venus flux on Venus timeline
VT is a 31 day cycle; will also show up as 31 hours
9/11/2020 10:17:17 AM MT Al****:: posted a Fractal Grid chart in the CCT Room. That is from the Chaos Trading Made Easy course, and helps sort out congestions. The CCT Room is open to graduates of my 4 main course
9/11/2020 10:02:19 AM MT Al****:: need to put stop above high at 3359 - on on MES contract that is a $100 risk
9/11/2020 10:00:37 AM MT Al****:: so taking sell a bit late at 3339
9/11/2020 9:59:39 AM MT Al****:: I'm noting that high was set by down Moon flux on SPSunMoon
9/11/2020 9:56:12 AM MT Al****:: back from breakfast - see still congesting
9/11/2020 9:54:24 AM MT qq:: Target of 3300 of white horizontal Secret ES360 later?
9/11/2020 9:40:07 AM MT qq:: Last hour or so might get a sell off.
9/11/2020 9:04:08 AM MT Al****:: aborted for -6 - going to breakfast
9/11/2020 9:00:12 AM MT Al****:: which is also the 440 minute EXMA on my two day chart similar to the 3rd on on the SPKISS page
9/11/2020 8:57:29 AM MT Al****:: the only thing keeping me from doing that is the move stopped at the pivot
9/11/2020 8:54:51 AM MT Al****:: meanwhile, I did sell 3344 on early 20/110 sell but about to abort it
9/11/2020 8:39:15 AM MT Al****:: on secret->esnat72 vibration early went from yellow to green,
then dropped to yellow, bounced to white and lower to magenta
that is roughly a "range halfing" a precursor to chaos
9/11/2020 8:32:13 AM MT Al****:: 3rd chart on SPKISS page showing thrust down yesterday, congestion so far today, suggests another thrust down
right now getting lots of high frequency buzz from computers who don't agree
9/11/2020 8:19:35 AM MT qq:: Thanks Al
9/11/2020 8:05:49 AM MT Al****:: QQ: does look like GLD is about to move - on my 8 hr bar chart I see a converging triangle about to end
9/11/2020 8:00:48 AM MT Al****:: jvj: about the same here-bent my crab apple and lilacs down, but nothing broken. Up at Estes at the YMCA where we were a week ago they got 5 feet. On our first walk we saw all the pine cones had dropped way early. Sign of early and hard winter. Just didn't expect it so soon.
9/11/2020 7:52:19 AM MT jvj****:: Max accumulation less than 1". Only lasted 2 days on ground. Ground temp warm enough to keep roads clear.
9/11/2020 7:43:28 AM MT qq:: Gold has formed a nice consolidating plateau over a month. Support for further up?
9/11/2020 7:40:36 AM MT qq:: Thanks Al. Right on it.
9/11/2020 7:37:49 AM MT Al****:: down yellow vertical line on Secret charts
9/11/2020 7:33:42 AM MT qq:: Maybe a slow creep up from here?
9/11/2020 7:28:51 AM MT Al****:: GM jvj-did you get much snow out of our little taste of winter?
9/11/2020 7:04:02 AM MT jvj****:: Good morning everyone.
9/11/2020 6:38:59 AM MT Al****:: nice call QQ; note vertical lines on Secret charts
high was on green +Tide and Moon T+000 timeline
9/11/2020 6:36:12 AM MT Al****:: Good Morning visitors. Welcome to the Chaos Clinic. The written Chaos Clinic is on the AUX page.
This site has a lot of charts,
so you may find it useful to have several of them available within your
browser. If you have a tabbed browser, you can open separate charts
in separate tabs by right clicking on any link, and selecting "open in new tab"
from the menu. The main list of site pages is at
http://daytradingforecasts.com/chartlistsec.asp
Recommended pages to watch are SPKISS, MTRainbow, and Chat.
For astro stuff, add SPSunMoon, Wheel, and Chaos Clinic.
A special set of Dr. Al's research charts are on the Secret page.
Comments in the chat room are announced by a
"duck call" noise. This noise also occurs when the sofware detects a
resonant hex pattern on the Wheel page. MoonTide trading tutorials
are on the right side of the ListOfCharts page. One should
read Trading the MoonTide Tutorial and Keep it Simple as a minimum.
Many subcribers do not strictly trade the MoonTides, but use the charts on this
site as input to their own trading strategies. For example, the bottom chart on the SPKiss page is good starting point for swing traders.
Also on this site is the Certified Chaos Trader's Room. That room is open
to graduates of my 4 main courses. See http://moneytide.com -> Courses for details.

9/11/2020 5:22:08 AM MT qq:: Early AM 9/11 patriotic rally as I expected. It should fall back.
9:00 Eastern-System: No comments

---