---
CHAOS CLINIC RECAP
---
---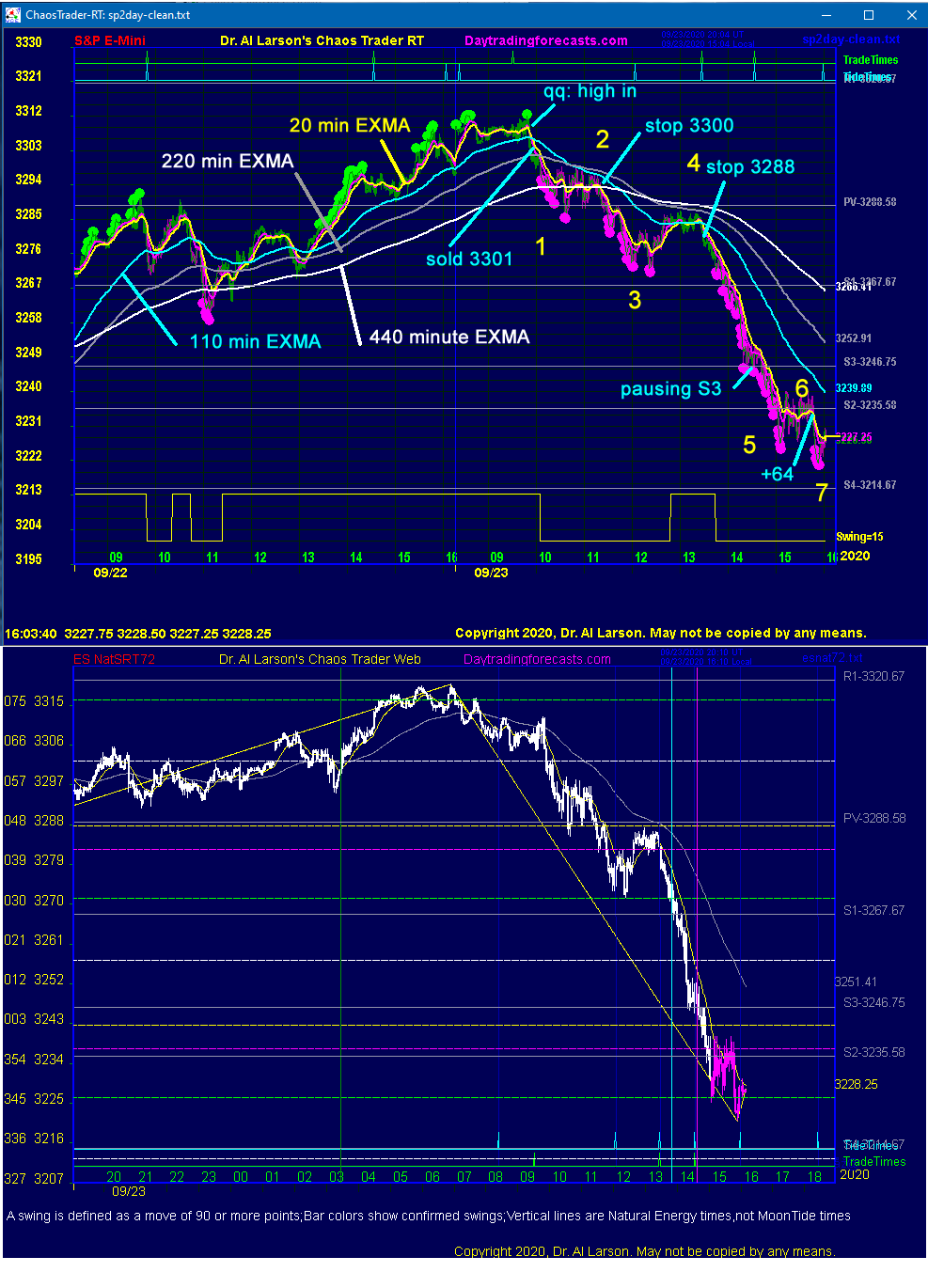 ********************************************************************************
A Nice Chaos Clamshell
Chaos Clinic for 9/25/2020
********************************************************************************

The charts above shows the nice down Chaos Clamshell on 9/23/2020.
The top chart is essentially the same chart as the third chart on the SPKISS
page on http://daytradingforecasts.com

The lower chart is the esNat72 vibration level chart from the Secret page
on http://daytradingforecasts.com

While I do not regularly "call" live trades, the chat room discussion evolved into
a description of the Chaos Clamshell. Here is that discussion. Chat times are in
Mountain, but the chart is in Eastern, so add two hours to the chat time to see
when the comment was made on the chart. Some comments are marked on the chart.

The 7 moves of the down Chaos Clamshell are labeled on the chart.

9/23/2020 7:31:11 AM MT Al****:: GM all-good luck today
9/23/2020 8:02:26 AM MT qq:: GM All. Appears we've seen High of day.

That comment got my attention, and triggered this whole discussion.

9/23/2020 8:03:34 AM MT qq:: Below ES72 horizontal white is significant
9/23/2020 8:06:34 AM MT Al****:: probably -sold 3301 stop 3312
9/23/2020 8:10:23 AM MT Al****:: note pushball double top on 4th chart on SPKISS page
9/23/2020 8:12:21 AM MT Al****:: and note curl on 110 and 20/110 sell on 3rd chart on SPKISS
9/23/2020 8:14:13 AM MT Al****:: stop 3308
9/23/2020 8:24:09 AM MT Al****:: stop 3305
9/23/2020 8:32:42 AM MT qq:: Sold puts about 10 min seeing possible support. Good profit. Possibly sold too early, but a profit is a profit.
9/23/2020 8:38:37 AM MT qq:: Possible support Yellow Horizontal ES72 and ES360?
9/23/2020 8:59:45 AM MT Al****:: stop held while I went to breakfast
9/23/2020 9:25:05 AM MT Al****:: OK, took the dogs to the park and stop still good
9/23/2020 9:28:08 AM MT Al****:: stop 3300-watching 440 for curl down
9/23/2020 9:39:33 AM MT Al****:: on 9 day hourly chart the rally was stopped by the 144 hour down EXMA
9/23/2020 9:42:19 AM MT qq:: Glad I went for a walk since not much of drop during that time. Benefits of walk were better than possible gains here. Great cool weather while walking still in summer shorts/Tee shirt.
9/23/2020 9:55:24 AM MT Al****:: yeah, not sitting and staring at screen is good
9/23/2020 10:08:00 AM MT Al****:: on 3rd chart on SPKISS 440 has curled down, so looks down rest of day; stop to 3292 just above the 440
9/23/2020 10:22:04 AM MT Al****:: magenta level on esnat72 was resistance
9/23/2020 10:26:01 AM MT Al****:: stop 3291 just above 440
9/23/2020 10:51:41 AM MT Al****:: from the high looks like in move 4
9/23/2020 11:03:03 AM MT Al****:: stop held so far-trying to hold for all 7 moves
9/23/2020 11:13:00 AM MT qq:: Al, I see both magenta and green on ES72 as resist, but the magenta being more important
9/23/2020 11:16:59 AM MT Al****:: resistance or support? note vertical line coming up
9/23/2020 11:19:05 AM MT qq:: Magenta as resist
9/23/2020 11:21:00 AM MT qq:: Oppps. Meant support for green.
9/23/2020 11:28:16 AM MT Al****:: range basically green to green, 3 levels; bounce one level to yellow
9/23/2020 11:28:22 AM MT qq:: Seems to be following more of green ATide2Plus than red. Possible rally off lows near last trade time?
9/23/2020 11:29:31 AM MT Al****:: now EXMAs turning down - stop still OK
9/23/2020 11:40:02 AM MT qq:: Consolidation, bias up?
9/23/2020 11:43:28 AM MT Al****:: down CC to close
9/23/2020 11:44:37 AM MT Al****:: stop 3288
9/23/2020 11:46:50 AM MT qq:: Thanks Al
9/23/2020 11:54:53 AM MT Al****:: on hourly chart this is much longer term pattern; 8 hr bar SH chart going up
9/23/2020 12:20:28 PM MT Al****:: stop 3275
9/23/2020 12:38:22 PM MT Al****:: stop 3261 above white esnat72 level
9/23/2020 12:47:07 PM MT Al****:: carried through last trade time
9/23/2020 12:52:17 PM MT Al****:: pausing at S3
9/23/2020 12:55:53 PM MT Al****:: esnat72 down 1 yellow vibe, may go two down
9/23/2020 1:06:32 PM MT Al****:: stop 3243 above yellow vibe
9/23/2020 1:21:59 PM MT Al****:: 1000,1300 high energy so 1600 should be as well
9/23/2020 1:24:04 PM MT Al****:: this pause as S2 looks like move 6
9/23/2020 1:35:16 PM MT Al****:: sitting on my hands so I don't cover
9/23/2020 1:45:18 PM MT Al****:: OK covering day trade for +64
9/23/2020 1:48:11 PM MT Al****:: longer term still down
Note how the total move went down two green levels on esnat72. That +64 on one MES microES was worth $320.

You can see both of these charts and more by subscribing to Tomorrow's Market email at
Moneytide.com
---

Below is one of the SPKISS charts from daytradingforecasts.com
and the chat room comments from this Chaos Clinic. Most recent comment is on top.
---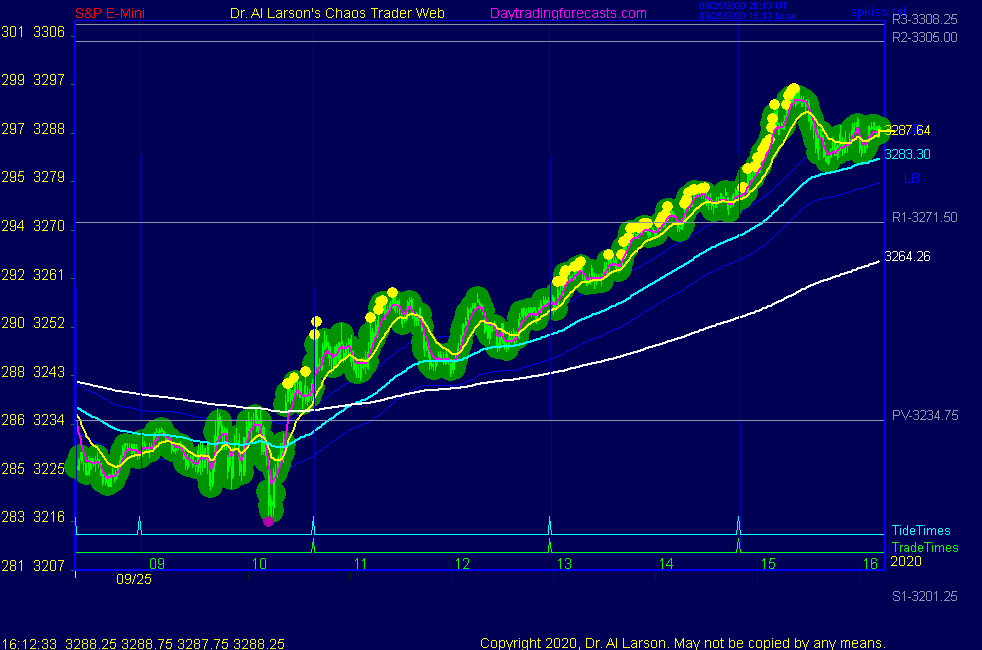 9/25/2020 1:59:14 PM MT qq:: Sold my put. Stock Traders Almanac shows Monday as a bullish day. This and other factors formed my decision to sell put.
9/25/2020 1:48:44 PM MT qq:: Might chicken out and sell that put. Not feeling sure about continuation off peak Monday.
9/25/2020 1:36:25 PM MT qq:: Bought a put expiring Monday just after it peaked.
9/25/2020 1:32:22 PM MT qq:: So surprised when I checked my brokerage account. I sold 2 of 4 Calls (expiring today) at opening for a terrible loss. Then I forgot about the other 2 calls until 2:25 CDT. WOW! What a SURPRISE. And what a surprise I would have had if those 2 exercised after the close since not enough cash to pay for that.!
9/25/2020 1:28:19 PM MT qq:: ES going for white line ES72. I'm calling this a possible exhaustion rally.
9/25/2020 12:56:27 PM MT Al****:: cancelling that and calling it a day -thanks for coming-have a good weekend-see you next week
9/25/2020 12:35:50 PM MT Al****:: putting sell stop 3269 just under green vibe on exnat72
9/25/2020 12:25:44 PM MT Al****:: have a good weekend
9/25/2020 12:15:28 PM MT Al****:: watching last trade time
9/25/2020 12:14:58 PM MT jvj****:: Enough for today, see you next week.
9/25/2020 12:06:17 PM MT jvj****:: BTW, I'm long from 3230 with an Oct 30 covered call on MES.
9/25/2020 12:04:37 PM MT Al****:: same here
9/25/2020 11:58:47 AM MT jvj****:: Am tempted to short at R1, but don't think I want to get in front of a runaway freight train.
9/25/2020 11:56:44 AM MT Al****:: that's also the green level on esnat72
9/25/2020 11:50:01 AM MT Al****:: yes jvj
9/25/2020 11:44:53 AM MT jvj****:: I think my last question is now irrelevant.
9/25/2020 11:38:59 AM MT jvj****:: You think any chance to get to R1 today?
9/25/2020 11:34:51 AM MT Al****:: the reason I'm concerned about the rally is that the two day pattern looks like and ABC correction
9/25/2020 11:30:19 AM MT Al****:: that comes from the Chaos Trading Made Easy course
9/25/2020 11:29:40 AM MT Al****:: I aborted when the push balls stopped
9/25/2020 11:20:00 AM MT Al****:: aborting for +1 just don't like it
9/25/2020 11:10:05 AM MT Al****:: putting sell limit at 3271 = R1
9/25/2020 11:07:03 AM MT Al****:: reluctantly bought 60 stop 55
9/25/2020 11:04:58 AM MT Al****:: marginal new high with isolated push ball - doing nothing
9/25/2020 10:53:59 AM MT Al****:: plus only 2 points up from first trade time spike high
9/25/2020 10:51:33 AM MT Al****:: yellow 20 minute EXMA shows 7 moves from low, so not inclined to buy here
9/25/2020 10:33:17 AM MT Al****:: on Chaos Clinic char prices look to have picked up red Swan ; also past Moon crossover
9/25/2020 10:30:40 AM MT Al****:: little double top at highs - should a sell setup, a stop could go at 3259
9/25/2020 10:21:37 AM MT Al****:: I'm back - see not much happened
9/25/2020 10:01:58 AM MT Al****:: taking dogs to the park
9/25/2020 9:58:53 AM MT Al****:: that tells me the high is probably in
9/25/2020 9:47:40 AM MT Al****:: note the Secret -> esnat72 chart - white vibrations setting range
9/25/2020 9:45:44 AM MT Al****:: rally stalling-note push balls on 4th SPKISS chart -when they end energy is waning
9/25/2020 9:31:20 AM MT Al****:: the Chaos Clinic chart shows move is following green +Tide
also note the yellow Moon flux crossover -this is a high energy point that often reverse a move
9/25/2020 9:01:21 AM MT Al****:: this is where discipline comes in - I took one trade, accepted the result, and did not chase the following action
9/25/2020 8:52:27 AM MT Al****:: I'm back - noting spike high at exact trade time with trade both sides of EXMAs - note isolated push ball at top of move-means Flash Boy computers sold quickly
9/25/2020 8:23:28 AM MT Al****:: quick -10 ; going to breakfast
9/25/2020 8:16:18 AM MT Al****:: I've added a chart to the SPKISS page, at the bottom - this longer term plasma chart is useful for swing and position trading
9/25/2020 8:13:04 AM MT Al****:: sold 28 stop 38
9/25/2020 8:11:09 AM MT Al****:: third chart on SPKISS showing possible sell setup
9/25/2020 8:04:48 AM MT Al****:: trading flat and dull along the pivot
and inside yesterday's range - I'm not doing anything
9/25/2020 6:54:31 AM MT Al****:: Good Morning visitors. Welcome to the Chaos Clinic. The written Chaos Clinic is on the AUX page.
This site has a lot of charts,
so you may find it useful to have several of them available within your
browser. If you have a tabbed browser, you can open separate charts
in separate tabs by right clicking on any link, and selecting "open in new tab"
from the menu. The main list of site pages is at
http://daytradingforecasts.com/chartlistsec.asp
Recommended pages to watch are SPKISS, MTRainbow, and Chat.
For astro stuff, add SPSunMoon, Wheel, and Chaos Clinic.
A special set of Dr. Al's research charts are on the Secret page.
Comments in the chat room are announced by a
"duck call" noise. This noise also occurs when the sofware detects a
resonant hex pattern on the Wheel page. MoonTide trading tutorials
are on the right side of the ListOfCharts page. One should
read Trading the MoonTide Tutorial and Keep it Simple as a minimum.
Many subcribers do not strictly trade the MoonTides, but use the charts on this
site as input to their own trading strategies. For example, the bottom chart on the SPKiss page is good starting point for swing traders.
Also on this site is the Certified Chaos Trader's Room. That room is open
to graduates of my 4 main courses. See http://moneytide.com -> Courses for details.
9:00 Eastern-System: No comments

---