Chaos Clinic Recap
---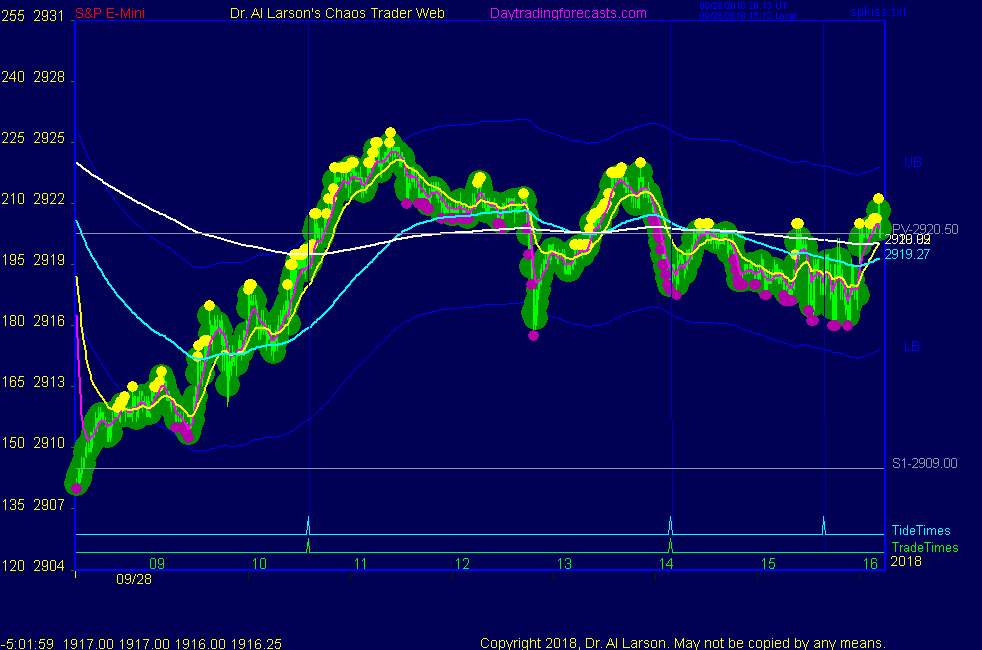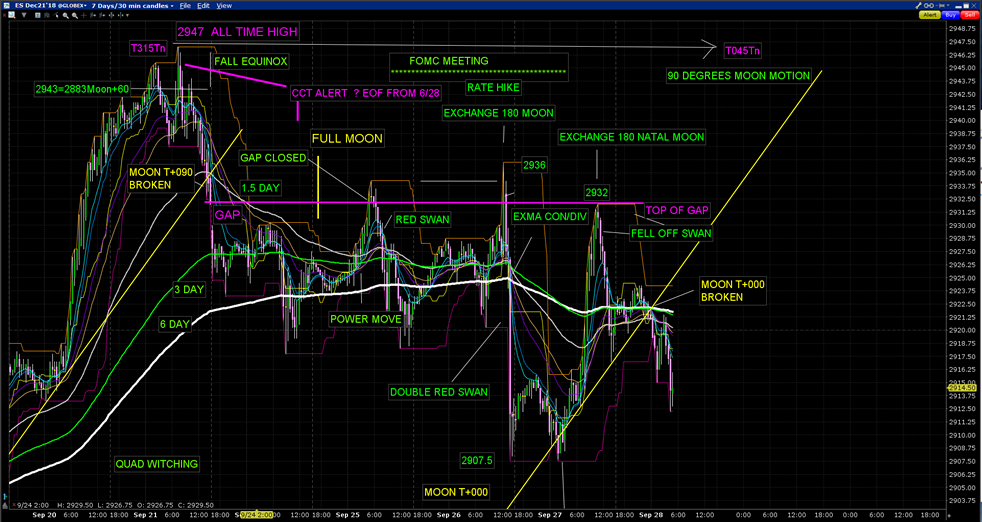 ---
Here are Al's comments
---

*************************************************************************************

Chaos Clinic for September 28, 2018 A Crazy Week

*************************************************************************************

The word "lunatic" comes from an ancient observation that the Full Moon has a
a strange, unsettling, erratic effect on the behavior of some humans. The
S&P price is produced by humans, many of whom seem to be lunatics. At least it
seemed so this week.

The chart on the AUX page shows the past eight days of the S&P eMin prices.
All 24 hours are shown.

On Thursday, September 20, prices bottomed on the Moon T+090 electric field
flux line. From there they rallied sharply. On Friday, the 21st, prices
reached their all time high at 2947. On that day, the Moon made a 315 degree
aspect to natal Moon near the high. Prices turned lower into the close,
breaking the T+090 flux line.

When trading began on Monday, they gapped down. They briefly broke below the
6 day EXMA, the thick white line. It basically shows the trend of the week.
On Monday, after looking at longer term charts, I alerted Certified Chaos Traders
to the possibility that the Fractal of Pi up from 6/28/2018 had ended.
One consideration in that alert was that the fall equinox had occurred over the weekend.

Early Tuesday was the Full Moon. It added enough energy to produce a power
curve move that rallied prices enough to close the gap, all before the normal
session. The a Red Swan drove prices down during the normal session. Tuesday
was the first day of the Federal Open Market committee session.

On Wednesday, the Fed annouced their rate hike just before the rotating earth
moved the exchange 180 degrees to the Moon. Prices shot up, then dropped like
a rock. They were aided by a double Red Swan. Prices dropped to 2907.5.

Early Thursday morning prices made a double bottom, then caught the energy
from the Moon T+000 as the exchage rotated to conjoin the Moon. From there
they rallied sharply to 2932. They topped out at the top of the week's
opening gap, just ast the exchange rotated to be 180 degrees from natal Moon.
That rally was driven by a double Green Swan, and ended when prices fell of of it.

From there, prices declined, and early today broke the Moon T+000 flux line.
As of this writing, prices are heading down. A break of 2907.5 would suggest
that a major decline has begun. The fibrillation nature of this week
suggests chaos ahead.
---
Besides the comments made by Al, the chat room is has live
comments from other traders who sometimes share their views,
trades and tips. Below are the chat room comments from this clinic
---


9/28/2018 12:50:11 PM MT TG****:: you too
9/28/2018 12:49:48 PM MT TG****:: sorry to hear of all those deaths and illnesses. Rough to take.
9/28/2018 12:49:47 PM MT Al****:: Gotta go. Everyone have a good weekend.
9/28/2018 12:48:32 PM MT TG****:: Two moon day today. Doesn't look like classic moon noon moon. A 3rd tank into the close on the last day of the month. I'll wait and see and pass if it tanks. If it starts to cross to the upside, I'll buy it.
9/28/2018 12:13:47 PM MT Al****:: last high was another Moon event-Exchange passed natal Node. I've never seen so many Moon events turn price as this week.
9/28/2018 12:11:57 PM MT Al****:: Thanks. I just try to stay balanced. Everything has a time and a season.
9/28/2018 12:10:13 PM MT Al****:: add in the wife of another CCT, who I knew well, died. And an Academy Classmate I knew well died. I feel like I'm in the middle of the movie Collateral Beauty. All about Love, Time, and Death.
9/28/2018 12:07:26 PM MT BBB****:: Sorry to hear that Al. Hang in there and take care of what is important.
9/28/2018 12:03:52 PM MT Al****:: Hi BBB. I'm well. My older brother is in hospice, so my attention is distracted.
9/28/2018 11:25:02 AM MT BBB****:: Hey there hope all is well. Got sidetracked just now taking a look
9/28/2018 11:19:07 AM MT Al****:: watch for selling to come in at 2:00
9/28/2018 10:51:20 AM MT Al****:: it has driven me crazy :)
9/28/2018 10:49:40 AM MT Al****:: now it can get interesting; This whole week has been Moon, Moon, Moon
9/28/2018 10:46:16 AM MT Al****:: now exchange about to oppose natal Moon
9/28/2018 9:59:08 AM MT Al****:: third day in row high set by Moon-each high lower
9/28/2018 9:34:35 AM MT Al****:: just passed Moon aspect to natal
9/28/2018 9:32:10 AM MT Al****:: yes; still does
9/28/2018 9:30:49 AM MT TG****:: Felt like dancing elephants at times
9/28/2018 9:27:13 AM MT Al****:: crazy week
9/28/2018 9:26:28 AM MT Al****:: 2907 not broken ; triple bottom attracted buying;support on Mars flux; Mars opposes Moon in S&P natal chart
9/28/2018 6:52:10 AM MT Al****:: Great. I did make a few updates so check that you got it all
9/28/2018 6:18:11 AM MT gon:: Hi Al, already published at FXS too.
9/28/2018 5:40:51 AM MT Al****:: GM all. Chaos Clinic posted on AUX page.

9:00 Eastern-System: No comments

---