---
CHAOS CLINIC RECAP
---
---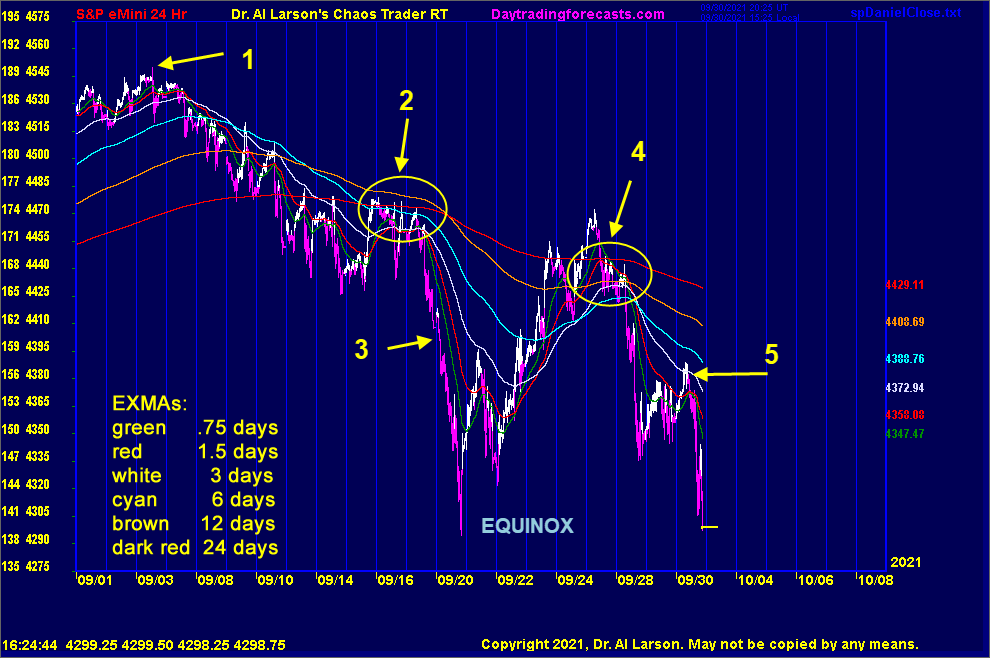 ********************************************************************************
S&P Heads South
Chaos Clinic for 10/1/2021

********************************************************************************

In my 9/10/2021 Chaos Clinic I said the caution flag was out in the S&P because
it had possibly completed an up Chaos Clamshell. That now looks true.

This chart shows how the S&P performed in September 2021. As I earlier pointed out
W.D. Gann's Master Cycle was the twenty year Jupiter-Saturn cycle. With the US
exiting Afghanistan after 20 years, the cycle was much in the news. The discussion
was about 9/11, but the top in 2001 was 9/3. So it was interesting to note the
top this year was on 9/3, shown by arrow 1.

From that high, prices declined in a fairly steady manner for about 7 trading days,
until all of the EXMAs were down. Then came a bounce, up into the region circled
at arrow 2. This produced a "volatility convergence." During this convergence,
prices stalled at the 24 day EXMA.

Then volatility expanded as prices dropped sharply on the 17th, and continued
sharply down on the 20th, shown by arrow 3. The sudden panic was over a Chinese
real estate company called Evergrande missing a large debt interest payment. When
they made the payment, the market rallied strongly, all the way up to area 4,
exceeding briefly all of the EXMAs.

Then on the 28th, prices dropped sharply , as the EXMAs again diverged.
On the 29, and into the morning of the 30th, prices rallied a bit in a
correction. When prices hit the 3 day EXMA, they turned down sharply.
Prices closed down sharply for the month of September.

It is clear comparing the left half of the chart with the right half,
that market volatility has increased sharply. With October's reputation
for crashes, the volatility will likely continue for a while.

For more on my work and to subscribe to Tomorrow's Market Email Hotline and access to daytradingforecasts.com see
Moneytide.com
Software to plot electric field flux lines in NinjaTrader is available at
energyfieldtrading.com
---

Below is one of the SPKISS charts from daytradingforecasts.com
and the chat room comments from this Chaos Clinic. Most recent comment is on top.
---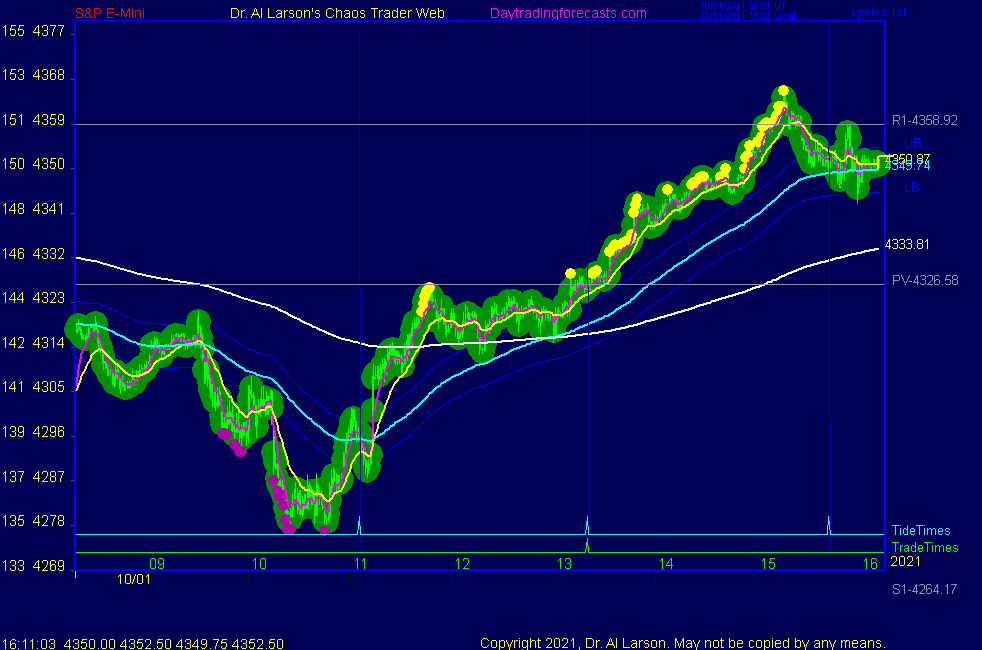 10/1/2021 1:10:01 PM MT Al****:: I'm done for the day - thanks for coming -see you next week
take some courses
thanks KB
10/1/2021 1:07:37 PM MT kb:: nice trade Al.. nice way to finish the week!
10/1/2021 1:06:47 PM MT Al****:: and right at the Moon time line
10/1/2021 1:05:44 PM MT Al****:: got 4358 - my 4 MES netted $1271
10/1/2021 1:03:31 PM MT Al****:: stop 4346.5
10/1/2021 1:02:22 PM MT Al****:: yes qq
10/1/2021 1:01:07 PM MT Al****:: recognized I was getting greedy
10/1/2021 1:00:08 PM MT Al****:: reverted target back to 4358
10/1/2021 12:58:20 PM MT qq:: ES360 white horizontal line - resistance?
10/1/2021 12:57:22 PM MT Al****:: coming to Moon and Venus time lines
10/1/2021 12:56:34 PM MT Al****:: there it is-raised my cover to 4365 and stop to 4343
10/1/2021 12:53:23 PM MT Al****:: my CTME homework tells me anothe round of buying coyuld come in at 1500
10/1/2021 12:49:43 PM MT Al****:: here's where I set an old fashioned wind up egg timer to 30 minutes to help me wait
10/1/2021 12:47:39 PM MT Al****:: had lunch -see my stop is still OK so trying to wait
10/1/2021 12:31:31 PM MT Al****:: stop to 4239
10/1/2021 12:29:29 PM MT Al****:: that yellow vibe is about 4367 but I'll take 4358 because I've been called to lunch
10/1/2021 12:20:58 PM MT Al****:: stop to 4337
10/1/2021 12:17:00 PM MT Al****:: a harmonic move should reach the next yellow vibe
10/1/2021 12:13:47 PM MT Al****:: stop to 4334
10/1/2021 12:12:39 PM MT Al****:: note on secret->esnat72 minor support on white vibration
10/1/2021 12:00:11 PM MT Al****:: it's also the 3 day mean
10/1/2021 11:57:47 AM MT Al****:: stop to 4331- worried about yday high
10/1/2021 11:53:42 AM MT kb:: looks like it barely took out y'days afternoon swing high (43.75)
10/1/2021 11:51:55 AM MT kb:: nice call on the afternoon push AL...!!
10/1/2021 11:47:10 AM MT Al****:: correction: stop to 4327.5
10/1/2021 11:37:24 AM MT Al****:: stop to 4358
10/1/2021 11:35:18 AM MT Al****:: thanks WTL - took me years to figure it out
10/1/2021 11:34:24 AM MT Al****:: stop to 4320
10/1/2021 11:33:39 AM MT WTL:: guest here....discovered the Esnat secret chart = EYE OPENER today TY Dr L !!!
10/1/2021 11:26:11 AM MT Al****:: nice how that second wave of buying came in on time - it pays to do one's homework
10/1/2021 11:23:25 AM MT Al****:: note chart 6 on the SPKISS page-the down sloping cyan 6 day EXMA is 4364 - many systems seem to trade "reversion to the mean" where that mean is the 6 day EXMA
10/1/2021 11:17:27 AM MT Al****:: stop now to 4314.50 - the mid day low
10/1/2021 11:16:02 AM MT Al****:: now a trend line from the 1030+ low and 1300 is a support line
it reaches 4358 about 1330
10/1/2021 11:10:18 AM MT Al****:: streak on Chiron time line
10/1/2021 11:09:21 AM MT Al****:: stop to 4310, just under my 40 minute EXMA
10/1/2021 11:07:47 AM MT DWY:: Al, i agree with u that tsla will be higher in 10 yrs, in other words the longer term timeframe.
10/1/2021 11:06:24 AM MT Al****:: this flat is suggesting an inversion to the green +Tide
10/1/2021 11:03:06 AM MT Al****:: here I can afford to be patient-I have a profitable stop in and a sell limit at R1
10/1/2021 10:56:42 AM MT Al****:: at the bottom of the Chaos Clinic chart is the magenta XTide
it shows a late high near 1440 -if we do get a rally that may be the best exit time
10/1/2021 10:43:36 AM MT Al****:: coming into solar noon so have Sun, Mars, and Chiron time lines coming up
10/1/2021 10:38:55 AM MT Al****:: the pivot prices are published on the SP1Day page. Overnight prices hit S1 4264, now up neat pivot 4326 R1 is 4358
to reach R1, need a lot of buying to come in
10/1/2021 10:28:10 AM MT Al****:: on the Secret->Daniel chart is a yellow cycle - today it is up
I try to trade in the direction of that cycle
it sometimes gets interrupted, but it is a good guide
10/1/2021 10:22:42 AM MT Al****:: from doing my own homework in the Chaos Trading Made Easy course, I know that more buying will probably come in about 1330
10/1/2021 10:05:22 AM MT Al****:: stop to 4303 -taking a break
10/1/2021 10:01:39 AM MT Al****:: now esnat72 shows a yellow to yellow vibration
earlier resistance was on magenta, now magenta looks like support
10/1/2021 9:56:10 AM MT Al****:: DWY-nice job going against the longer trend - it all depends on what time frame you are trading
10/1/2021 9:54:27 AM MT Al****:: stop up to 4299
10/1/2021 9:26:09 AM MT DWY:: thanks a million for the SHORT tsla call last week. I made 5% UNLEVERAGED on it in 1 trading day.
10/1/2021 9:24:37 AM MT Al****:: bought 4294.25 stop 4286
10/1/2021 9:22:59 AM MT Al****:: I use esnat72 a lot of the time
10/1/2021 9:19:19 AM MT Al****:: there is a Tide time here, but my trade selection software did not pick it as a trade time
that happens - it just looked like a tradable red -Tide low
10/1/2021 9:16:52 AM MT Al****:: I did buy a few MES based on that higher low
10/1/2021 9:08:40 AM MT Al****:: note on secret->esnat72 the support on the yellow vibration level
earlier it was resistance, is now support
market will probably hold up rest of day, but volatility may be low
10/1/2021 7:36:19 AM MT Al****:: You are welcome Nel. Glad you made it work for you.
10/1/2021 7:34:30 AM MT Nel****:: Al, thanks for your comments in the chat room Wednesday and email Wednesday night about the swing trade setup "short on swing trade, highs were pivot 4374 s1 is 4307 s2 4267"
I got a chunk of it down to 4307 yesterday for some good money
now I see 4267 was overnight
10/1/2021 6:35:30 AM MT Al****:: Good Morning visitors. Welcome to the Chaos Clinic. The written Chaos Clinic is on the AUX page.
This site has a lot of charts,
so you may find it useful to have several of them available within your
browser. If you have a tabbed browser, you can open separate charts
in separate tabs by right clicking on any link, and selecting "open in new tab"
from the menu. The main list of site pages is at
http://daytradingforecasts.com/chartlistsec.asp
Recommended pages to watch are SPKISS, MTRainbow, and Chat.
For astro stuff, add SPSunMoon, Wheel, and Chaos Clinic.
A special set of Dr. Al's research charts are on the Secret page.
Comments in the chat room are announced by a
"duck call" noise. This noise also occurs when the software detects a
resonant hex pattern on the Wheel page. MoonTide trading tutorials
are on the right side of the ListOfCharts page. One should
read Trading the MoonTide Tutorial and Keep it Simple as a minimum.
Many subscribers do not strictly trade the MoonTides, but use the charts on this
site as input to their own trading strategies. For example, charts 5 and 6 on the
SPKiss page are a good starting point for swing traders.
Also on this site is the Certified Chaos Trader's Room. That room is open
to graduates of my 4 main courses. See http://moneytide.com -> Courses for details.
9:00 Eastern-System: No comments

---