---
CHAOS CLINIC RECAP
---
---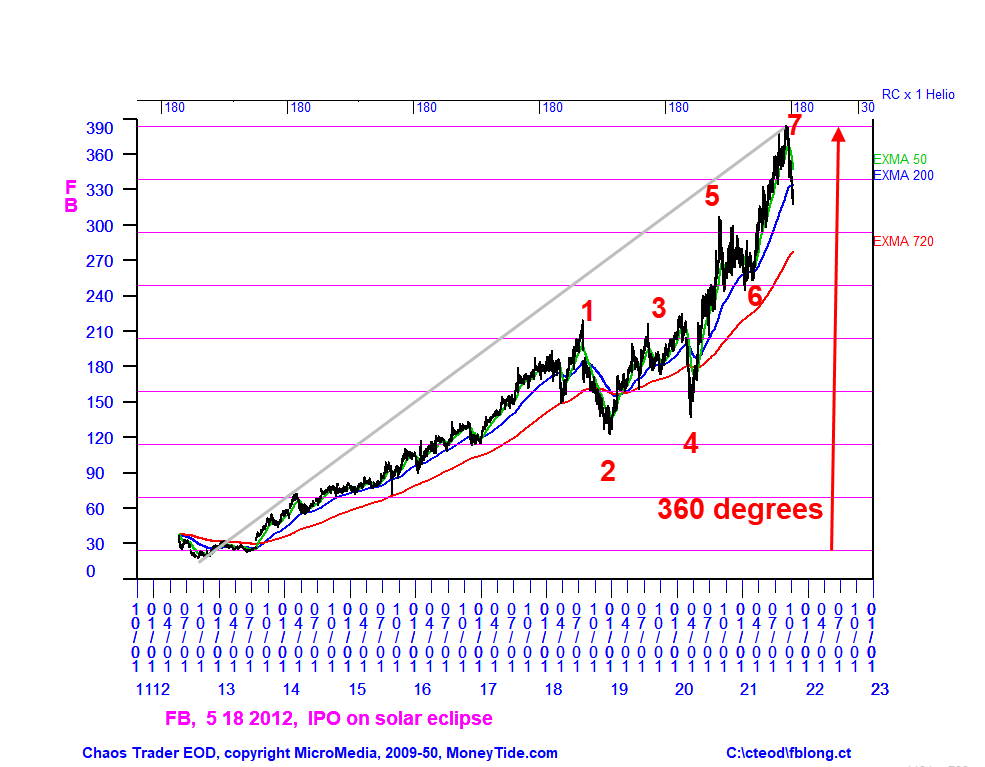 ********************************************************************************
Has Facebook Topped?
Chaos Clinic for 10/15/2021

********************************************************************************

This chart shows the entire history of Facebook stock, symbol FB.
From its IPO on 5/18/2012, in less than a decade, Facebook has become one
of the most dominant Internet companies in the world. By building a free and addictive
social media platform, and collecting all sorts of personal information, and then
selling it to advertisers, Facebook has created a money printing press.

But all has not been well lately. Facebook recently suffered
a massive world wide outage in service, at the same time that a whistle blower
was testifying to Congress that Facebook knew its social media platform could
harm young users psychologically.

All that suggests that Facebook stock might be in trouble, at least temporarily.
But this chart suggests that the damage may be longer term. It suggests that
Facebook has completed a longer term Chaos Clamshell.

Along the top of the chart is shown the oppositions of the Mars-Chiron cycle.
In the FB natal chart, Mars opposes Chiron. The Facebook IPO was on a solar eclipse.
This harmonically linked it to Mars, whose 686.98 day cycle is exactly 4 eclipses.
From the IPO to the recent top there are 5 Mars-Chiron cycles. The number five is
important because it is a shape changer. One cannot tile a plane with pentagons.
To join the edges, one has to tip the tiles, requiring three dimensions.

Also on the chart are horizontal vibration lines, also related to the natal chart. These
lines are 45 degrees apart, using a 1:1 scaling between price and degrees.
The Chaos Clamshell has moved up exactly 8 vibration levels, or 360 degrees.

So Facebook has reached a harmonic end to a up Chaos Clamshell. The time to price
ratio is 5:8, a familiar Fibonacci ratio.

For more on my work and to subscribe to Tomorrow's Market Email Hotline and access to daytradingforecasts.com see
Moneytide.com
Software to plot electric field flux lines in NinjaTrader is available at
energyfieldtrading.com
---

Below is one of the SPKISS charts from daytradingforecasts.com
and the chat room comments from this Chaos Clinic. Most recent comment is on top.
---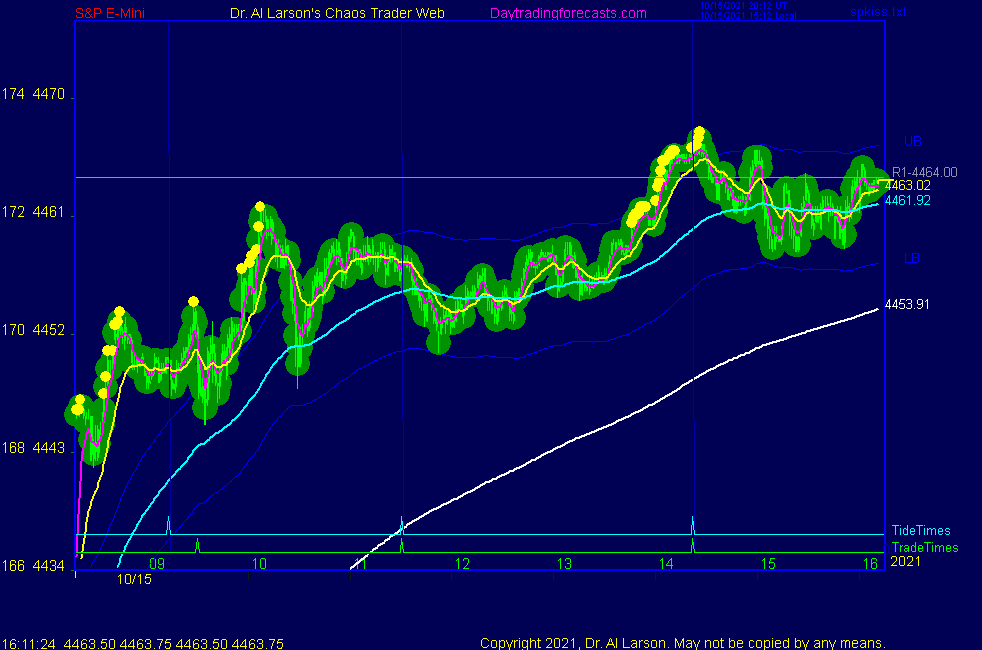 10/15/2021 1:12:09 PM MT DWY:: Albie, in my work, the signals based on price and my astro measure are based on math.
10/15/2021 11:31:26 AM MT raf:: Thank you Al for the great learning day information, have a great weekend everyone:)
10/15/2021 11:11:11 AM MT Al****:: OK, it's gotten pretty boring so I'm calling it a day -may sell off late when the big boys quit distributing
10/15/2021 10:52:23 AM MT Al****:: here I note two things- trading both sides of 110 - a weak indication
and popped up to yellow vibe on Secret->esnat72
this is up 3 yellow levels or 135 degrees from this weeks lows
10/15/2021 10:31:49 AM MT Al****:: longer term chart 6 on SPKISS has a rainbow of EXMAs-the 6 day seems to be the "Mean" that reversion to the mean algos use
it's telling me not to expect much buying up here since this is a very extended move
10/15/2021 10:10:42 AM MT Al****:: an interesting chart to watch here is SPSunMoon
10/15/2021 9:58:14 AM MT Al****:: had breakfast, took dog to park, fed my birds
20/110 sell setup but 220 and 440 up so I'll pass on second trade
10/15/2021 8:53:24 AM MT Al****:: going to breakfast
10/15/2021 8:52:46 AM MT Al****:: stop was too close but that happens -especially when I publicize my position and stop
10/15/2021 8:31:18 AM MT Al****:: stopped out for modest gain
10/15/2021 8:17:17 AM MT lik:: the end :)
10/15/2021 8:16:20 AM MT lik:: i am not trying Al sell something.
10/15/2021 8:16:20 AM MT Al****:: now when I look I see that this rally was caught by a green swan
these are streaks in the energy field that act like winds
see MoonTides and Black Swans, linked on the right side ot the ListOfCharts page
10/15/2021 8:13:17 AM MT Al****:: moved my stop up to 4448, locking in a win
10/15/2021 8:12:38 AM MT lik:: signals around 9:30 or so, make the day.
10/15/2021 8:11:05 AM MT Al****:: the scientific work is the calculation of the energy fields not the trading use of them-that is still discretionary
meanwhile my timer just went off so I returned
10/15/2021 8:10:29 AM MT lik:: with 6 months following signals and doing stat, results are enough to trade as Al results.
10/15/2021 8:05:25 AM MT lik:: ago took 3 months signals. Method is amazing, most signal I took were really good, changed from 5 min to 3 min my lower filter, followed the same method Al define.
10/15/2021 8:00:07 AM MT lik:: I got here every friday for years, never followed sistematic, and read in detail the web site. Some momths
10/15/2021 7:53:12 AM MT Ala:: One requirement for scientific work is reproducibility. A track record based on non-reproducible discretionary decisions is worthless for a 'hotline'. Of course you'll cherry pick the very best 20/20 hindsight. Thanks for answering, so no 'win2day trades' exist and it's yet another guy making money selling an imaginary track record.
10/15/2021 7:50:00 AM MT Al****:: taking a break
10/15/2021 7:47:11 AM MT Al****:: once I'm in a trade I set an egg timer to 30 minutes and wait so as not to second guess myself
10/15/2021 7:41:32 AM MT Al****:: my entry was 4447.23 on MES
10/15/2021 7:39:25 AM MT Al****:: every trade is a risk so one needs a way to place stops. One method I use is the Secret-esnat72 chart - a stop at 4440 below the green level looks good
10/15/2021 7:29:17 AM MT Al****:: meanwhile one could take the first trade today as a buy, with an up 110 and a 20 continutaion buy
10/15/2021 7:26:33 AM MT Al****:: I could but I don't - yeah it is discretionary, as all manual trading. It is guided however by science. It is not for everyone.
10/15/2021 7:14:42 AM MT Ala:: If you don't tell what trades you do, how is the track record meaningful? You write "This is a summary of the Win2Day trades as they could have been done in real time." But if this is all discretionary, then you can always pick the best possible trades in hindsight.
10/15/2021 7:05:49 AM MT Al****:: I may make comments pointing out something on a chart like this:
note the Secret->esnat72 chart today: the white vibration level that was resistance yesterday is now support
the next higher whit vibration will be up 45 points and is probable resistance
10/15/2021 7:01:11 AM MT Al****:: no - the alerts are not posted live in the chat room - I cannot sit at a screen all day and don't advise anyone to do that
this is not a "I tell you when to trade" site - I provide forecasts of when there should be the most energy to fuel a trade
you set up your charts as per the SPKISS chart 3, watch the trade windows, and make your own decisions.
One should take it slow andget the hang of it before committing large funds. I like to trade the MES for that reason.
10/15/2021 6:51:07 AM MT Ala:: Thanks Al, (my nick should say AlaN but it doesn't matter). This reads like past history though - you write where you bought. Are these alerts posted live in chat? So you have to keep watching the chat during market hours to get the same results you do?
10/15/2021 6:25:40 AM MT Al****:: Good Morning visitors. Welcome to the Chaos Clinic. The written Chaos Clinic is on the AUX page.
This site has a lot of charts,
so you may find it useful to have several of them available within your
browser. If you have a tabbed browser, you can open separate charts
in separate tabs by right clicking on any link, and selecting "open in new tab"
from the menu. The main list of site pages is at
http://daytradingforecasts.com/chartlistsec.asp
Recommended pages to watch are SPKISS, MTRainbow, and Chat.
For astro stuff, add SPSunMoon, Wheel, and Chaos Clinic.
A special set of Dr. Al's research charts are on the Secret page.
Comments in the chat room are announced by a
"duck call" noise. This noise also occurs when the software detects a
resonant hex pattern on the Wheel page. MoonTide trading tutorials
are on the right side of the ListOfCharts page. One should
read Trading the MoonTide Tutorial and Keep it Simple as a minimum.
Many subscribers do not strictly trade the MoonTides, but use the charts on this
site as input to their own trading strategies. For example, charts 5 and 6 on the
SPKiss page are a good starting point for swing traders.
Also on this site is the Certified Chaos Trader's Room. That room is open
to graduates of my 4 main courses. See http://moneytide.com -> Courses for details.

10/15/2021 6:25:08 AM MT Al****:: Ala: all past emails are archived at Home->Past Emails
10/15/2021 4:33:29 AM MT Ala:: Hello, where do I find the "hotline Win2Day trades" that you boast with in your track record? I logged in as a guest since it's Friday, but I cannot find them anywhere. I'm interested in your alerts.
9:00 Eastern-System: No comments

---