---
CHAOS CLINIC RECAP
---
---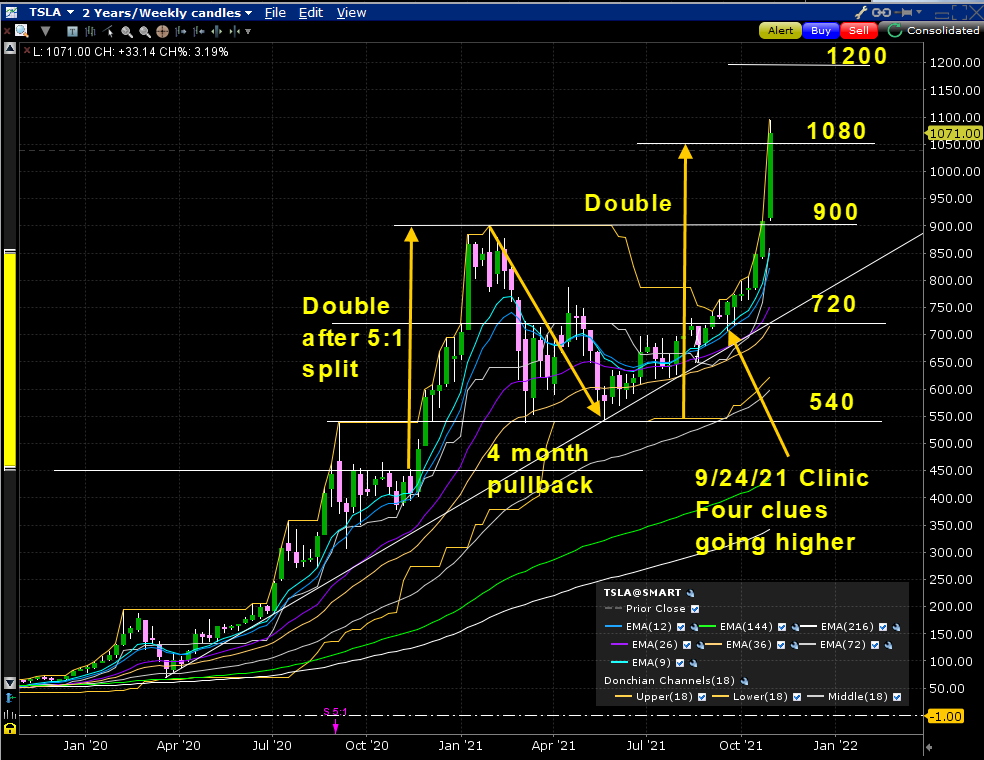 ********************************************************************************
TSLA Doubles Again
Chaos Clinic for 10/29/2021

********************************************************************************

My 9/24/2021 Chaos Clinic said TSLA was set to rally.
This chart shows how it turned out.

From the 540 pullback base, TSLA DOUBLED AGAIN! And it may not be done. Harmonics
suggest a higher price of 1200. And a double off of the 720 correction midpoint is
1440.

Obviously TSLA is a good stock to own. If you acted on the 9/24 clinic and bought, great.
If not you might be thinking of buying now. The problem is, the move since 9/24 is very fast.
It was fueled by news of a Hertz order for 100,000 cars. The old trader's
addage of "buy the rumor, sell the news" may apply. So there may be a correction ahead.
Looking at the prior correction, one might expect a 4 or 5 month pullback,

If such a pullback develops, the 900 level may be support, since resistance becomes support.
Proceed at your own risk.

For more on my work and to subscribe to Tomorrow's Market Email Hotline and access to daytradingforecasts.com see
Moneytide.com
Software to plot electric field flux lines in NinjaTrader is available at
energyfieldtrading.com
---

Below is one of the SPKISS charts from daytradingforecasts.com
and the chat room comments from this Chaos Clinic. Most recent comment is on top.
---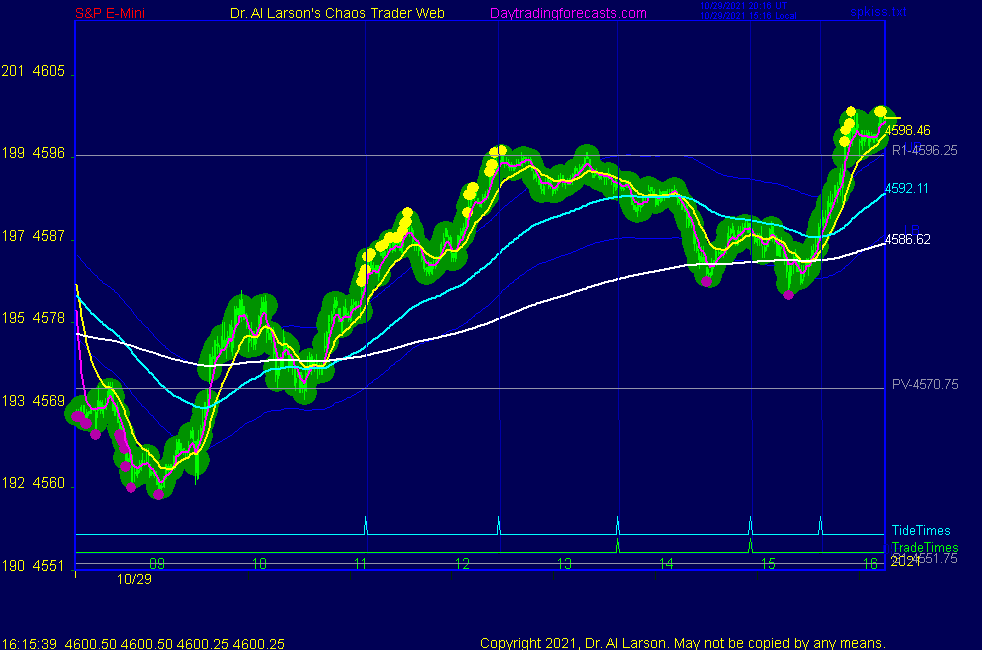 10/29/2021 2:02:32 PM MT Al****:: late pop up on the dark red vertical line on esnat72-too late to do anything with
10/29/2021 1:14:25 PM MT Al****:: back from the dentist-stopped out for nice gain
10/29/2021 11:16:19 AM MT Al****:: OK, I'm just going to leave my orders as they are
I'm long 10 MES, so it stopped gain is about $962 which is an excellent outcome
the Secret->esDaniel chart shows the magenta starburst could repel prices higher
10/29/2021 10:56:22 AM MT Al****:: my personal problem is that I have to leave for a dental appt in 20 minutes so may have to take profits then
10/29/2021 10:44:28 AM MT Al****:: stop 4590
10/29/2021 10:43:08 AM MT Al****:: lowered that cover target to 4615 since R2 is 4615.25
10/29/2021 10:38:55 AM MT Al****:: on my 6/4/2021 Chaos Clinic I reported on the Pluto Harmonics in the S&P
today' move 2 low was on one; next one up is 4616, so I have aq sell limit there
10/29/2021 10:34:01 AM MT Al****:: up to R1
10/29/2021 10:28:17 AM MT Al****:: nudged stop up to 4588
10/29/2021 10:24:14 AM MT Al****:: stop now to 4586, middle of last congestion
10/29/2021 10:21:53 AM MT Al****:: up to yellow vibration on esnat72 -range is now two levels-may got as much as two more
10/29/2021 10:18:53 AM MT Al****:: stop to 4582
10/29/2021 10:17:16 AM MT Al****:: higher weekly highs
10/29/2021 10:04:25 AM MT Al****:: this is move 4. stop is in. need to be patient
10/29/2021 9:34:01 AM MT Al****:: stop to 4579.75
10/29/2021 9:32:32 AM MT Al****:: this is also yesterday's normal session close - I expect it top be broken
10/29/2021 9:23:14 AM MT Al****:: now on the Secret->esnat360 chart prices are testing the white vibration level that set the highs of the week
10/29/2021 9:20:19 AM MT Al****:: raised my stop to 4576.75, locking 6
10/29/2021 9:12:48 AM MT Al****:: it was a green +Tide low as per the SPKISS page chart 2
10/29/2021 9:11:14 AM MT Al****:: I did at 4570.75 and now have my stop at break even
10/29/2021 9:09:45 AM MT Al****:: move 2 also had a nice 20/110 continuation buy set up
this is not a selected MoonTide trade time but one could have bought there
10/29/2021 9:06:30 AM MT Al****:: move 2 bottomed on the pivot price. In the early morning hours the pivot was resistance, is now support
10/29/2021 9:02:48 AM MT Al****:: pattern since 9:00 is a 1-2 of an up Chaos Clamshell
10/29/2021 7:43:36 AM MT Al****:: finally note the yellow cycle on secret->Daniel chart has turned up
10/29/2021 7:41:21 AM MT Al****:: also note on esnat72 the early and late vertical lines
the rough tendency is for the market to move one way between them
10/29/2021 7:41:19 AM MT qq:: A little bit of Daniel star attractor from below overnight, but now moving up to the other one.
10/29/2021 7:38:51 AM MT Al****:: also on the secret->Daniel chart there is a magenta starburst
these days can be volatile
10/29/2021 7:37:32 AM MT Al****:: note one secret->esnat72 the triple bottom from the overnight sag
the buying when the normal session began - implies an up day
10/29/2021 6:44:54 AM MT Al****:: Good Morning visitors. Welcome to the Chaos Clinic. The written Chaos Clinic is on the AUX page.
This site has a lot of charts,
so you may find it useful to have several of them available within your
browser. If you have a tabbed browser, you can open separate charts
in separate tabs by right clicking on any link, and selecting "open in new tab"
from the menu. The main list of site pages is at
http://daytradingforecasts.com/chartlistsec.asp
Recommended pages to watch are SPKISS, MTRainbow, and Chat.
For astro stuff, add SPSunMoon, Wheel, and Chaos Clinic.
A special set of Dr. Al's research charts are on the Secret page.
Comments in the chat room are announced by a
"duck call" noise. This noise also occurs when the software detects a
resonant hex pattern on the Wheel page. MoonTide trading tutorials
are on the right side of the ListOfCharts page. One should
read Trading the MoonTide Tutorial and Keep it Simple as a minimum.
Many subscribers do not strictly trade the MoonTides, but use the charts on this
site as input to their own trading strategies. For example, charts 5 and 6 on the
SPKiss page are a good starting point for swing traders.
Also on this site is the Certified Chaos Trader's Room. That room is open
to graduates of my 4 main courses. See http://moneytide.com -> Courses for details.
9:00 Eastern-System: No comments

---