---
CHAOS CLINIC RECAP
---
---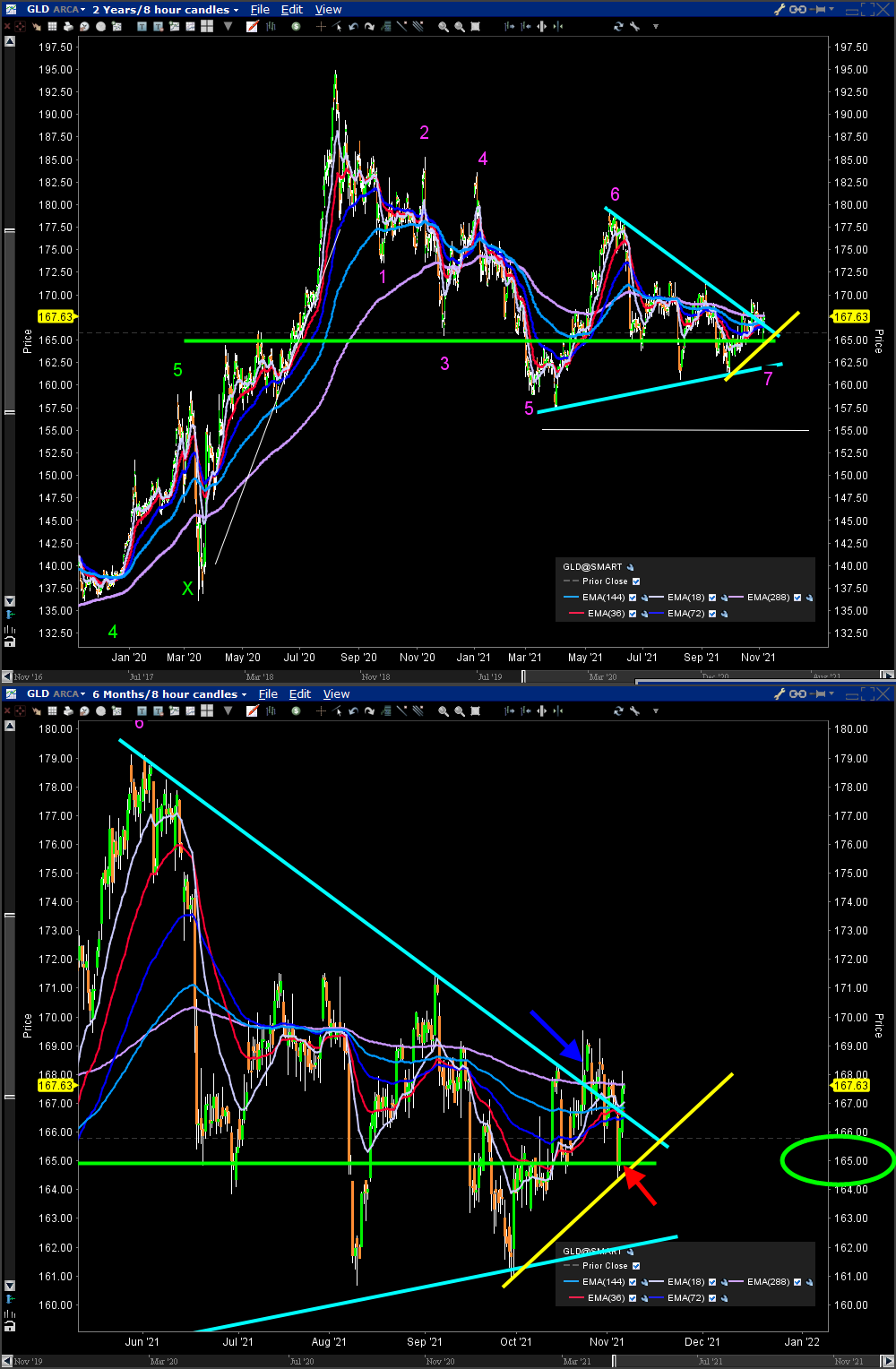 ********************************************************************************
Gold Shows Strength
Chaos Clinic for 10/29/2021

********************************************************************************

My 10/8/2021 Chaos Clinic said Gold Tunes Into A Rally.
These two charts show an update. The top chart shows the larger picture while the
bottom chart shows more detail. These charts use 8 hour bars, and a rainbow of EXMA's as shown
in the legend.

In the 10/8/2021 clinic, I pointed out that the center of the converging triangle was the vibration level 0f 165.
This week GLD showed the validity of that level by dropping sharply down to it, then bouncing up.
This is shown by the red arrow on the bottom chart.

The cyan lines bound the converging triangle. Prices showed strength in October by briefly breaking above
the down trend line as shown by the blue arrow. The test of 165 suggests a new possible steeper up
line, shown in yellow. These three clues suggest GLD is gaining strength. Proceed at your own risk.

For more on my work and to subscribe to Tomorrow's Market Email Hotline and access to daytradingforecasts.com see
Moneytide.com
Software to plot electric field flux lines in NinjaTrader is available at
energyfieldtrading.com
---

Below is one of the SPKISS charts from daytradingforecasts.com
and the chat room comments from this Chaos Clinic. Most recent comment is on top.
---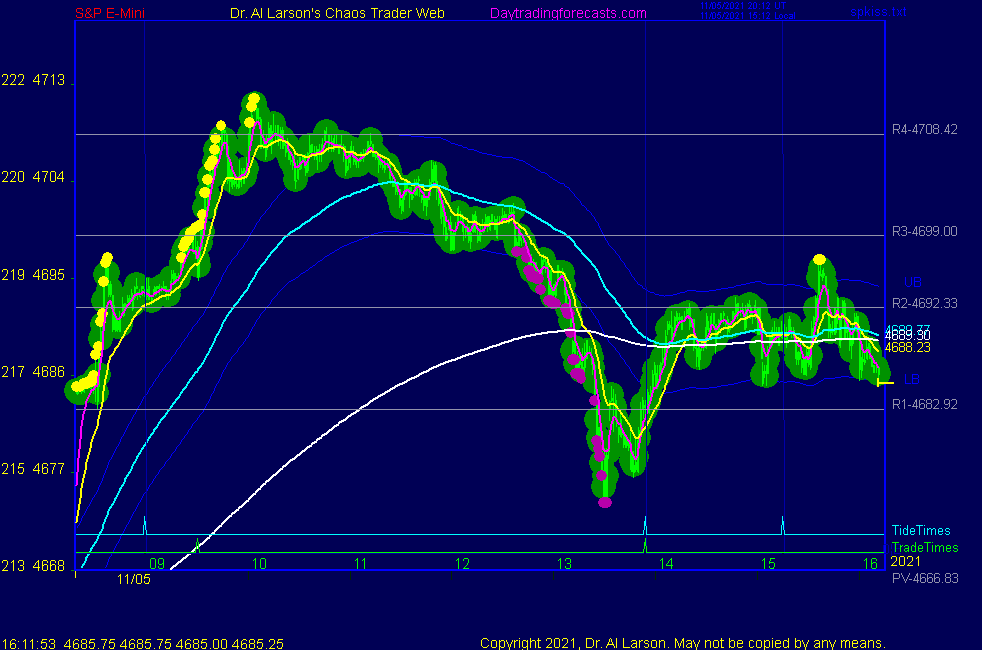 11/5/2021 9:22:09 AM MT raf:: Great call on the Green/R4 - Thank You:)
11/5/2021 8:54:49 AM MT Al****:: back, but just briefly because I have to take my wife to a medical appointment
but I want to give you something to watch
on the SPSunMoon chart note the Sun H000 and Moon timelinesnear 1300
yesterday the Moon timeline was before the Sun
today it is after
watch for a CIT thern
11/5/2021 7:54:09 AM MT Al****:: taking a breakfast break
11/5/2021 7:53:33 AM MT Al****:: I've noted in several Chaos Clinics the tendency of prices to trade at Pluto helio levels - just hit Ph+090
so may stall here
11/5/2021 7:43:42 AM MT Al****:: broke that so next level is green/R4
11/5/2021 7:31:42 AM MT Al****:: on the Secret->esnat72 chart you see the rally started about 3:00 AM and has now ran for 6 hours
prices reached the white vibration level/R3
11/5/2021 7:27:33 AM MT Al****:: today is First Friday, when the employment report comes out at 8:30 Eastern
that employment report is widely traded by Flash Boy computers
they get in and get out, so it is hard to compete with them manually
my personal approach is to not try to compete and to pass on any early MoonTide trade
11/5/2021 6:55:32 AM MT Al****:: Good Morning visitors. Welcome to the Chaos Clinic. The written Chaos Clinic is on the AUX page.
This site has a lot of charts,
so you may find it useful to have several of them available within your
browser. If you have a tabbed browser, you can open separate charts
in separate tabs by right clicking on any link, and selecting "open in new tab"
from the menu. The main list of site pages is at
http://daytradingforecasts.com/chartlistsec.asp
Recommended pages to watch are SPKISS, MTRainbow, and Chat.
For astro stuff, add SPSunMoon, Wheel, and Chaos Clinic.
A special set of Dr. Al's research charts are on the Secret page.
Comments in the chat room are announced by a
"duck call" noise. This noise also occurs when the software detects a
resonant hex pattern on the Wheel page. MoonTide trading tutorials
are on the right side of the ListOfCharts page. One should
read Trading the MoonTide Tutorial and Keep it Simple as a minimum.
Many subscribers do not strictly trade the MoonTides, but use the charts on this
site as input to their own trading strategies. For example, charts 5 and 6 on the
SPKiss page are a good starting point for swing traders.
Also on this site is the Certified Chaos Trader's Room. That room is open
to graduates of my 4 main courses. See http://moneytide.com -> Courses for details.
9:00 Eastern-System: No comments

---