---
CHAOS CLINIC RECAP
---
---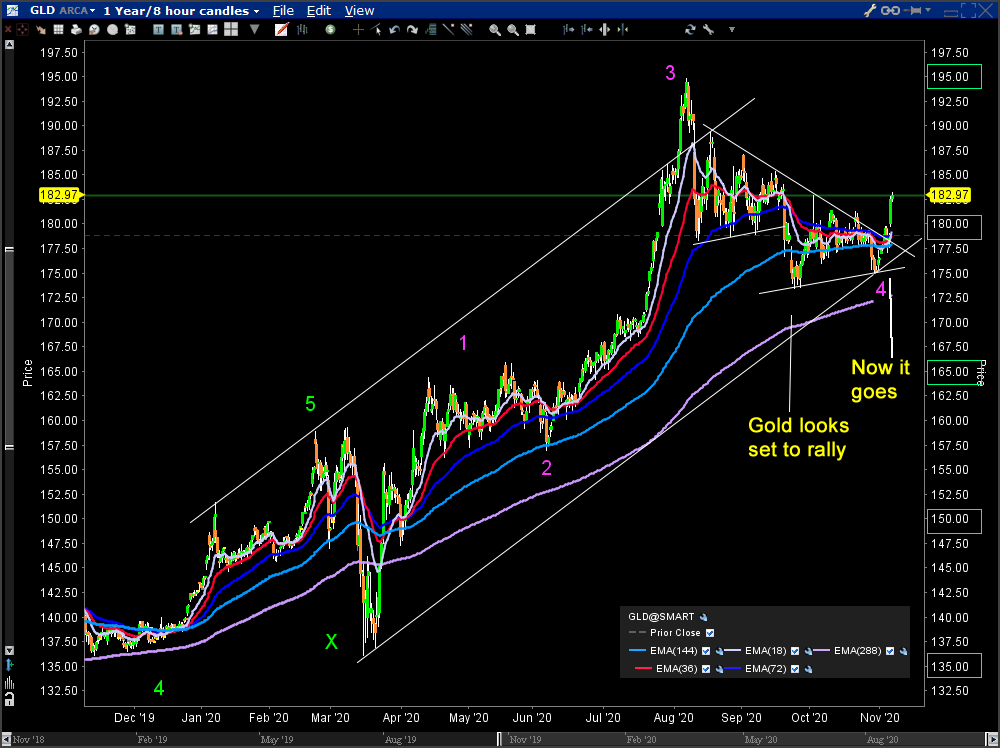 ********************************************************************************
Gold Resumes Its Climb
Chaos Clinic for 11/6/2020
********************************************************************************

In early October Gold looked ready to rally. This 8 hour bar chart of the gold Exchange Traded Fund,
GLD shows what happened. At that point, one could count 7 swings in the decline from the
high at 3, so it looked like gold had completed a 7 move down Chaos Clamshell.

Then GLD broke lower, below the 144 bar EXMA. After several bars below that EXMA, prices recovered
above it. Then over the next few weeks, prices formed another corrective base. If one looks
closely there are now 13 moves down from the high at 3. This happens in fractals. Normally
Chaos Clamshells have 7 moves. But on occasion, when two major cycles are turning, there are 13 moves.

Prices have now moved sharply upward, turning all of the EXMAs up, and breaking the resistance line.
That 13 swing correction is now a clear descending wedge correction, So I have now
labeled that point 4. That means a move 5 is beginning.

The congestion traded close to the harmonic price of 180. These harmonic prices are the integer divisions
of the circle of 360. The 24th harmonic has steps every 15 points. The move 5 can be expected to reach one of these steps.
The long term channel top on a daily chart from 2005 is above 225 now and reaches 240 mid 2022,
so GLD has a lot of upside potential.

For more on my work see
Moneytide.com
---

Below is one of the SPKISS charts from daytradingforecasts.com
and the chat room comments from this Chaos Clinic. Most recent comment is on top.
---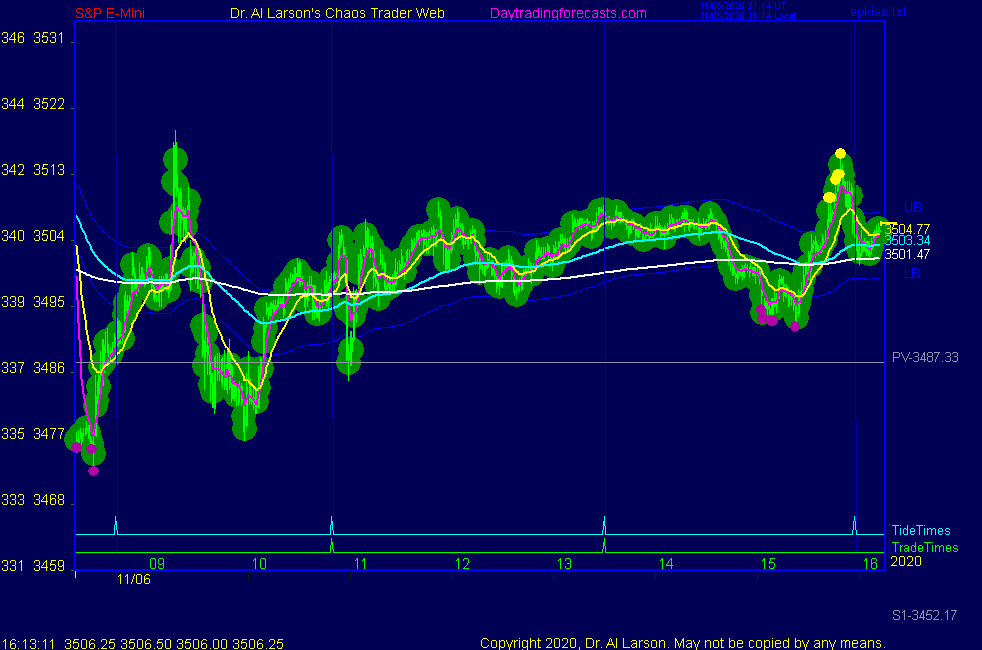 11/6/2020 2:02:17 PM MT qq:: I'm betting on continued following of XTide2Plus
11/6/2020 1:03:43 PM MT Al****:: posted chart to 24/7 CCTRoom -possible top
last chart on SPKISS page may see a reversion to the 6 day mean cyan EXMA
11/6/2020 10:29:40 AM MT Al****:: charts will run to close-thanks for coming-take some course-have a good weekend AND STAY SAFE
11/6/2020 10:28:12 AM MT Al****:: I'm done for the day-no juice; bought 3490 on first trade, stopped for +10
11/6/2020 9:51:08 AM MT Al****:: on the Secret->Daniel chart the yellow cycle is now up, suggesting up to close
11/6/2020 9:42:57 AM MT Al****:: on Secret->esnat72 support on white vibration level suggests move to next white at 3527
11/6/2020 9:40:45 AM MT Al****:: slow grinder but up
11/6/2020 9:06:16 AM MT Al****:: there the Flash Boy computers sold yesterday's close, dowwn to the pivot, where they re-bought it-all in 6 minutes
11/6/2020 8:23:42 AM MT Al****:: note on secret->esnat72 this is start of move 5 off the early low, which came on the vertical dark orange line
looks like an up day
11/6/2020 6:55:19 AM MT Al****:: Good Morning visitors. Welcome to the Chaos Clinic. The written Chaos Clinic is on the AUX page.
This site has a lot of charts,
so you may find it useful to have several of them available within your
browser. If you have a tabbed browser, you can open separate charts
in separate tabs by right clicking on any link, and selecting "open in new tab"
from the menu. The main list of site pages is at
http://daytradingforecasts.com/chartlistsec.asp
Recommended pages to watch are SPKISS, MTRainbow, and Chat.
For astro stuff, add SPSunMoon, Wheel, and Chaos Clinic.
A special set of Dr. Al's research charts are on the Secret page.
Comments in the chat room are announced by a
"duck call" noise. This noise also occurs when the sofware detects a
resonant hex pattern on the Wheel page. MoonTide trading tutorials
are on the right side of the ListOfCharts page. One should
read Trading the MoonTide Tutorial and Keep it Simple as a minimum.
Many subcribers do not strictly trade the MoonTides, but use the charts on this
site as input to their own trading strategies. For example, the bottom chart on the SPKiss page is good starting point for swing traders.
Also on this site is the Certified Chaos Trader's Room. That room is open
to graduates of my 4 main courses. See http://moneytide.com -> Courses for details.
9:00 Eastern-System: No comments

---