---
CHAOS CLINIC RECAP
---
---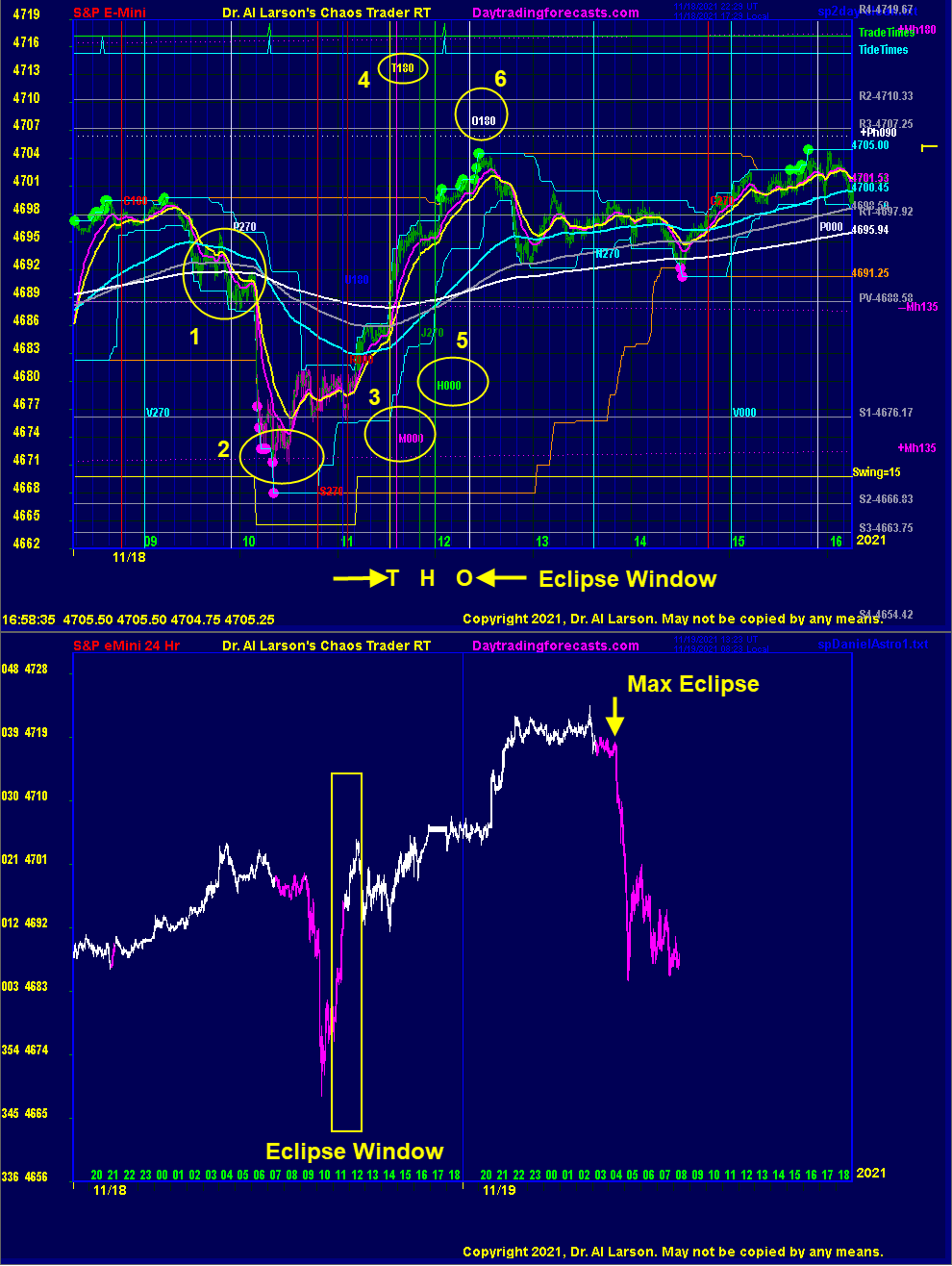 ********************************************************************************
How The Lunar Eclipse Showed Up Early In The S&P
Chaos Clinic for 11/19/2021

********************************************************************************

Friday, November 19, 2021 is a partial lunar eclipse. It is unique in its duration.
This will be the longest partial lunar eclipse since 1440, and the longest until 2669
It runs from 1:01 to 7:04 Eastern. with the peak at 4:02 AM Eastern

Eclipses do have an impact on markets, but the impact varies based on some other factors.
This is explained in my study, Trading The Eclipses

This eclipse showed up in the S&P futures on Thursday, 11/18/2021. This is shown on the top chart above.
An eclipse is formed by an alignment of the Moon, the Sun, and the Moon's Node. Since these affect the Earth's
electric field, the field is forming before the event. This can be seen on the chart.
There are 6 circled areas.

The market dropped early in the day between area 1, a Pluto timeline, and 2, where prices found support on the
Mercury +Mh135 electric field flux line. The Flash Boy computer5s sold the pivot and bought S1.

The sharp rally was energized by the eclipse bodies, Moon (4, T). Sun (5, H), and Node (6, O). Energy
was added by Mercury (3). This coincidence with the Moon added energy.

So while the eclipse had not completely formed, it's impact was in the field a day early. It
reversed a sharp morning drop, setting up a rally to new November highs.

The bottom chart shows an update from the morning pf 11/19/2021. The rally topped out during the eclipse.

For more on my work and to subscribe to Tomorrow's Market Email Hotline and access to daytradingforecasts.com see
Moneytide.com
Software to plot electric field flux lines in NinjaTrader is available at
energyfieldtrading.com
---

Below is one of the SPKISS charts from daytradingforecasts.com
and the chat room comments from this Chaos Clinic. Most recent comment is on top.
---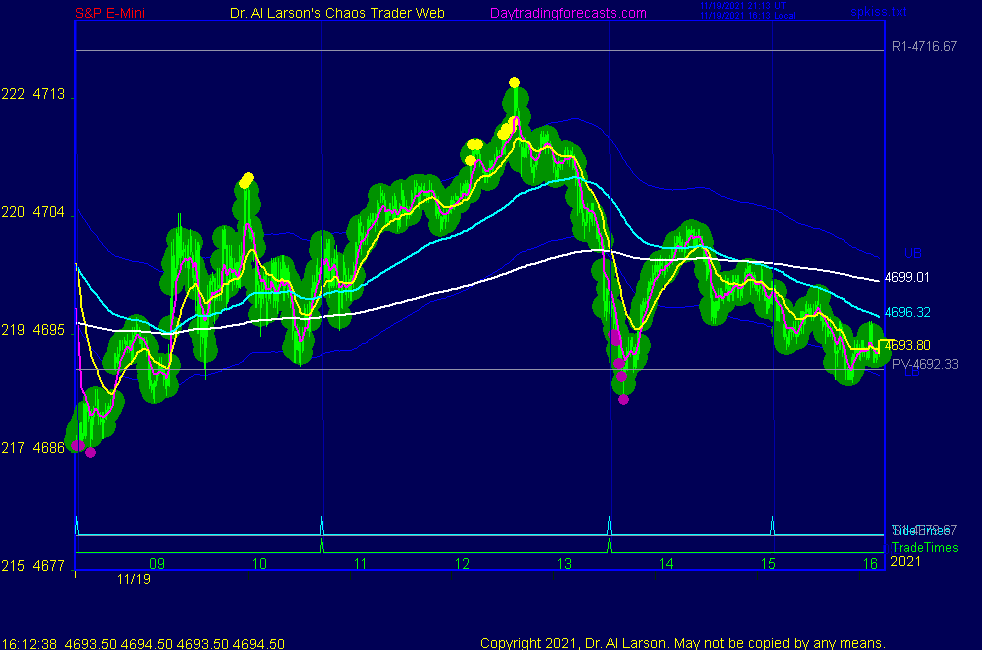 11/19/2021 1:51:53 PM MT Al****:: I'm done -thanks for coming-takes some coursed
Happy Thanksgiving - no clinic next week
11/19/2021 1:44:49 PM MT ...:: Thanks AL very hard to nail it to the minute, good that you try though
11/19/2021 1:41:35 PM MT Al****:: last hour drop probable
11/19/2021 1:39:57 PM MT ...:: Al based on your CTME course that you wrote, you expected a decline here. So far we have nothing. My question for you is based on your research what is the % probability of this working. Nothing is 100% I know but can you put a figure to this particular setup
11/19/2021 1:15:45 PM MT Al****:: note chart 3 on SPKISS bar colors
11/19/2021 1:11:28 PM MT Al****:: starting to slide
11/19/2021 12:46:10 PM MT Al****:: my CTME homework says to expect selling at 15:16
11/19/2021 12:36:34 PM MT Al****:: now it could get interesting
11/19/2021 12:30:33 PM MT Al****:: turned down on white line on the Secret charts
11/19/2021 12:15:33 PM MT Al****:: Flash Boys bought the pivot - I took a quick pick
11/19/2021 11:51:05 AM MT Al****:: that was followed by a 20/110 minute EXMA sell
11/19/2021 11:33:17 AM MT Al****:: note the isolated yellow push ball on chart 4 on
that is a sell set up
11/19/2021 11:26:40 AM MT Al****:: may break down on vertical white line
11/19/2021 11:16:42 AM MT Al****:: now back below that Ph090
11/19/2021 10:49:05 AM MT Al****:: stalled at green vibration on Secret->esnat72
11/19/2021 9:57:57 AM MT Al****:: the highs have been set by Ph090; it was squared by Venus overnight
11/19/2021 8:57:33 AM MT Al****:: this eclipse high may be significant longer term
on a 24 hour daily chart, it got above the November 5 high, then dropped.
11/19/2021 8:54:02 AM MT Al****:: the S&P has the same eclipse hangover as I do
two possible times for it to end are
1) near solar noon, with the Moon and Node timelines later than the Sun
2) on the vertical lines later in the day on the Secret charts
11/19/2021 8:19:49 AM MT Al****:: the eclipse last night "buzzed" me - had trouble sleeping
several years ago Larry Pesavento called me to ask why he was getting "buzzed"
that turned out to be an eclipse on his natal Node
so I checked: this eclipse squared my natal Node
11/19/2021 4:59:29 AM MT Al****:: looks like the rally peaked overnight during the eclipse
11/19/2021 4:56:30 AM MT Al****:: Good Morning visitors. Welcome to the Chaos Clinic. The written Chaos Clinic is on the AUX page.
This site has a lot of charts,
so you may find it useful to have several of them available within your
browser. If you have a tabbed browser, you can open separate charts
in separate tabs by right clicking on any link, and selecting "open in new tab"
from the menu. The main list of site pages is at
http://daytradingforecasts.com/chartlistsec.asp
Recommended pages to watch are SPKISS, MTRainbow, and Chat.
For astro stuff, add SPSunMoon, Wheel, and Chaos Clinic.
A special set of Dr. Al's research charts are on the Secret page.
Comments in the chat room are announced by a
"duck call" noise. This noise also occurs when the software detects a
resonant hex pattern on the Wheel page. MoonTide trading tutorials
are on the right side of the ListOfCharts page. One should
read Trading the MoonTide Tutorial and Keep it Simple as a minimum.
Many subscribers do not strictly trade the MoonTides, but use the charts on this
site as input to their own trading strategies. For example, charts 5 and 6 on the
SPKiss page are a good starting point for swing traders.
Also on this site is the Certified Chaos Trader's Room. That room is open
to graduates of my 4 main courses. See http://moneytide.com -> Courses for details.
9:00 Eastern-System: No comments

---