---
CHAOS CLINIC RECAP
---
---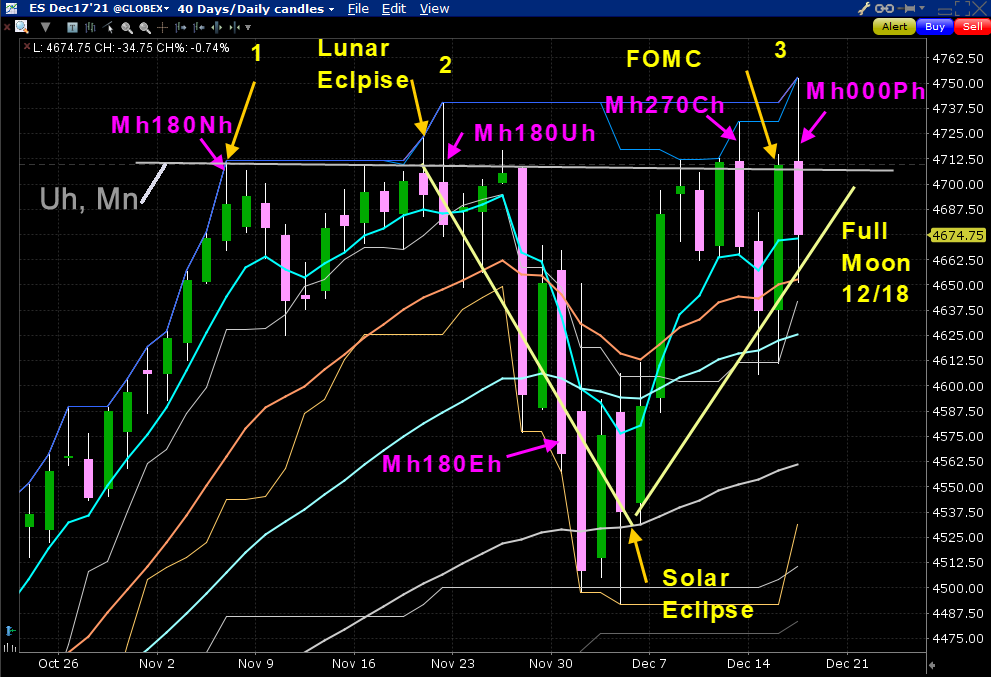 ********************************************************************************
Uranus and Mercury Stall The S&P
Chaos Clinic for 12/17/2021

********************************************************************************

This chart shows S&P daily chart for past three months. It shows a "three
drives to a top" pattern.

There is obviously a resistance level at about 4712. On a Wheel of 1800, this
translates to 222 degrees. Opposite this point sits Uranus helio, and Mercury natal.
This sets up a key resistance level. Since Mercury is involved, I thought I'd
look at the helio behavior of Mercury.

At point 1 on 11/5/2021, Mercury helio opposed Neptune helio. Point 2 came one
trading day after the lunar eclipse, on November 22nd. On that day, Mercury helio
opposed Uranus helio.

Prices generally declined from the lunar eclipse into the solar eclipse on December 5th.
During that decline the big down day on 12/1 came as Mercury helio opposed Earth.

During the rally from the solar eclipse, there was a down day on November 10, when
Mercury helio squared Chiron helio. Then, after a big up day on November 15th,
during the FOMC press conference, prices soared to new record high overnight,
but ended lower on 12/16, as Mercury conjoined Pluto helio.

So it seems that Mercury helio is part of the energy structure forming what may be
a major top in the S&P. Knowing this gives dates to watch as Mercury moves past
various planets: Saturn on 12/21, Jupiter on 12/28, Neptune 12/31, Chiron 1/4/22,
and Uranus on 1/10/22.

For more on my work and to subscribe to Tomorrow's Market Email Hotline and access to daytradingforecasts.com see
Moneytide.com
Software to plot electric field flux lines in NinjaTrader is available at
energyfieldtrading.com
---

Below is one of the SPKISS charts from daytradingforecasts.com
and the chat room comments from this Chaos Clinic. Most recent comment is on top.
---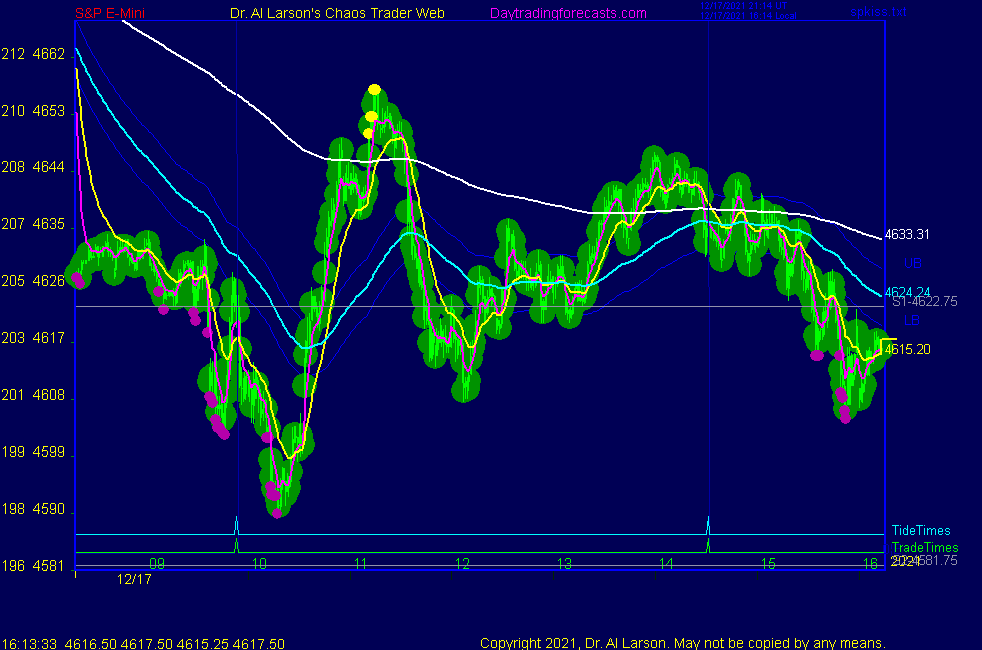 12/17/2021 11:08:27 AM MT cpf:: Safe and Happy Holidays and a Prosperous 2022 for you too Al. Thank you for all your teachings along this year.
12/17/2021 10:39:07 AM MT Al****:: I'm going to call it a day, week, and year. The next Clinic will be January 7. 2022. I want to thank you all for your support, and wish you all a Safe and Happy Holidays and a Prosperous 2022
12/17/2021 10:17:42 AM MT Al****:: typically on Fridays, the volatility is high early then decreases
that's what I expect today
12/17/2021 10:05:52 AM MT Al****:: Finally, since I saw that the Node and the Moon were active, I didn't want to hold past the Sun timeline at Noon
these three are the eclipse makers, but have influence every day
12/17/2021 10:03:01 AM MT Al****:: I am also aware that S1 at 4622.75 is on the +Mh000 electric field flux line which may be about the average price today

12/17/2021 9:56:06 AM MT Al****:: and I covered 4919 for just over $150 - just because I know the big guys are playing games today
12/17/2021 9:45:10 AM MT Al****:: chart 3 on SPKISS showed that fast rally was counter the two day down trend - and chart 4 had 3 yellow push balls
when these ended I sold 1 MES 4649.64
12/17/2021 9:36:34 AM MT Al****:: that bounce brought prices up to the white vibe on Secret-> esNat72 and the green vibe on ESNat360
12/17/2021 8:52:29 AM MT Al****:: now the Exchange is rotating to oppose the Moon
12/17/2021 8:46:21 AM MT Al****:: today is quad witching day - so the recent low may hold
note on Secret->esnat72 that prices have moved 5 vibration levels from the overnight high and have now bounced 2 levels
also on the SPSunMoon chart note the low came as the Exchange rotated to oppose the Moon's Node - O+180
12/17/2021 6:55:14 AM MT Al****:: Good Morning visitors. Welcome to the Chaos Clinic. The written Chaos Clinic is on the AUX page.
This site has a lot of charts,
so you may find it useful to have several of them available within your
browser. If you have a tabbed browser, you can open separate charts
in separate tabs by right clicking on any link, and selecting "open in new tab"
from the menu. The main list of site pages is at
http://daytradingforecasts.com/chartlistsec.asp
Recommended pages to watch are SPKISS, MTRainbow, and Chat.
For astro stuff, add SPSunMoon, Wheel, and Chaos Clinic.
A special set of Dr. Al's research charts are on the Secret page.
Comments in the chat room are announced by a
"duck call" noise. This noise also occurs when the software detects a
resonant hex pattern on the Wheel page. MoonTide trading tutorials
are on the right side of the ListOfCharts page. One should
read Trading the MoonTide Tutorial and Keep it Simple as a minimum.
Many subscribers do not strictly trade the MoonTides, but use the charts on this
site as input to their own trading strategies. For example, charts 5 and 6 on the
SPKiss page are a good starting point for swing traders.
Also on this site is the Certified Chaos Trader's Room. That room is open
to graduates of my 4 main courses. See http://moneytide.com -> Courses for details.
9:00 Eastern-System: No comments

---