---
CHAOS CLINIC RECAP
---
---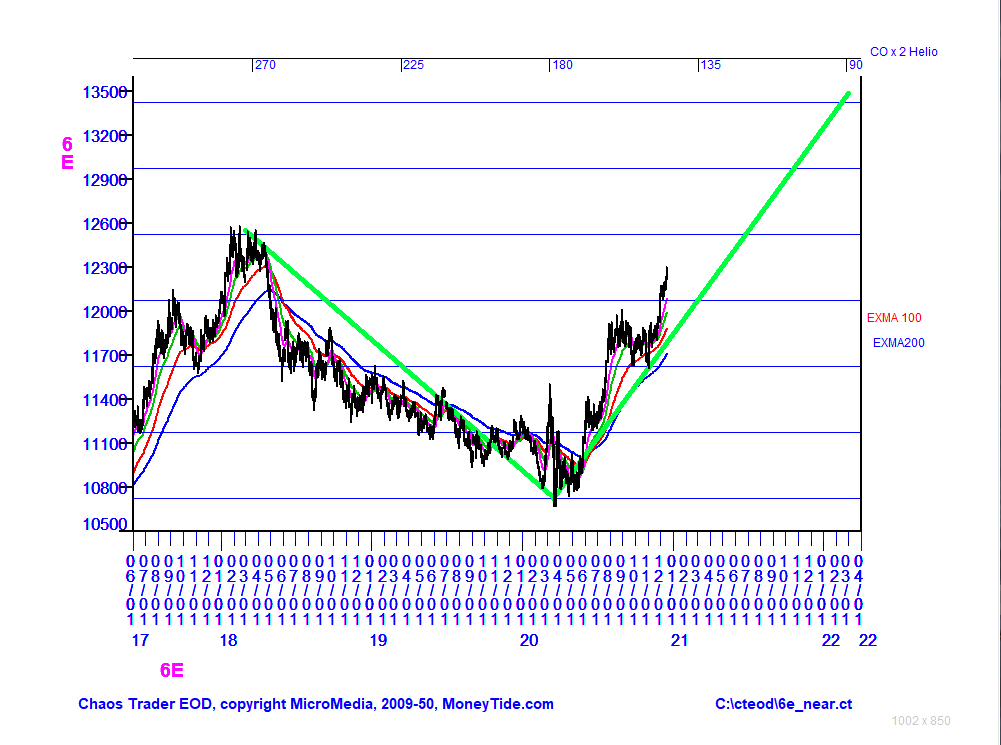 ********************************************************************************
2021 Outlook for The Euro
Chaos Clinic for 12/18/2020
********************************************************************************

This chart shows the 6E Euro futures since 6/1/2017.

Research has shown that the Euro has a strong Chiron-Node cycle operating on
the second harmonic. Key aspects of this cycle are shown along the top of the
chart. The aspects run "backwards" in time, because the Node moves in the
opposite direction from the planets.

The early 2018 high came on the 270 degree aspect. The decline into the early
2020 low ran 90 degrees, to the 180 degree aspect.

Also shown on the chart are horizontal blue lines. These are major vibration
levels discovered by my research. Major turns come near these prices.
The moves tend to go multiples of these levels. The decline was down 4 levels.

Since the 180 degree aspect of the COx2 cycle the Euro has rallied strongly.
Drawing a trend line under the rally, and extending it up to the 90 degree
point of the COx2 cycle suggests a move up 6 vibration levels. This would
be a 2:3 harmonic ratio. In the musical scale, this is know as "the fifth."
A move up 5 vibration levels would be a 4:5 ratio, which is the "C major chord"
on the musical scale.

Progress of this rally can be tracked with a rainbow of EXMAs.
Shown on the chart is a set of EXMAs set to 220, 100, 50, and 25 days.
Pullbacks can be expected near each vibration level. These will congest the EXMAs.
Key dates are the 135 degree aspect 3/3/2021 and the 90 on 2/25/2022.


For more on my work see
Moneytide.com
---

Below is one of the SPKISS charts from daytradingforecasts.com
and the chat room comments from this Chaos Clinic. Most recent comment is on top.
---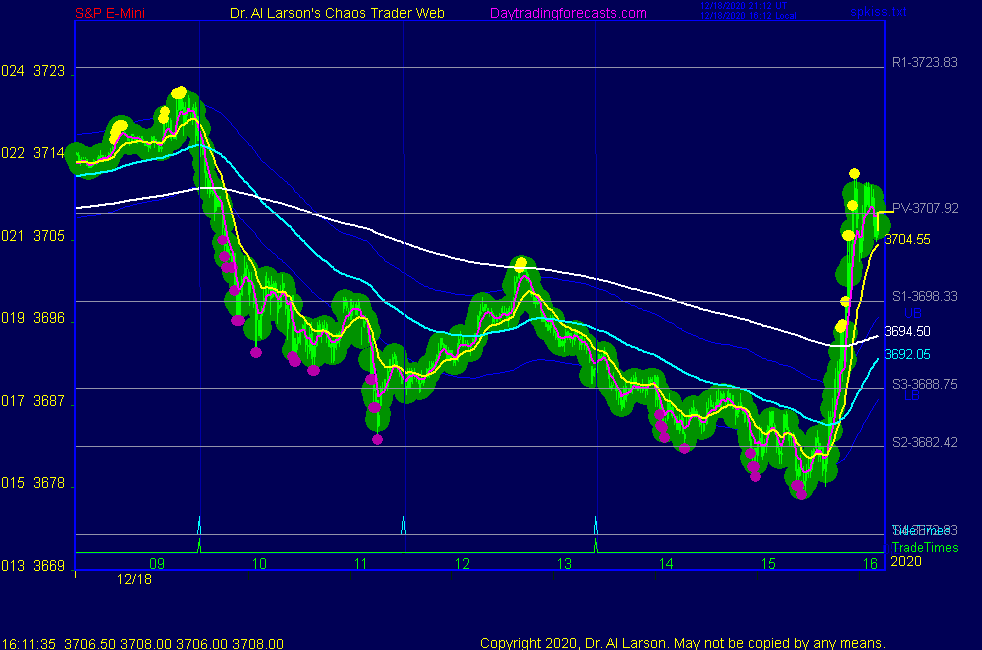 12/18/2020 2:15:11 PM MT TG****:: Al, similar to last Friday, shift red tide forecast 100 to 120 minutes to the right and you get today's pattern very precisely. Maybe to do with both being Two moon days.
12/18/2020 1:54:33 PM MT TG****:: Moon to moon move, then a rocket
12/18/2020 11:50:08 AM MT Al****:: I'm going to call it a day. Thanks for coming. Have the best holiday you can but stay safe - see your in 2021-it's gotta be a better year!
12/18/2020 11:43:04 AM MT Al****:: you are welcome
12/18/2020 11:30:37 AM MT kwc:: Super, Thanks Al.
12/18/2020 11:26:41 AM MT Al****:: this is the Tomorrow's Market Hotline, $297 for 3 months - breaks down to about $5 per day. See
https://secure.moneytide.com/secure/moneytide/products.asp
12/18/2020 11:20:38 AM MT kwc:: Hello Al. As You may have noticed, I have been observing on Fridays for some time. I look forward to joining Y'all in the new year. What does this service cost?
12/18/2020 11:02:54 AM MT Al****:: possible inversion from green Tide to red Tide
12/18/2020 10:39:37 AM MT Al****:: now getting up curl on 110, 220, and 4430 EXMAs
12/18/2020 9:57:03 AM MT Al****:: also, CCTs should check the auto Face Of God chart in the CCT Room
12/18/2020 9:55:10 AM MT Al****:: and on esnat72, got support on magenta vibration
and got support on the 6 day EXMA
12/18/2020 9:53:55 AM MT Al****:: Flash boys didn't quite make S2, then bought S3 which is higher
12/18/2020 9:50:41 AM MT Al****:: may get some recovery from here based on some helio flux and higher minor low
12/18/2020 8:54:21 AM MT Al****:: note the bar colors on the Chaos Clinic chart and the green +Tide
12/18/2020 8:37:59 AM MT Al****:: down to the yellow vibration level on Secret-esnat72
this is also the Venus flux line on the SPSunMoon chart
12/18/2020 7:47:27 AM MT Al****:: that second vertical line and green vibration turned things down
12/18/2020 7:46:57 AM MT bew:: wow this is some move
12/18/2020 7:24:19 AM MT Al****:: also, on Secret->esnat72 overnight Flash Boy computers bought the pivot = white vibration
12/18/2020 7:22:51 AM MT bew:: oh, did i miss the trade?
12/18/2020 7:21:21 AM MT Al****:: note on Secret->Daniel chart yellow cycle is up and got energy on vertical pair of lines
12/18/2020 6:27:19 AM MT Al****:: Good Morning visitors. Welcome to the Chaos Clinic. The written Chaos Clinic is on the AUX page.
This site has a lot of charts,
so you may find it useful to have several of them available within your
browser. If you have a tabbed browser, you can open separate charts
in separate tabs by right clicking on any link, and selecting "open in new tab"
from the menu. The main list of site pages is at
http://daytradingforecasts.com/chartlistsec.asp
Recommended pages to watch are SPKISS, MTRainbow, and Chat.
For astro stuff, add SPSunMoon, Wheel, and Chaos Clinic.
A special set of Dr. Al's research charts are on the Secret page.
Comments in the chat room are announced by a
"duck call" noise. This noise also occurs when the sofware detects a
resonant hex pattern on the Wheel page. MoonTide trading tutorials
are on the right side of the ListOfCharts page. One should
read Trading the MoonTide Tutorial and Keep it Simple as a minimum.
Many subcribers do not strictly trade the MoonTides, but use the charts on this
site as input to their own trading strategies. For example, the bottom chart on the SPKiss page is good starting point for swing traders.
Also on this site is the Certified Chaos Trader's Room. That room is open
to graduates of my 4 main courses. See http://moneytide.com -> Courses for details.
9:00 Eastern-System: No comments

---