My name is Al Larson. I have a PhD in Electrical and Computer Engineering. You can label me a lot of ways-engineer, scientist, mathematician, pilot, combat veteran, career counselor, teacher, carpenter, trader, market researcher, programmer, landscaper, computer consultant, and a few more - but mostly I am a serious student of what makes things work-especially markets. [ Professonal Profile ]

This web site represents my market work over the past 3 decades. Since I first read Dewey's Cycles-The Mysterious Forces that Trigger Events in 1974, I have researched what moves markets.
[ Multimedia Overview of my work given at AEC 2006 - a MUST SEE ]
I have developed two bodies of knowledge-Market AstroPhysics and Market Chaos Theory. These technologies provide a theoretical framework for market behavior, which is then used to develop mathematical models for forecasting, and for identifying fractal patterns markets produce. This knowledge has let me develop some unique trading tools for finding the most profitable moves in markets.
These theories are based on the idea that market prices have two components-a fundamental component of about 60%, driven by business basics, and an emotional component of about 40 per cent.
[ Video Explaining Market AstroPhysics ]
I have been able to link the emotional swings in markets to tides in the earth's electric field. I have developed mathematical models of these changes and use them to forecast future price swings. My forecasts are unique in that they are energy forecasts, and do not use any price data as input. I then both trade and watch the markets, to further improve my knowledge and to verify that my theories hold water. Much of this is documented in the free Reading Room. More information can be found in my book, Market AstroPhysics and Chaos, videos tapes, and research reports.
I have shared my knowledge primarily through my four home study courses-Cash In On Chaos, the Fractal of Pi, the Face of God, and Market AstroPhysics Master's Course. . These confidential courses are designed for the serious private individual trader.
I have developed two primary forecasting methods-XGO, for position trading and MoonTides, for day trading. A sample XGO chart can be seen here. Many samples of the MoonTides can be found in my archive of past Chaos Clinics. I sell software that implements the XGO forecasts.
I also offer a daily S&P/Emini hotline, supported by a separate real-time site at DaytradingForecasts.com. If you sign up for the free weekly email, you can see our forecasts in action on the free Friday Chaos Clinic at DaytradingForecasts.com. On that site, you can review past Chaos Clinics, past hotline emails, and our track record. From the home page, go to Public Pages, and read the Trading MoonTides Tutorial.
I have also published the Cash In On Chaos Newsletter. Past issues are released when each new issue comes out. You can read past issues here. These newsletter show many examples of my XGO and filtered XGO energy forecasts in practice. This newsletter will be terminated with the September 2007 issue. Past newsletters will remain on the site as a resource for others.
All my products are summarized and can be ordered in my catalog. Effective March 28, 2007 I have stopped shipping physical products, and have put all my courses online.
My work has led me to an interesting view of our universe, described in my book, Your Electric Life. This book explains how we are all energy beings in an energy universe. Markets, too, are energy systems. And all energy systems have basic properties and behaviors. Understanding them is interesting, important, and potentially profitable. Your Electric Life ebook is available on Amazon.. If you do nothing else, read it.
Controlling one's own energy environment is also important. I have developed some energy field products that help traders do that. The Concentration Headband and Energy Charging Kit have helped many traders. Unfortunately, these products were discontinued due to the death of my clerk, Wava, and my semi-retirement. However, I have published information on making your own. See the Free Stuff page, links 3, 4, and 5.
Planetary motion is involved in what I do, but I do not consider myself an astrologer. I am a scientist. I observe very carefully. I make measurements. I develop theories. I write equations. I program those equations. Those equations produce predictions. I observe the outcome of the predictions. I use those predictions in my trading. Then I go around the loop again, always trying to improve. I will be done when trading is a science, and not an art. My current models and formulas are state of the art. They work. They are tradable. And as I learn more, I constantly improve them. But they are not perfect, so I am not quite done yet. This is a fascinating journey. I have made great progress. But full retirement looms on the horizon, and some day I will no longer share my work.
I am far from having all the answers. But I have found many, and I am happy to share them. I know that when I get my life review, it will not matter how much money I made, but how many fellow travelers I helped along the way. If I can be of help to you, let me know.
I focus my energies on two groups of traders - Certified Chaos Traders and Chaos Trading Masters.
Certified Chaos Traders (CCT's) are those who have taken all 4 of my basic courses - Cash In On Chaos, Fractal of Pi, Face of God, and Chaos Trading Made Easy. I have added a new special "room" in my http:\\daytradingforecasts.com site, where the CCT's will be able to share charts and chat without worrying that the public is watching so they can't talk about the good stuff. Together, this will be the Chaos Trading Team.
Chaos Trading Masters are CCT's who also have taken my Master's course. These are those who want the ability to do their own research and programming. This private course is on a case by case basis.
Thanks for coming to my site. Please come by again.
Joy to You,
Al
---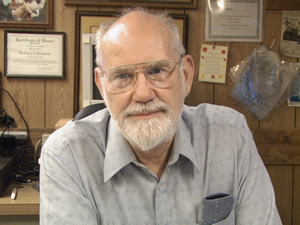 On of the great pleasures of my work is having some excellent students. The best of all has been Dr. Greg Meyer, MS, MD. He has not only mastered my material, but extended it by combining my XGO forecasts with my ZD filtering to make longer term forecasts. That Meyer Method is now used in my newsletter, and incorporated in the WinXGO program. Greg uses these tools to trade successfully. This is Greg on a recent visit to my office.

Over the last 15 years I've studied Dr. Larson's work from building block courses through the Master's Course.

Dr. Larson applies sound scientific principles to the developement of his courses, as his PhD suggests would be the case. He has developed insightful programs and methods based on fundamental principles which give increasingly unprecedented accuracy as the course levels advance.

I rely on his programs and insights daily, and proceed with confidence that solutions to market movement can be worked out as accurately as engineering problems could be solved when I was an aerospace engineer.

-Dr. Greg Meyer, MS, MD
---
Al formerly used the pen name Hans Hannula. It was his great grandfather's name. When he was working at Bell Laboratories the beurocrats would have prevented him from publishing anything as unorthodox as his first article, In Search of the Cause of Cycles, which linked market cycles to planets. This landmark article is in the book of reprints, Market AstroPhysics and Chaos, available in the [Chaos Trader's Catalog].
---

Views

I'm a great fan of your courses and forecasts. Using them and some other stuff, I have made over 2 million dollars in trading profits over the last 5 months.

RT - Nov, 2007
---
NinjaTrader products have been moved to https://EnergyFieldTrading.com
---
BLOG
---
In September 2018 I changed the format of my Chaos Clinic to be more of a blog, with charts and comments similar to my old newsletter. You can click on these links, read the post, then use your back button to return to the list of links.

Chaos Clinic 09/07/2018 A Failed S&P Breakout
Chaos Clinic 09/14/2018 An Intraday Power Curve
Chaos Clinic 09/21/2018 New S&P Highs After Test of January Highs
Chaos Clinic 09/28/2018 A Crazy Week
Chaos Clinic 10/05/2018 A FireBall Top
Chaos Clinic 10/12/2018 An Example of Chaotic Scale Jumping
Chaos Clinic 10/19/2018 Biblical Cycle Leads S&P Lower
Chaos Clinic 10/26/2018 S&P Attacked By Bears
Chaos Clinic 11/02/2018 Beware The Bear
Chaos Clinic 11/09/2018 S&P ZGO Forecast
Chaos Clinic 11/16/2018 Are Tech Stocks Done?
Chaos Clinic 11/30/2018 Is Gold Set to Rally?
Chaos Clinic 12/07/2018 Will It Be An Unhappy New Year For the S&P ?
Chaos Clinic 12/14/2018 Long Term Outlook for S&P
Chaos Clinic 01/04/2019 Gold Is Shining
Chaos Clinic 01/25/2019 The Santa Claus Rally Continues
Chaos Clinic 02/01/2019 Can This Tech Stock Bounce Back?
Chaos Clinic 02/08/2019 Long Term Outlook For Gold
Chaos Clinic 02/15/2019 Did Santa Deliver S&P Coal?
Chaos Clinic 02/22/2019 Is This Short S&P ETF About To Rally?
Chaos Clinic 03/01/2019 Is the Euro About To Rally?
Chaos Clinic 03/08/2019 Has Santa Left The Market?
Chaos Clinic 03/15/2019 A Possible Golden Opportunity
Chaos Clinic 03/22/2019 Nvidia Lives Up To Expectations
Chaos Clinic 03/29/2019 Major Top May Be In Place In The S&P
Chaos Clinic 04/05/2019 Trading the Employment Report
Chaos Clinic 04/12/2019 Gold Looks Ready To Rally
Chaos Clinic 04/26/2019 The S&P Tests The 2018 Fireball Top
Chaos Clinic 05/03/2019 Gann Tunnel Lifts S&P to New Highs
Chaos Clinic 05/10/2019 Trump and Powell Team Up to Top The S&P
Chaos Clinic 05/17/2019 Long Term Chaos Clamshell in the S&P
Chaos Clinic 05/31/2019 Gold May Be Starting A Major Move
Chaos Clinic 06/07/2019 The FANG Stocks Confirm A Bear Market
Chaos Clinic 06/14/2019 S&P Stalls While Gold Sours
Chaos Clinic 06/21/2019 Will Record S&P Highs Fail Again?
Chaos Clinic 06/28/2019 Cashing In On Brexit
Chaos Clinic 07/05/2019 Solar Eclipse Powers S&P to New High
Chaos Clinic 07/19/2019 Major Cycle Turns S&P Down
Chaos Clinic 07/26/2019 Will Silver Shine Again?
Chaos Clinic 08/02/2019 Powell and Trump Dump The Market Again
Chaos Clinic 08/09/2019 A Luny Week On Wall Street
Chaos Clinic 08/16/2019 Four Signs of A Bear Market
Chaos Clinic 09/06/2019 Silver Starts To Shine
Chaos Clinic 09/13/2019 Is the S&P Setting Up for Another Powell-Trump-Dump?
Chaos Clinic 09/20/2019 S&P Stalls at Old Highs
Chaos Clinic 09/27/2019 The S&P is Rolling Over
Chaos Clinic 10/04/2019 The S&P Rolls Over And SH Jumps
Chaos Clinic 10/11/2019 The S&P Tests Late September Highs
Chaos Clinic 10/18/2019 Gold and Silver Set To Rally
Chaos Clinic 10/25/2019 The S&P Bubble Is About To Pop
Chaos Clinic 11/08/2019 Moon And Sun Rally The S&P
Chaos Clinic 11/15/2019 NVidia Finally Reaches Target
Chaos Clinic 11/22/2019 Moon Flux, The S&P, and Ninja Trader
Chaos Clinic 12/06/2019 Gold Is Looking Bright
Chaos Clinic 12/20/2019 The 2019 S&P Chaos Clamshell
Chaos Clinic 01/10/2020 Gold Is Not Done
Chaos Clinic 01/17/2020 The Harmonic Behavior of Tesla
---
News

9/1/2019

NinjaTrader8 tools available on https://EnergyFieldTrading.com

12/18/2018

NinjaTrader7 tools available on https://EnergyFieldTrading.com

10/5/2018

You Tube Video warning of major Fireball Top

9/7/2018

Began doing written Chaos Clinics

2/1/2018

You Tube Video warning of major top

1/1/2018

Last Trading Day of 2017 Video posted to YouTube

1/5/2017

Data File import for Ninja Trader 7 available

6/1/2013

MoonTide indicator and QPFE made available for NinjaTrader.

1/25/2011

All eMylar programs were updated 1/25/2011. Please access your online courses with the MTReader to download these updates.

5/6/2009

I have added a new product for Certified Chaos Traders - the eMylar overlays from Cash in On Chaos, Fractal of Pi, Face of God, and Chaos Trading Made Easy, on a flash drive. See the catalog for details.

4/22/2009

I have added a product to my catalog - a 500 year astro database. See the catalog page for the MicroMedia Planetray Database.

3/12/2009

Added XGO forecast example at bottom of this page.

2/19/2009 Published
How I Knew The Party Was Over.
You can now update your address, email address, and get/stop weekly email by clicking HERE
You can now update your WinXGO software by clicking HERE